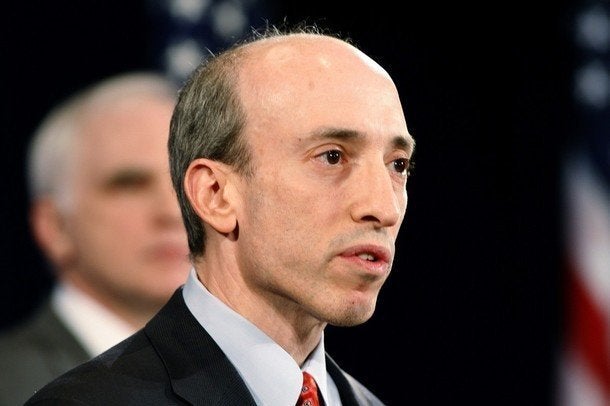 One year after the passage of the Dodd-Frank financial overhaul, key regulators keep delaying or watering down new rules and regulations.
On Tuesday, the Commodity Futures Trading Commission proposed delaying rules for the $601 trillion derivatives market that were set to go into effect on July 16 until as late as the end of the year. CFTC chairman Gary Gensler explained the postponement by saying, "Some might ask: why six months? Six months will provide the commission with the opportunity to re-examine the status of final rulemaking in light of the changed regulatory landscape at the time."
The proposal comes less than a week after the SEC announced that it would give banks and traders "temporary relief" from new regulations for security-based swaps.
Those granted temporary relief from the new guidelines include transactions in exempt or excluded markets -- primarily in financial, energy and metals -- as well as measures that do not require rule-making but refer to terms such as swap, swap dealer or major swap participants that must be further defined by regulators.
Here is commission Bart Chilton's statement before the CFTC's public meeting today:
We are taking these actions today out of necessity in an effort to provide time to craft thoughtful regulations and, to the extent practical, give some certainty to those impacted by the rules. However, we can't sit back. We need to push the pedal down and make time to finalize thoughtful rules as soon as possible. Markets are not much safer than they were when the economic meltdown occurred. We still aren't seeing into dark over-the-counter markets like we should, much less regulating them. We still lack limits on excessive speculation that is impacting consumers who at times are paying a Wall Street premium, and we have not addressed super fast cheetah traders who may be instigating mini flash crashes or posing risks to markets, and therefore consumers.
The 'Dirty Dozen' Fruits and Vegetables
Which fruits and vegetables should you avoid because they have the most pesticides?
The Environmental Working Group released its annual list of the "dirty dozen" with the largest doses of pesticides. The winner (or loser): Apples, 92 percent of which carried two or more pesticide residues in testing by the USDA. As noted by Mother Jones, the narrow range of apple varieties available in most groceries also featured a "stunning diversity of poisons" -- 56 distinct pesticides.
The Shadow Congress Gets Bigger, More Powerful
The Shadow Congress keeps growing. In the wake of the 2010 election, Talking Points Memo Muckraker updated their list of ex-lawmakers working for lobby shops -- it's up to 195 from 172 last year. The new list includes 90 Democrats and 105 Republicans from 45 states. Major additions include Sen. Chris Dodd (D-Conn.), now with the Motion Picture Association of America, former Sen. Evan Bayh (D-Ind.), now working for the Chamber of Commerce among others, and former Sen. Blanche Lincoln (D-Ark.).
Formaldehyde Ruling Not Likely To Prompt Major Changes
Though safety advocates cheered the news last week that formaldehyde was being classified as a "known carcinogen" by the Department of Health and Human Services, it's unclear how much of an impact that classification will have on regulations. The Environmental Protection Agency "has been trying to update its chemical risk assessment for formaldehyde since 1998, but has been stalled repeatedly by the chemical manufacturing industry," reports ProPublica.
Two years ago, Sen. David Vitter (R-La.) moved to delay the assessment through an act of raw political power -- putting a hold on the nomination of an EPA appointee. Soon after the ploy, industry lobbyist Charles Grizzle hosted a big fundraiser for Vitter.
Related
Popular in the Community