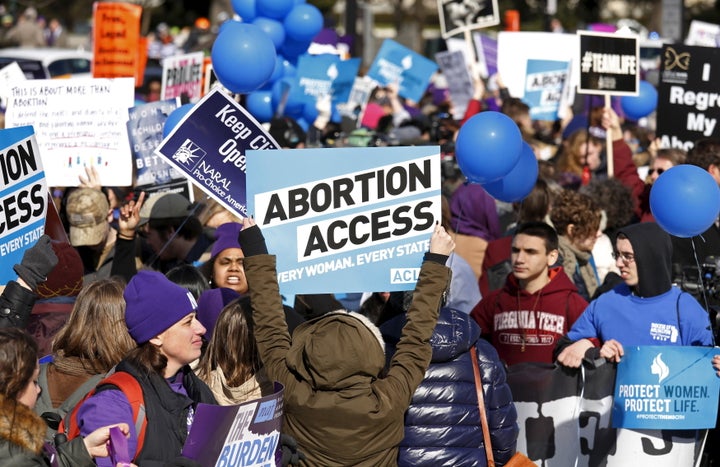 It is hard to believe that only a year has passed since the US Supreme Court issued its ruling in the Texas abortion case, Whole Woman's Health v. Hellerstedt. When the Court struck down the two most egregious provisions of House Bill 2, or HB 2, it seemed like we might be on the brink of a new era of evidence-based reproductive health policy. Seven months later, with a reshaped political landscape, it was clear that women's health faced even greater threats.
There is a lot to learn from this court victory as we look back at the past year and strategize about ways to protect reproductive rights moving forward. Whole Woman's Health was won by smart lawyers who made the legal arguments and by brave plaintiffs who took personal and financial risks to challenge this law. It was also won by courageous women who told their abortion stories and Latina immigrants from the Rio Grande Valley who spoke up about their lack of access to basic health care, all of whom refused to be stigmatized by a society that usually ignored them.
For the first time, the Supreme Court clarified the judicial standard of undue burden by saying that lower courts must weigh the potential benefit of a law regulating abortion against the potential harms to women, such as diminished access to care. The statements and heart-felt beliefs of legislators were not enough to tip the scale; instead, courts needed to consider actual evidence regarding these benefits and harms.
I am an obstetrician-gynecologist and public health researcher, and as an expert witness in the Whole Woman's Health case, I provided much of the evidence on abortion services in Texas considered by the Court. My testimony focused on the impact of HB 2 on women in the state and relied on data collected and analyzed by a team of researchers from the Texas Policy Evaluation Project.
One year after the Court's decision I believe that American women's right to safe abortion is on firmer ground. Laws in several other states that were similar to HB 2 — and based on no evidence — have been struck down. Three clinics in Texas have reopened, and new doctors have begun providing services at the existing clinics, all of which have reduced the wait times to get an appointment, according to our research. Another provision of HB 2 that restricted the use of the abortion pill mifepristone has essentially been undone by an evidence-based decision by the Food and Drug Administration to update the medication's label.
But during the last year, Texas also has continued its attempts to further restrict women's access to abortion care ― attempts that have a high likelihood of being declared unconstitutional. A few days after the Supreme Court decision, the Texas Department of State Health Services issued regulations requiring the burial or cremation of fetal tissue after abortion. Although the regulations were blocked by a court order, similar requirements were recently codified in a law passed by the legislature. This law, SB 8, also bans the most commonly used procedure for second-trimester abortion, which is particularly ironic given that later abortion has only increased since these delay-causing laws have gone into effect. It remains to be seen whether SB 8 will be challenged in court.
In Texas and beyond, the Whole Woman's Health decision provides powerful ammunition to litigators to go after these and other abortion laws that are not evidence-based. Although the cost of such legal wrangling is not trivial, there is a long list of potential targets. How about the laws that force doctors to tell women lies about the mental health risks of abortion, despite the high-quality evidence demonstrating the fallacy of this claim? Or the bans on using telemedicine to provide the abortion pill, despite the fact that expanding this model of care in Iowa was associated with a reduction in later abortion? Alternative facts have been buttressing abortion legislation for so long that a new-found reliance on evidence in the courts makes it possible to challenge a broad range of laws that prevent women from receiving the care they need and want.
Since the Court's decision, women's health and rights are protected in a way they were not a year ago. Conservative state legislatures will continue to pass restrictive legislation, as we have seen over this past year, and there is no question that anti-abortion activists have been emboldened by the November election. But the Whole Woman's Health decision is a potent tool to fight back against these restrictions in the one place facts still matter — the courts.
Popular in the Community