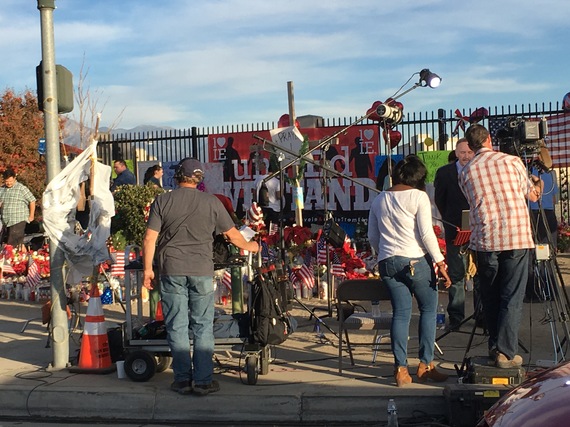 "Many small people, who in many small places, do many small things, can alter the face of the world."
So say the words of a plaque unveiled at Sacred Heart Catholic School in Rancho Cucamonga, donated by a Boy Scout and a local business. Also engraved are the names of fourteen people, mostly county health department employees who perished when terrorists made their loud and violent statement about America and our community one year ago today.
Robert Adams40
Isaac Amanios60
Bennetta Betbadal46
Harry Bowman46
Sierra Clayborn27
Juan Espinoza50
Aurora Godoy26
Shannon Johnson45
Larry Daniel Kaufman42
Damian Meins58
Tin Nguyen31
Nicholas Thalasinos52
Yvette Velasco27
Michael Wetzel37
Their Message Lives on Through Noble Loved Ones
While the terrorists message was loud, its not the last one. Ours is. And while you'll never meet any of those lost, you'll get to hear their words, if you try to listen.
The poetry and prose of those lost, live on in the hearts, hands and lips of those so painfully left behind, who remain our community's shining stars and I'd like to bring a few of them to you today, on the first anniversary of this terrible event, which has left us bowed, but not broken.
Ryan Reyes, 33 lost his partner Larry Daniel Kaufman, 42; as he worked in an adjoining coffee kiosk near the room where most of those killed were having a health department holiday meeting and gathering. He told my terrorism class six months ago "I'm still waiting to wake up from the nightmare." He also explained however, that Mr. Kaufman would be repulsed by religious bigotry against Muslims, and he felt compelled to speak out against it. He noted the compassion of Muslim members of our community who approached him after a memorial service and has continued to preach against irrational intolerance. "You shouldn't hate anybody based on their beliefs," Reyes told our class in June. "We have one true law, and that's do no harm and love people. Period."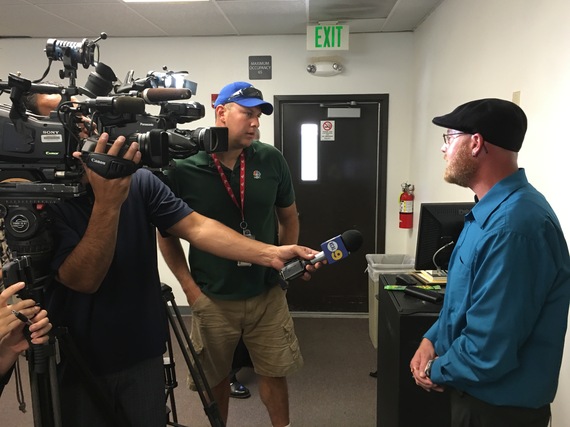 Another message across town was recently anonymously scrawled on a sidewalk outside a mosque in yellow chalk. "Love" is what it said. It was written by Kate Bowman, a fifteen year old Lutheran girl whose father Harry Bowman perished in last year's massacre. "What angered me most after Dec. 2 was the amount of hate speech going on." she told our local public radio station KPCC.
A Chance Meeting Touched My Heart
Meanwhile, back at Sacred Heart parish school, its principal Trenna Meins, instills students there with reading, writing, and a message of compassion for others. I met Trenna after I gave a keynote earlier this year to the Diocese of San Bernardino about hate crime, where I unveiled our recent study on the rise of hate crime nationally following the terror attack.
To those of us who love San Bernardino, the Diocese and Catholic charities are unsung heroes. Without fanfare they feed the hungry, care for the elderly, and promote interfaith tolerance. The very first hate conference our Center put together at Cal State sixteen years ago was cosponsored by the diocese, and this bespectacled Jewish boy has always had a special place in his heart for the altruistic peacemakers of our local Catholic diocese. Not knowing that Trenna was in attendance I opened the address:
Just this past Saturday Pope Francis held a special convening at the Vatican for others in need: those whose family members were targeted by hate in France when a terrorist in a truck plowed through a Bastille Day crowd in Nice, murdering 86 and injuring hundreds more. Among those consoled were not only Christians, but Jews and Muslims as well. Pope Francis urged them to counteract the impulse to "respond to hatred with hatred and to violence with violence," noting that in these difficult times "authentic conversation of the heart is needed." In heeding Pope Francis' call I am so very grateful to have an authentic conversation of my heart with you all today.

Little did I know, that my most memorable conversation of the heart would come not during my speech, but afterwards. Sister Chillee said, I hope you have a moment as there is someone special who wants to talk to you. It was Trenna Meins, who lost her husband Damian of 36 years to evil last year.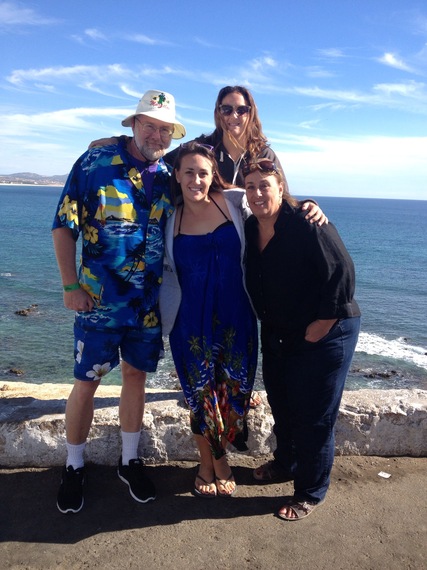 Courtesy: Meins Family
Out of Tragedy Comes Resolve
She said she was ready, with her daughters, to try to influence policy to start a public dialogue about countering hatred, as well as protecting others from the scourge of gun violence and terrorism. Like the prinicipal she is, she was not about dictating particular specific outcomes, but rather fostering civil discussion to reach common ground. She said she and her daughters could not bear that any other family
go through such pain and that we as a nation should have a frank civil discussion without rancor and bigotry about keeping both assault weapons and terrorists out of our communities. I told her I was at her service, and in the coming weeks, you'll hear more in my columns about her efforts and desire to start a non-profit organization devoted to these ideals. Her daughter Tina, was more direct, saying that we need to both honor individual rights, but also "support efforts made to reduce criminals' ability to easily perpetrate their violent crimes, in part due to incredibly easy access to guns."
At his funeral last December Damian's words lived on through the heart of his beautiful daughter Tawnya, "We ask as a family that people fight hatred with love and that they seek to perform small acts of kindness for others, Damin always did. Please choose love, compassion, and kindness."
Damian was that kind of person. Quirky and dryly funny, with a deep Catholic faith, he had not only worked decades in the health field, but was a beloved teacher as well, who dressed in character as Abraham Lincoln and other historic figures. He devoted himself to others, whether it be caring for ill relatives, painting murals at schools and hospital cancer wards; or with a skill envied by all, repaired broken items for just about anyone in need all over town. He took his daughters Tina and Tawnya to Dachau, with a poignant lesson about the Holocaust, that every day people of good will must stand up to evil, lest it flourish.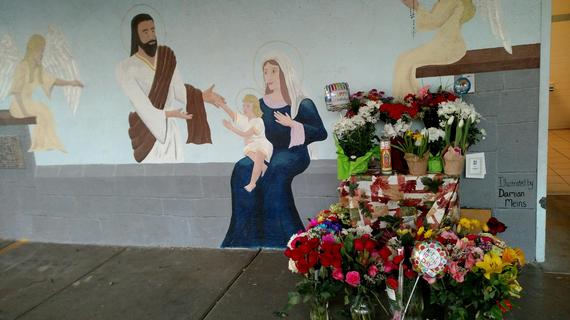 Righteous Among Us
We talk often. Trenna told me she copes not by taking things one week at a time, but one moment at a time. She also seemed humbled by the task she is ready to tackle of promoting civil dialogue on these new issues, now so personally dear to her heart. "I am just a regular person" who wants to make the world better, she told me, but I am far from perfect and nothing special. Damian would have been far better at accomplishing these tasks, she softly explained.
I told her, "but God chose you." I then said that it is "regular" people who change the world citing President Obama's speech at the Righteous Among Nations Awards this past January:
I want to close with what I'm told is a Jewish legend. It's said that within every generation there are 36 virtuous individuals -- individuals so honorable, so filled with compassion, that their good works sustain the very existence of the world. They are called Lamed Vovniks, and without them, society crumbles, according to the legend. We don't know who they are. They're entirely indistinguishable, ordinary people

At Damian's funeral, Father Art Mateo said that the terror attack was not God's will, but that of evil people with free will: "Many people, unfortunately use this gift unwisely and violently."
San Bernardino Bishop Gerald Barnes, said "We pray that the death of man as a good as we have learned it will be a blessing in a new way for us, to be united in doing what is right." Our community did just that, from clergy to educators, from police and first responders to doctors, from Scout leaders to storekeepers; we stood united and strong. And as much of the nation responded to terror with a spike in hate crimes and calls for banning entry to whole faith communities because they "drip with hatred", we lit candles and came together. In a year where anti-Muslim hate crimes skyrocketed across the nation, San Bernardino had none, and not a single hate crime at all was reported in the fourth quarter of last year. Our community found our own moral tone and our own Lamed Vovniks. We didn't need to look to Washington, New York or Los Angeles for direction on what was right, we just did it. We simply do not have the luxury of further division, and neither does our nation, as we honor those lost on this solemn anniversary.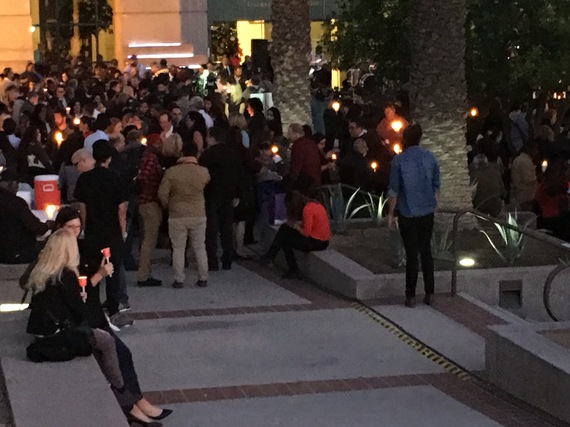 Related
Popular in the Community