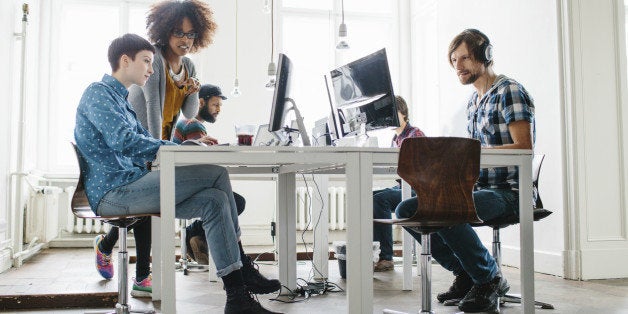 In a single year, from 2013-2014, the rate of uninsured young adults, ages 18 to 34, dropped by a staggering 5 percentage points to 17.2 percent down from 22.4 percent. A drop of that significance, in one year, is rarely seen in measuring social or economic change.

So here's a news flash: The Affordable Care Act, the most comprehensive piece of legislation overhauling our nation's health care system, is disproportionately benefiting Millennials.

Newly released data from the U.S. Census Current Population Survey, a sixty thousand person survey, shows us this drop, and in doing so it provides, for the first time, a comprehensive picture of the effects of the health insurance marketplaces that opened October 1, 2013.
We can see that young adults, the group whose participation was crucial for the ACA's success, have seen significant gains in insurance coverage, reinforcing just how important the ACA is to the health and security of Millennials and dismantling the myth the young people don't value health coverage.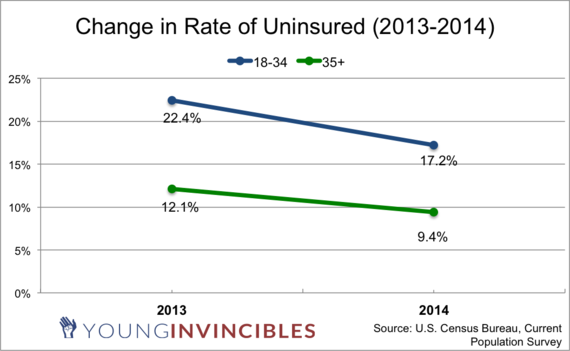 Key finding: Out of 8 million American adults who gained health coverage in 2014, 46 percent, or 3.7 million, were young adults aged 18 to 34, almost half of the newly covered.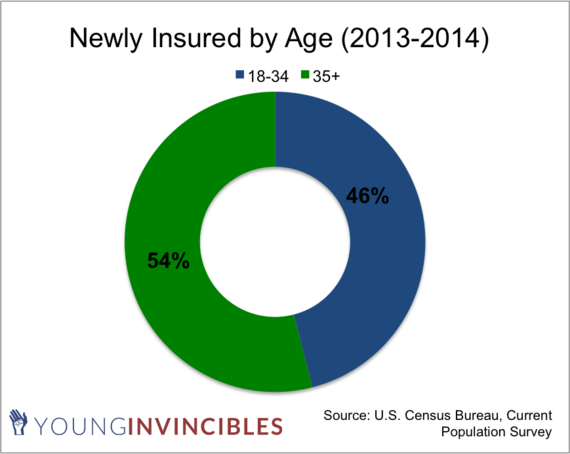 That's significant considering they only make up 30 percent of the population: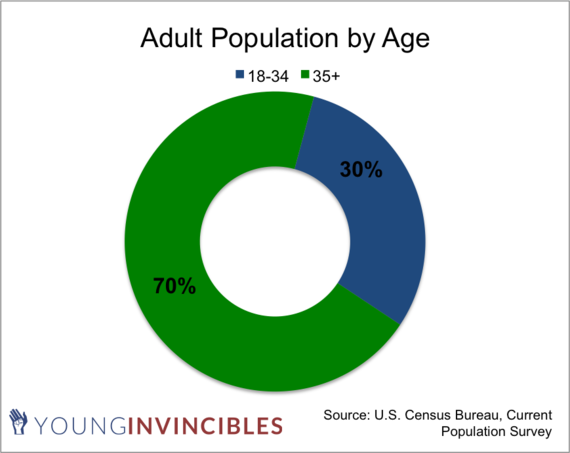 Due to U.S. Census changes to the Current Population Survey questions in 2013, we are not able to use this survey to look further back in time. Fortunately, the American Community Survey -- who also released their new numbers last week -- has asked the same questions since 2009, and can be broken down by state. These numbers have a much larger sample size of 3 million.
Based on our analysis, the rate of young adults without insurance declined in every state, but due to the states' varying acceptance of the ACA, that degree of decline across the board varied significantly.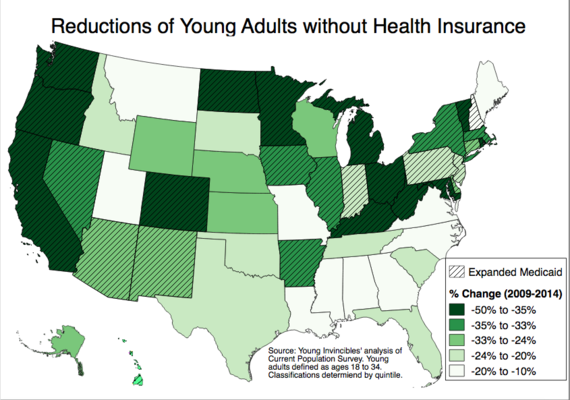 For instance, states that chose not to accept federal funding to expand their Medicaid programs, saw their rate decline by an average of 21 percent, between 2009 and 2014. However, states that chose to expand Medicaid saw their rate of uninsured young adults decline by an average of 34 percent.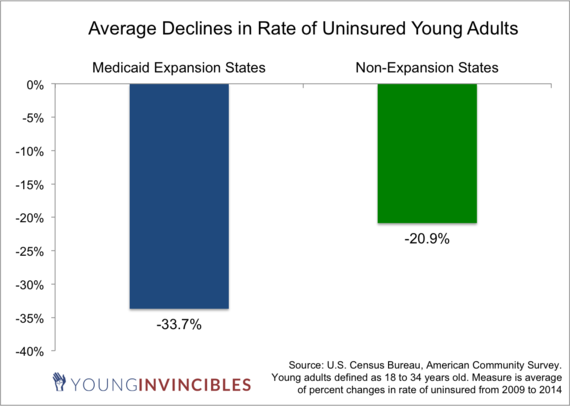 States like Kentucky, Oregon, and Vermont cut their rates in half, whereas Virginia, Missouri and Alabama saw theirs decline only by about 15 percent.
Throughout the next year, we will continue drawing attention to those young adults caught in the Medicaid gap: too poor to qualify for tax credits on the marketplace, and not poor enough to qualify for traditional Medicaid.

Young Invincibles will also continue to provide education and enrollment opportunities for the harder to reach young adult populations: young Latinos, young African Americans, young immigrants, young LGBT adults, former foster youth, young adults with limited English proficiency, among others.

Finally, we will continue providing trainings to key partners, so that local leaders have the tools they need to carry this work forward. If past is any indication, and we believe it is, young adults will see even more progress in this year's open enrollment, starting November 1.
Calling all HuffPost superfans!
Sign up for membership to become a founding member and help shape HuffPost's next chapter