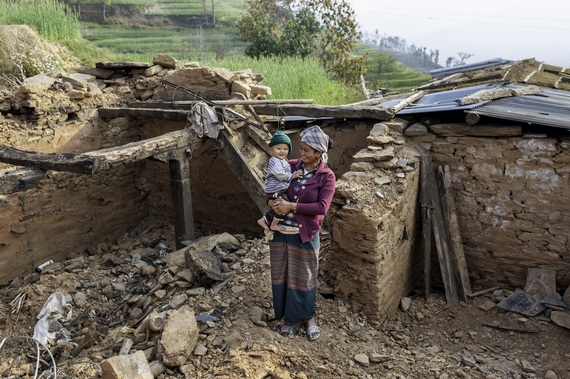 Mother and child at a shelter in Nepal. Courtesy of the International Federation of Red Cross and Red Crescent Societies (IFRC).
A month after a new global plan was adopted to reduce disaster losses at a UN Conference in Japan last year, the 7.8 magnitude Nepal earthquake struck, reminding the world again why action on reducing disaster losses is so critical for sustainable development in low-income countries.
Some 750,000 people have died in earthquakes and tsunamis over the last two decades. Any success in reducing mortality from earthquakes over the next 15 years in line with the global plan, the Sendai Framework for Disaster Risk Reduction, must draw on lessons learned from countries in different stages of development such as Japan, Ecuador and Nepal.
The Nepal scenario is the most challenging given its exposure to disasters and high levels of poverty. Nepal's long expected earthquake came on April 25. It was a Saturday so the country's children had a lucky escape as the schools were closed and 25, 000 classrooms were damaged or destroyed.
Any other day of the week could have seen a repeat of the 2005 Pakistan earthquake which killed some 16,000 schoolchildren.
The earthquake happened just before noon so most rural households were out working in the fields when many of the estimated 500,000 homes collapsed in the earthquake zone, most of them un-engineered and built by untrained masons.
This fortuitous timing together with the location of the epicenter away from the densely populated Kathmandu Valley meant that the much feared 'big one' with a possible death toll of 200,000 did not occur.
Nonetheless, 8,790 lives were lost that day and thousands more were disabled and maimed for life. 3.5 million people were left without a roof over their heads in the immediate aftermath.
Health facilities and hospitals were not spared either, 500 were damaged or destroyed by one count.
Building back better cannot be done overnight. Nepal is a textbook example of how difficult and long drawn out the process can become when risk governance is complicated by the overall political context, including major gaps at the level of local government.
Nepal adopted a building code in 1994 but it only became legally binding across 123 municipalities in 2003. Compliance has been a challenge for many reasons, not least the rapid pace of construction in the densely populated Kathmandu Valley.
In the short few months of its existence, the Reconstruction Authority has put plans in place to ensure that the reconstruction phase will be efficient for the chosen beneficiaries.
Detailed damage and needs assessments are almost complete and the country is about to embark on one of the largest reconstruction schemes ever undertaken anywhere, rebuilding some 500,000 homes over the next four years.
A key partner in this endeavor is Nepal's National Society for Earthquake Technology (NSET) which has designed a programme to train 60,000 masons as the reconstruction phase gathers pace in the 31 affected districts. Over 350 schools retrofitted by NSET survived both the April and May earthquakes of last year.
NSET has a proven recipe combining social mobilization on earthquake safety, technical engineering support, and a training programme for local masons. It has successfully designed and built non-engineered but earthquake-resistant low-cost housing as allowed for by the Nepal Building Code.
The Sendai Framework promotes compliance with land use regulations and building codes which are applicable and appropriate to the local context. It is poor quality buildings which kill people, not earthquakes.
One death is one too many but there can be no doubt that strengthened building codes in both Ecuador and Japan have contributed to reduced death tolls in recent events. In both countries major facilities survived unscathed, for example.
Earthquake-prone countries like Iran and Turkey are demonstrating how important it is to focus on reducing mortality by ensuring that high-risk facilities such as schools and hospitals are built to acceptable standards.
Iran has spent $4.5 billion on ensuring that 95,000 schools for 13 million students are safe against earthquakes, floods and fire, since the Bam earthquake which claimed over 30,000 lives in 2003. Over 80 percent of the work is complete.
Last month, the deputy Prime Minister of Turkey, Yalçın Akdoğan, announced that over 11,000 unsafe buildings have been demolished since the emergency management authority AFAD was established in 2009. Hundreds of schools have been rebuilt and critical infrastructure including tunnels and bridges has been reinforced.
A key lesson to be learned from recent earthquakes is the importance of good risk governance in the form of strong institutions, planning and regulatory oversight and, above all, political commitment to reducing disaster risk.
Robert Glasser is the UN Secretary General's Special Representative for Disaster Risk Reduction and head of the UN Office for Disaster Risk Reduction
Calling all HuffPost superfans!
Sign up for membership to become a founding member and help shape HuffPost's next chapter