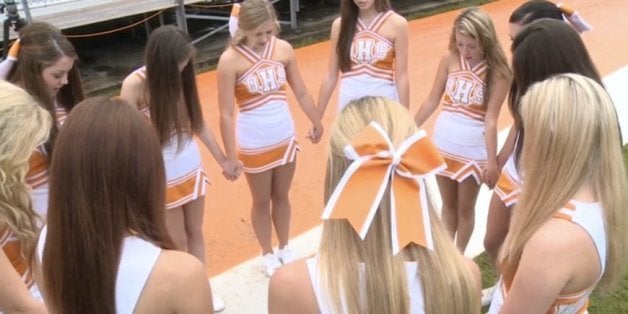 A group of Tennessee cheerleaders decided to bring prayer back to the football field.
Oneida High School administrators instituted a moment of silence after receiving complaints from secular groups about school-led prayers at the district's Friday night football games. But members of the cheer squad, upset about breaking the more than 80 year old tradition, recently started reciting the prayers on their own.
Cheerleader Asia Canada said she couldn't help but speak up.
"[The announcer] called for the moment of silence and I started off, 'Our Father who art in heaven' and everyone joined in," Canada told WBIR.
Eventually, cheerleaders from the visiting team and members of the audience started saying the Lord's Prayer, as well.
"It is your option what you do in that moment of silence and this is our option," Oneida cheerleader Kayla King told WATE.
It was pressure from groups, like the American Civil Liberties Union and the Freedom From Religion Foundation, that compelled the district to put a plug on prayers said over the loudspeaker.
The groups have legal grounds for their complaint. In 2000, the Supreme Court ruled that prayers said over a school's loudspeakers violated the First Amendment's protection against the establishment of religion. The ACLU warned Oneida about this ruling in 2011, but the school continued the practice.
When the groups renewed their campaign against school-sponsored prayer this year, administrators at Oneida gave in.
Kevin Acres, Oneida's football game announcer, has been sitting in the booth at the high school's games for more than a decade. He was frustrated by the decision, claiming that most people in the area were supportive of the Christian gesture.
"The majority of people in this area want to have prayer before a ball game, and I don't think its right for a minority out away from here dictates what we do here," Acres said.
But now that the cheerleaders are taking charge, Acres sees a silver lining.
"Where you had one person saying a prayer over the PA, now you've got hundreds maybe a thousand people saying it together," Acres said.
Related
Before You Go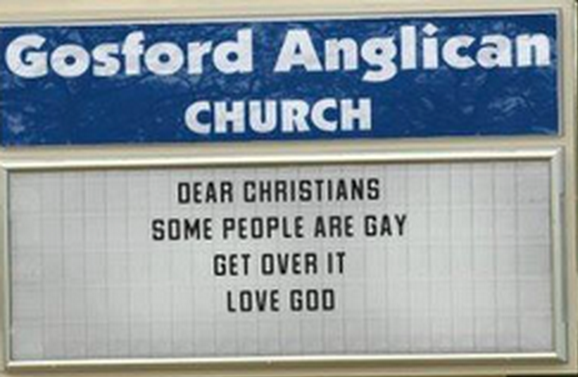 Controversial Church Signs
Popular in the Community