There was the outline of a face and a body with no distinguishable features, but for the eyes. Behind this figure was a city/landscape and the figure seemed to be infused with bright colorful Caribbean foliage/flowers. I was immediately intrigued by the series in which female characters were at times engorged by or hidden behind the common flowers of the Caribbean.
The work in question is part of artist Oneika Russell's "A Natural History" body of work. This is a series the Jamaican-born artist created mostly while living in Kyoto, Japan, and in the work she sought to represent the experience of being an outsider in a culture that at first seemed very alien to her. Said the artist, "I was trying to understand how to make an image which conveyed what the tropical body and a tropical identity might be or look like." This fusion of the black body and Caribbean foliage would eventually become an artist's book printed in 2015. "A Natural History," thus far, is Oneika Russell's most well-known work.
Oneika Russell was born in St. Andrew, Jamaica, and graduated from Knox College High School. She attended sixth form at Ardenne High School in Kingston. It was while she was in sixth form that her doodling would give way to an identifiable interest in the visual arts. Eventually, she would attend the Edna Manley College of Visual and Performing Arts on the island, as a Painting major, though she did take a few courses in photography. At Edna Manley, Russell started doing research for an Aunt Jemima-like character she called Cookie, who would become the basis of her thesis work. Cookie was a commentary on the tourist industry and a critique of race, color and class issues in Jamaica. It is a particularly engaging body of work.
From Edna Manley College, Russell would go on to do her master's degree at Goldsmiths College, where there was a strong focus on theory and where she started working in animation. Her thesis show for Goldsmiths was something she reports not having replicated since then. "I called the work I produced then interruptive painting, and I wanted to create something that was a hybrid art form. In this work I combined several genres around the character of a little girl. For many people this was new media work, but for me, it was still a painting."
Following her time at Goldsmiths Russell returned to Jamaica and continued her practice, and was working on the island when the Japanese Embassy started offering scholarships to study in Japan. She applied to go and study the visual arts.
Naturally she wanted to know what it would be like for a Jamaican girl to study and live in Japan. "Actually," Russell conceded, "I loved particularly the art culture in Japan, where there is not so much of an hierarchy among the various art forms. That, for me, was quite liberating. What I struggled with in Japan though was feeling very much like an outsider. I did not speak the language very well, and I lived in Kyoto, which is one of the most traditional places in Japan, even as there is a lot of focus on the environment in Kyoto. I guess in Japan I felt really alienated."
This feeling of alienation would lead to Russell creating the "A Natural History" body of work. Consequently, Russell explained, if "A Natural History" reads at times like ethnographic works, this is no surprise to the artist who freely admits that in the works -- in which she is photographing, videoing and drawing herself in nature --- she was "using the language of Anthropology." The artist continued, "What I sought to do in this work was use Caribbean flowers as a way to identify myself as Caribbean, even as I was using the female body and the flowers to talk about what I think of as my aesthetics and my identity. In short, I found myself in Japan seeking to develop a visual vocabulary and language to express my identity."
In talking to Russell I was struck by the fact that she referenced language, vocabulary and speaking a lot in her work, particularly the work she did in Japan, and I tried to tease the reasons for this out of her in our discussion. "The fact is," Russell explained to me, "it seemed to me after a while that I was studying language more than anything else when I was doing my doctoral studies in Japan. In Jamaica I knew myself to be someone quite articulate, but not at all so in Japan, where I was literally struggling to learn the language. I guess this is why language has come to take on so much importance in my work."
But her time in Japan would see her starting, as well, a new body of work -- in gold -- that is ongoing. "When I was in Japan I used Facebook a lot to keep in touch with people. For a long time, during the years I was in Japan, Facebook in fact was my only connection to Jamaica. I started making portraits in gold from Facebook photographs of my friends. This 'Selfie Drawing Project' would accompany me when I moved back home to the island. For a long time I thought I would just preserve these selfies in gold and move on, particularly once I was back on the island."
But, of course, this is not what happened.
The selfies started to take on a life of their own and the project keeps growing. In working with gold Russell found that she started thinking about preservations and our human relationships, particularly to gold. "Traditionally gold is a classy, almost universal indication of something precious and more valuable. I became intrigued with that idea and now the paintings in gold are getting larger and larger. I find, too, that they are changing values and I really started to challenge myself to see how many times I can make something different out of using the same basic materials."
If the artist thought that, upon returning home to the island, the theme of alienation would disappear from her investigations, this is not what would happen, for this theme has remained and could be seen quite strongly in the work she showed in the 2015 Jamaica Biennial. "For me, the work in the Biennial site at Devon House was all about alienation. In this work I wrote a letter to myself and individual lines from the letter were placed on postcards in a child's bedroom. What I was hoping to do with this work is to use these individual lines from the letter to connect different people."
Given her continued focus on the theme of alienation, I wondered about her sense of the artistic community on the island.
For Russell the local art scene seems to be collapsing, due to lack of resources and funding. "There are few commercial gallery spaces on the island and a certain generation of art collectors are not collecting contemporary art as before," she noted. When asked why this might be so, Russell said she imagines that "since the media used in a lot of contemporary art is shifting and changing, collectors might be a bit more shy about engaging with this new media." She thought about it for a while before continuing. "The Jamaican art-buying public seems to be more educated about painting and drawing, less so about new media, so they may be more reticent in that regard."
However, the artist remains hopeful.
"While many of the official venues for artists on the island are gone, more and more underground projects are starting up. There is The New Local Space --- an artist-run contemporary visual art initiative in Kingston --- that has generated a lot of interest on the island, and the National Gallery of Jamaica now seems to focus more on contemporary art production, which is always good for someone like myself who, for a long time thought of herself as a painter; but I was also making videos."
The artist paused, before continuing. "The term 'video artist', for me, boxed me in, but I was clearly engaging new media and technology in my work. I find that I am making more and more work that is interdisciplinary in nature, and maybe these days I should just settle on calling myself not so much a painter anymore but simply a visual artist. I have found that particularly women artists on the island are engaging more interdisciplinary works, which of course calls into question our relationship to the art market since we are not making work that is specifically a commodity.
"In a sense and despite the difficulties, women artists like myself on the island still manage to do our work and the good thing is that curators do not treat us any differently, as far as I can see, from the male artists on the island. I feel I am treated seriously as an artist and whenever that happens it always gives you the confidence to keep doing your work. "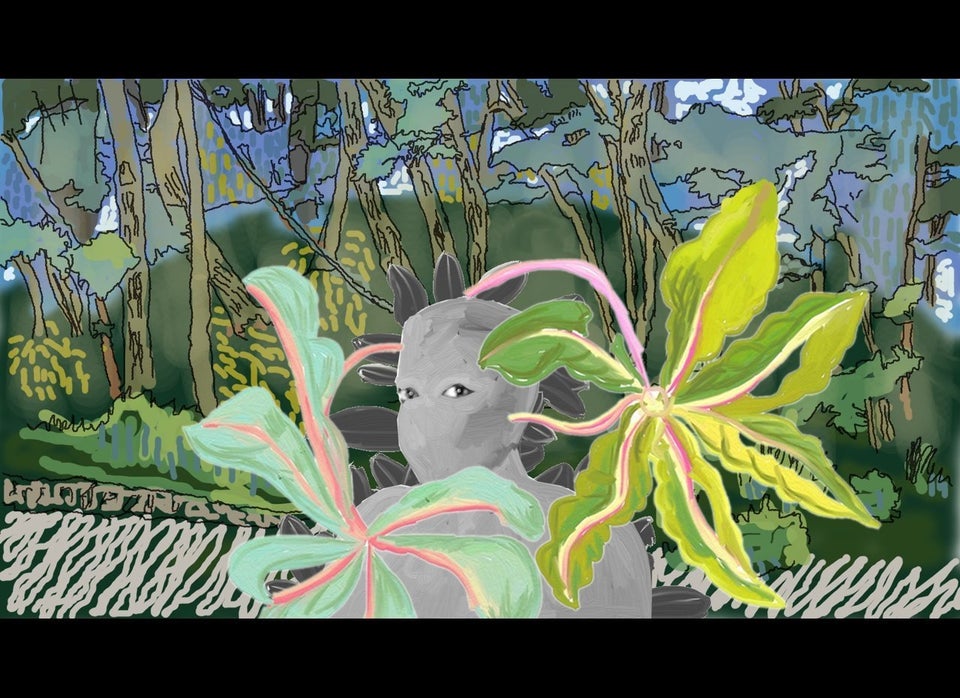 Oneika Russell Engages the Tropical Body and Caribbean Identity in Her Work
Images copyrighted to Oneika Russell and used with permission.
Popular in the Community