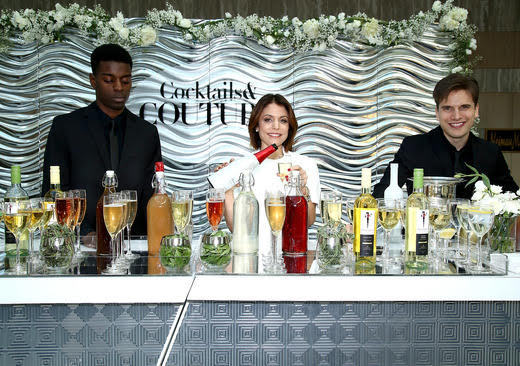 I was invited to attend an incredible event last week hosted by Bethenny Frankel at the Westfield Garden State Plaza mall in Paramus, NJ right outside of Neiman Marcus (my favorite store). I arrived to violinists playing and the whole area sectioned off was wintery white and absolutely beautiful. As I entered I was immediately drawn to the stage which had a gentleman playing a bass and a woman singing (very jazzy/bluesy) holiday and pop songs. They were incredible. There was a silent auction, caviar station, cocktail and food stations featuring Skinnygirl of course. I was there for the Cocktails & a Cause event. Proceeds of the silent auction and sales were going to Fare (Food Allergy Research Education) an organization that focuses on food allergies an issue that seems more prevalent than ever these days.
I had the opportunity to sit down with Bethenny and I asked her why she was hosting the event and she said "Well first of all it's an amazing beautiful mall. FARE is a charity which is all about food allergies which I can relate to as a mom. The mall is giving back and rewarding their customers. We are gonna see a little ballet, there's an auction. A portion of the proceeds today goes to FARE."
With all of Bethenny's success I was curious as to what the biggest struggle has been within herself from struggling financially to being so successful now? "Just knowing that I have access to things. I can go to dinner and not think about it. Pay for my daughter's school and its ok. If there was something wrong medically you'd be fortunate enough to take care of it." Does she still love a good sale? "I love a sale. I can buy nice gifts for my friends, my daughter, and the people around me, give back to Dress for Success. I think that having money gives you a little more freedom."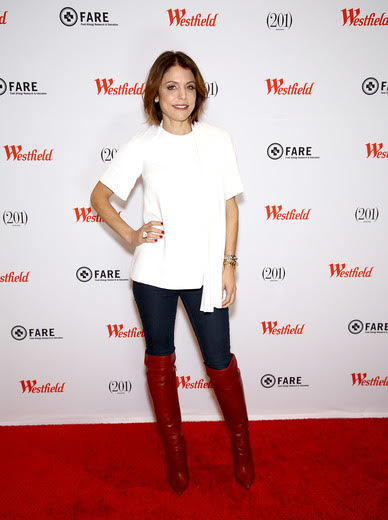 So now a few rapid fire questions with Bethenny:
Favorite meal to cook?
"I like cooking mushrooms in truffle oil, I love truffle oil. I like cooking crab cakes, I like making big salads. Big salads with Skinnygirl dressing."
You have Skinny Girl dressing?
"Oh yeah. We have salad dressing, coffee, candy, non-alcoholic beverages, shapewear, protein bars."
Who's the one person you'd love to cook for?
"Someone I love. I love to cook for my daughter."
Glass half full or half empty? And what's in the glass?
"Glass half full. Sometimes half empty. Skinnygirl Spicy Lime Margarita or Chardonnay."
Favorite unhealthy food to eat?
"Truffle French fries."
Favorite thing to do in your downtime?
"Be with Bryn."
What are going to do for the holidays?
"I haven't decided if I'm going away. I have a beautiful house out in Long Island. I'm really enjoying the winter with my daughter. We are going to the Nutcracker, Elf the musical, the tree and ice skating."
So now do you think you'll cook for the holidays or no?
"I don't know. I'm definitely having a holiday party. I'm having a caviar party with Skinnygirl cocktails and caviar."
The day I sat down with Bethenny the premiere of her new show "Food Porn" was airing. "I launched a production company called B Real Productions. My first show debuts tonight, Food Porn on FYI. And I'm getting into porn. Cause porn is exciting. And I'm getting involved in other shows about food, helping women, things I'm interested in. Food, fashion, leadership. It's gonna be edgy and I think it's gonna be exciting."
REAL LIFE. REAL NEWS. REAL VOICES.
Help us tell more of the stories that matter from voices that too often remain unheard.