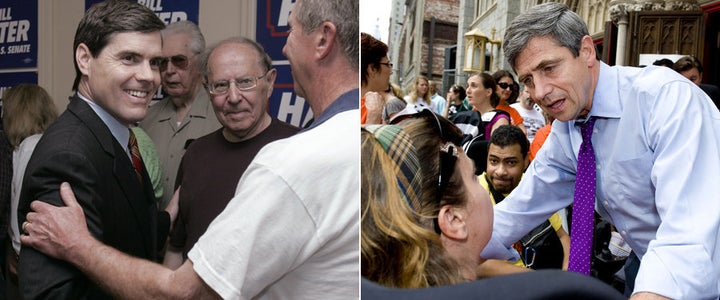 EDITOR'S NOTE: The story below includes references to polling conducted by the firm Research 2000. The reliability and accuracy of Research 2000's polling has since been called into serious question by a report published in June 2010 by a group of statistical analysts.
Even a month ago, political insiders scoffed at the idea that progressive challengers could unseat Democratic Sens. Arlen Specter (Penn.) and Blanche Lincoln (Ark.).
But fundraising and poll numbers have shifted dramatically in both states, and now both incumbents could well lose their party's nominations in primary elections on Tuesday.
Buffeted by waves of anti-Washington sentiment, both Specter and Lincoln have surrendered their early advantages to Pennsylvania Rep. Joe Sestak and Arkansas Lt. Gov. Bill Halter. A series of polls this week showed Sestak pulling ahead of Specter in Pennsylvania. The latest, from Suffolk University, has Sestak leading 49 percent to 40 percent.
Lincoln's campaign has acknowledged that she will likely have to face Halter in a runoff -- and Halter could win: New polling from Research 2000/Daily Kos has him trailing Lincoln 46 percent to 37 percent, with 11 percent undecided.
In short, Tuesday could well be "a very big day," as Politico's Ben Smith put it.
The Washington Post's Greg Sargent thinks likewise, writing:
To be sure, the battle lines are blurred between the two races. Labor has poured millions of dollars into the campaign of Lincoln's challenger. Meanwhile the big unions are backing Specter, and Sestak's backing on the left is mostly netroots-driven. But the overall storyline is clear: The two candidates backed by the Dem establishment, both of whom were thought to be sure things only weeks ago, are now in trouble.

If Sestak wins and Halter does force Lincoln into a runoff, Dems in D.C. will ascribe it to a generalized anti-incumbent fervor that's sweeping the land. Surely there will be some truth to that. But surely some of the credit should also go to the people who maintained, in the face of enormous skepticism, that Specter and Lincoln are not invulnerable, just as the media chatters nonstop about the Tea Partyers.
Never mind Rep. Alan Mollohan's (D-W.V.) primary defeat Tuesday. Avert your gaze from Sen. Bob Bennett's (R-Utah) loss last Saturday. The biggest and most consequential elections don't take place until next week, May 18, a date that ranks as the most important of the election calendar so far.

Just four states -- Arkansas, Kentucky, Oregon and Pennsylvania -- will go to the polls that day, but the ballot will be packed with marquee elections that will provide the broadest and most detailed data to date about the toxicity of the political environment and the intensity of anti-establishment fury. [...]

Congress itself stands to be immediately altered. By the end of the week, two more veteran senators could be torched by the anti-establishment bonfires that consumed Mollohan and Bennett within three days of each other. The Democratic House majority might be pared by two seats.
For the latest blow-by-blow coverage of each of the two Senate primaries, check out our Pennsylvania and Arkansas Senate pages.
Calling all HuffPost superfans!
Sign up for membership to become a founding member and help shape HuffPost's next chapter