Always a leader in religion news, The Onion was way ahead of everyone when it comes to the latest Pope Francis story.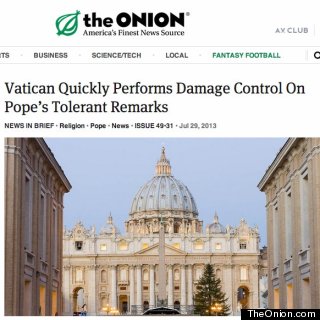 Coincidence, or foresight?
VATICAN CITY -- VATICAN CITY (AP) — Pope Francis has grabbed headlines with his off-the-cuff homilies, crowd-pleasing one-liners and lengthy interviews during which he has pontificated on everything from the church's "obsession" with rules to how he won't judge gays. But his chattiness has gotten him into some trouble, and the Vatican has gone into damage-control mode to clarify, correct or put his comments into context. Here's a look at some of Francis' more eyebrow-raising comments, and the efforts by the Vatican's spin doctors to address them.
....
But the Rev. Thomas Rosica, who helps with Vatican media relations, later said the interview didn't reflect Francis' real words.
...
Given Francis' wry sense of humor and willingness to regularly ditch speeches prepared for him, the Vatican spokesman, the Rev. Federico Lombardi, said he wants the faithful to know the difference between a pontifical joke and an encyclical, a clever quip in a homily and infallible teaching.
VATICAN CITY—Following Pope Francis' tolerant remarks Sunday about homosexuals and the Catholic Church, Vatican officials reportedly went into crisis mode, announcing that the Pope's thoughtful message of understanding was clearly taken out of context.

"It is not the official stance of the Pope or the Catholic Church that all people of good will who seek the Lord, especially gay people, should be accepted by Christ," a visibly nervous Vatican spokesman told reporters, adding that the Holy Father was clearly tired after his long trip to Brazil and never meant for his comments to sound caring or realistic. "Homosexuality is a disorder. And this in no way means that, going forward, the Catholic Church will be an open-minded, more sensible organization."

According to an anonymous source close to the Vatican, the Pope is currently being yelled at by Church officials, who are telling him, "You don't just go off script like that. Who the f*** do you think you are?"
The Best Of The Onion Religion Coverage Below
Calling all HuffPost superfans!
Sign up for membership to become a founding member and help shape HuffPost's next chapter
BEFORE YOU GO
PHOTO GALLERY
The Onion Religion News Coverage