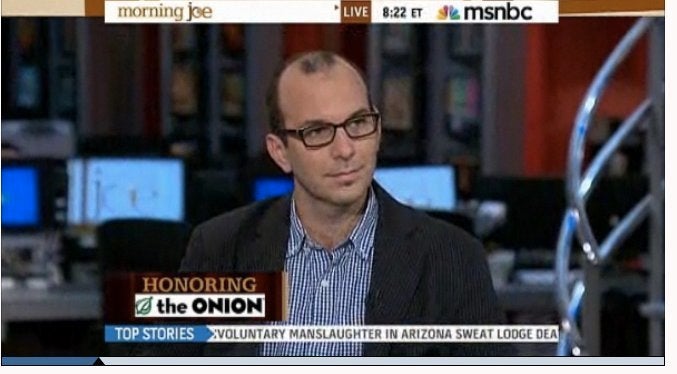 Editor of "The Onion" Joe Randazzo stopped by "Morning Joe" on Thursday to talk about the paper's campaign to be honored with a Pulitzer, as well as to delve into its history, both real and fake.
The segment had an absurdist tone worthy of "America's finest news source," as Tom Brokaw, Peggy Noonan, Donny Deutsch & Willie Geist peppered Randazzo with questions ranging from Noonan's, "Why is it called 'The Onion'?" to Deutsch asking why Randazzo hasn't considered taking his "sexy little brand" out into the more "telegenic" world ("The Onion" currently has two television shows on cable, "The Onion News Network" on IFC and the recently cancelled "SportsDome" on Comedy Central).
To his credit, Deutsch later commented, "I need to apologize for the single stupidest question ever asked on 'Morning Joe'."
Throughout the interview, Randazzo effortlessly switches back and forth between truthful answers and answers that are true only within the world "The Onion" has created, giving you a real sense of both the brains and the irreverence behind the paper's signature voice. When Brokaw queries why "The Onion" would be interested in an award that is as establishment as the Pulitzer, Randazzo asks, "Which answer do you want, serious answer or jokey answer?"
Brokaw speaks for us all when he says, "Both."
Popular in the Community