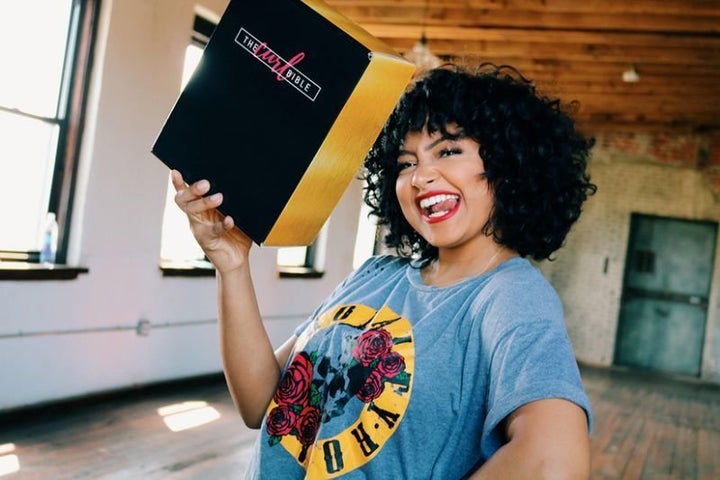 Black buying power shouldn't be overlooked or ignored, especially by beauty brands and business owners. According to a recent Nielsen report, last year "black shoppers spent $473 million in total hair care (a $4.2 billion industry) and made other significant investments in personal appearance products, such as grooming aids ($127 million out of $889 million) and skin care preparations ($465 million out of $3 billion)."
Yet many black women face discrimination and racism when patronizing their neighborhood beauty supply store. Entrepreneur and influencer Dana Chanel recently shared a post on Instagram that illustrated this sentiment loud and clear.
It featured an image of handwritten signs plastered on what appears to be the window of a beauty supply store, notifying shoppers of the following: "No public restroom," "Do not take pictures of the hair or the products," and "If you come in a group only (2) people at a time."
With the recent Starbucks arrests, this bathroom policy isn't surprising. However, the guidelines restricting the photography of hair or products and number of people you can shop along with is absurd — especially if a shopper relies on professional insight from hairstylists, braiders, etc., outside of sales associates at the beauty supply store, whose knowledge is often very limited.
Chanel wrote in the accompanying caption: "Every black woman has stared at this image before giving their money to an Asian-owned beauty supply store for YEARS, we have no problem giving money to those who think less of us because we HAD … no other option."
Hundreds of commenters chimed in, sharing their beauty supply store experiences, both positive and negative.
One person wrote, "I've NEVER seen crap like this. Nor would I spend my money in a place like that." Another individual shared, "I HATE this. One time I called my sister on FaceTime when I was getting ready to purchase a wig and I just needed her opinion cause I would hate to buy a wig and end up looking like Wanda from holiday heart. I'm just confused as to what they think taking pictures is gonna do."
But Chanel isn't just using her collective social media following of 5 million to call out such unfairness; instead, her latest business venture is a digital beauty space where women are truly valued.
Curl Bible is a black and Hispanic-owned online beauty supply store stocked with shampoos, conditioners, men's grooming products, and hair tools from top brands like As I Am, Carol's Daughter, Mixed Chicks, Pantene, Shea Moisture, and more at competitive prices. The online retailer is also an avenue for lesser-known brands to get into the hands of curious shoppers.
Financially backed by her family, Chanel got the company up and running in under six months.
"I thought of my dad, who is the CEO of Sprinkle of Jesus, and he always says, 'Don't try to be the store in the mall. Become the mall that the stores are in,'" she tells Yahoo Lifestyle. "Of course, all of our [black and Hispanic] companies are making money, but what we forget to do is build an in-home banking system. So I went to absolutely no one but my family to finance the Curl Bible."
Chanel recalls watching an Instagram Live where millennial beauty influencers candidly discussed how companies tapped into their followings to promote their products, and either paid them little or nothing at all for their hard work. "These girls are being bamboozled and not knowing that all they did was send you wholesale value of 20 products and you're giving them all the promotion they need to sustain their company."
So she added another empowering layer to Curl Bible with the Curly Queen Influencer program, through which young creatives and entrepreneurs can make a profit, no matter their follower count.
"I want Instagram hair and beauty bloggers to utilize the store to sell products and get a [25 percent] commission off of everything, instead of begging or waiting for a big brand to believe in them to actually pay them to do it," she says. "They get paid based off of if they make a sale or not."
Taking a page from the business practices that worked on her successful faith-based mobile application, Sprinkle of Jesus, Chanel incorporated similar alert notifications on the Curl Bible app to inspire users to take care of their hair with consistent regimens (e.g., Mask Monday), embrace their natural hair, and celebrate the individual they see when they look into the mirror.
Users can also watch tutorials featuring Curl Queens with different hair textures and lengths before deciding to make a purchase from the online beauty supply store.
Even though Chanel is a popular Christian entrepreneur, she tells Yahoo Lifestyle that she tries to "not to get too churchy" with the company itself. But, she says, "Don't get it twisted — there is a reference of God."
It's natural for her to embed God within the fabric of Curl Bible (hence, the name) because it was through prayer, she says, that she was given the vision to build her next brand for a purpose. "I'm just grateful to be used and want anyone to use me — I'm not offended!"
"A lot of the time, especially in the beauty business, you don't feel empowered. Women empowerment is not enough. You have to give them opportunity," says Chanel. "What I want is for women's careers to be sustainable … to have to pay these women's mortgage checks. Once they get the taste of making money doing what they love, they'll start thinking more creatively."
Read more from Yahoo Lifestyle:
Popular in the Community