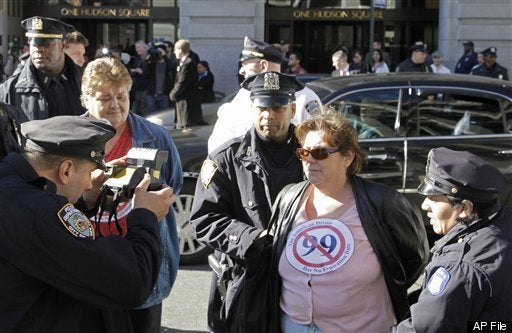 A Las Vegas man who's been out of work nearly two years wrote online Thursday that he's tired of being tired.
"As I see my life winding down in about three more weeks I have pondered the absence of relevance in my past life, and the lack of significance my passing will be to the world," wrote a 55-year-old former casino bartender known by many online as Bud Meyers. "I am nobody, just another ant on the ant hill. I am just one of over 6 billion humans on earth. An easy sacrifice for those who profit."
Meyers wrote that he's out of money and facing eviction in less than a month. He's a "99er" -- a person who exhausted all available unemployment extensions, which in some states amount to 99 weeks of aid, without finding work. There's no official estimate of how many people have exhausted 99 weeks of benefits -- only about half the 50 states provide 99 weeks in the first place -- but the White House estimates that 4 million people will have exhausted all available benefits by the end of the year.
"I'm tired of hoping when after all I've had for over two long years has been isolation, loneliness, disappointment, anger, frustration, and depression while engaging in useless efforts to find work and survive," Meyers wrote. "But no matter how difficult that has been, now I must face the stark reality of the last three weeks of my life."
The note caught a lot of people's attention, including many people who thought Meyers planned to kill himself. He told HuffPost that two police officers paid him a visit on Thursday within a few hours of his posting.
"They said one of my Facebook friends contacted them and feared I might try to kill myself because of that article," he said. "I said whoever read my article misconstrued it."
Meyers said the police officers told him that whenever he's evicted they'd drive him to the homeless shelter. He doesn't want to go.
CNN's Ali Velshi said during a Friday broadcast that he saw what Meyers wrote via Twitter. "Bud, I think you're listening, so hang in there," Velshi said. "You're not forgotten by everyone. You're in our heart and thoughts."
Talk-radio veteran Nicole Sandler, who started a website for 99ers, invited Meyers to join her for a podcast on Sunday. She asked him if what he'd written was a suicide note.
"It's a note of desperation, a lack of options," he said. "I want to do everything I can to cling to life. I think life is the most important thing there is. There's that and nothingness. But I'm 55 and been out of work over two years -- I'm not physically fit enough to survive on the street."
Meyers and other long-term jobless have advocated online for an additional "tier" of unemployment benefits, but though several members of Congress have introduced legislation, more weeks are probably not forthcoming. In Meyers' note, he discussed the people he's met online.
"Although there have been other jobless people I've come to know and admire through the internet, they've mostly been jobless strangers who have banded together from across the country who feel this connection to one another," he wrote. "Our commonality may be our desperation -- a pitiful thing to share with others when that is the glue to a friendship. But I am most appreciative to those who have reached out to me and have showed me support and offered their kindness and help to me. But like everyone else, I can never repay them back either."
The National Suicide Prevention Lifeline can be reached at 1-800-273-TALK.

Calling all HuffPost superfans!
Sign up for membership to become a founding member and help shape HuffPost's next chapter