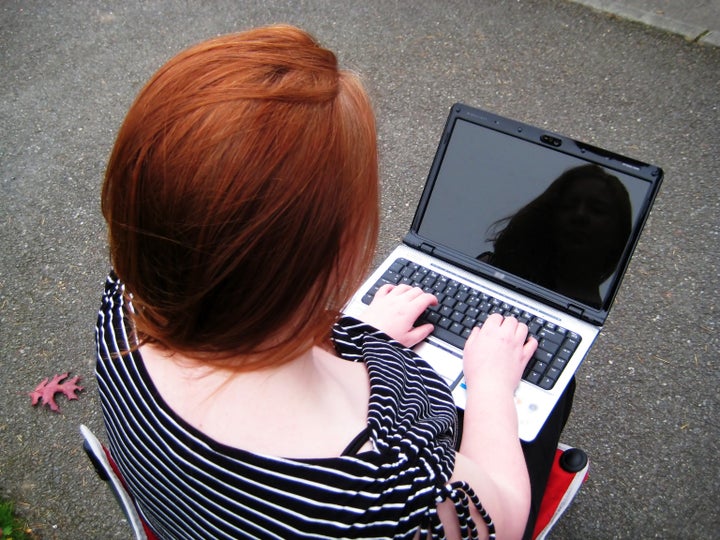 I sat at my kitchen table with a laptop, a bottle of wine, and my friend Mary late on a Saturday night in June. Staring at my blank computer screen, I could feel those familiar strands of anxiety knotted at the base of my throat, relaxing only when Mary poured me some wine. "Let's do this," she said. I nodded, took a deep breath, and began to type that dreaded procession of letters:
There I was: Four months out of a five-year relationship and almost 30 years old, wary but hopeful, unsure of how to proceed. The last time I dated I was barely out of college, overly positive, and certainly naive. I had met my ex in graduate school — that pre-selected community of like-minded folks. I had never dated in the "real world," as an adult with an office and a career and a commute. I had never dated when I had a solid idea of who I was and what I wanted — or didn't want — in a partner. A lot had changed.
After my breakup, advice for finding someone new came pouring in. Take a class! (Too much work.) Hire a matchmaker! (Too much money.) Go drink at bars! (Been there, done that.) But it always circled back to the Internet. The names of online dating sites peppered my conversations. My ears hummed with the okcupids, the match dot coms, the e-harmonies, the (dear lord) J-dates.
I had always assumed that online dating carried a stigma — the stigma of being alone, a collection of unwanteds sifting through each other's lives on the web, like picking out a cut of meat at the butcher shop. But everyone did it, apparently. Mary did it. My single friends at work did it. Even my mom had done it. I knew I wasn't ready for another relationship, still surrounded as I was by the emotional wreckage of my last. But I wanted to move on. On-line.
I didn't think it would be hard to write my profile. I'm a writer, after all. But sitting in front of that empty profile page, trying to figure out how to break myself down into digestible — yet attractive! — parts was daunting.
I've always considered myself an independent woman. But it was suddenly undeniable: Over the course of my last relationship, one that had spanned a solid chunk of my 20s, my identity had become tied with that of my ex's. And when I tried to remember who I was when I was by myself, alone, just me — I froze.
What am I good at? What do I spend a lot of time thinking about? Mercifully, Mary took control of the keyboard herself.
"I'm good at talking, not talking, listening, taking care of myself, laughing," she typed. "I think about stories — what story I want to tell, and how I want to tell it."
Together, we picked some headshots that didn't make me want to gouge out my eyes. One click and I was done.
Based on everything I'd heard, I figured online dating would be painful. Sales-pitch profiles (I work hard and play hard). Grainy photos of half-naked torsos shot in a bathroom mirror (Does anyone actually believe those'll work?). Bad food. Weak beer. Awkward dates aplenty.
All of this? Totally true.
In the last five months I've looked at hundreds of profiles, read scores of messages, and gone on more than a dozen first dates. Everything I'd heard would be painful has happened –- in some cases, more than once.
But what I've learned about online dating is this: I love it.
I love online dating not for the men I've met or even the hope that this is a method that will work — but for what I've learned about myself.
It all comes down to stories. The stories we tell ourselves and the stories we tell others. Every online dating profile I read is a narrative — a new one, a different one, out of context from reality. It's written in the first person, an intimate — if calculated — snapshot of a soul. Every profile I read forces me to compare and contrast — his story to mine, my narrative to his.
Meeting in person only ups the ante. There, sitting side by side at some bar in Boston or Cambridge, our stories are more raw, more real, without any filters or Marys nudging me along. New, more complex narratives unearth themselves from beneath a couple of beers. The goal? To figure out if our stories could ever intertwine.
I have been on dates with writers and editors, lawyers and graphic designers, medical residents and more. There was the perpetual grad student who was born in Boston, has never left, and reminded me why I'm proud of my own semi-nomadic past, even if I'm ready for it to end. There was the car salesman who drank too many martinis and was no match for me in any way — except in the way he loved his family. There was the chaplain whose boisterous passion for his work helped to remind me of my own, and the online poker player who read fiction so thoughtfully I found myself returning to novels read long ago, reacquainted with the notion that interpretations are liable to shift. I briefly dated a young philosophy professor whose views on the psychology of Hamlet told me everything I needed to know: no, thanks.
Each date forces me to look at who I am, to recalibrate an eighth of an inch, to reassess myself in tiny, almost imperceptible ways. So for that, I'm grateful to all of these men. Not because they save me from being lonely, or make all my dreams come true, but because they have helped me to redefine one of the most important relationships — the one I have with myself. Even if I don't know the whole story yet, I know I can tell my own.
And so I'm here, starting to do just that.
Calling all HuffPost superfans!
Sign up for membership to become a founding member and help shape HuffPost's next chapter