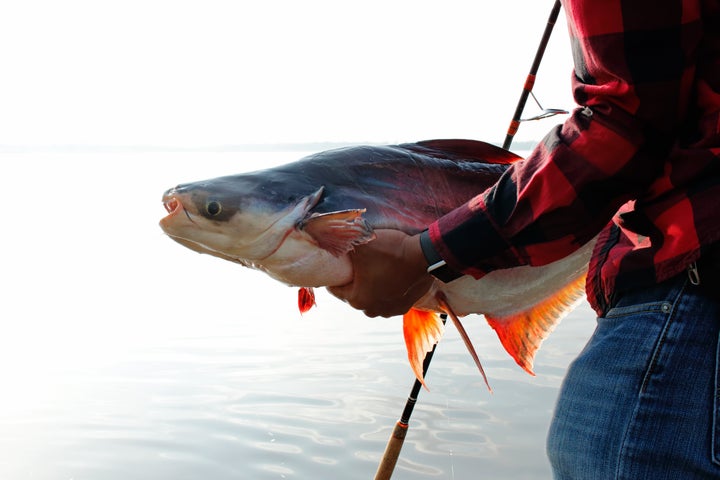 My date held the candle carved with runes as I threw a handful of rose petals, cinnamon, and bay leaves into the river. I shouted, "Blue moon waters, blessed be; Hold us in your divinity." It was Halloween, near midnight, a full moon, and he — The Fisherman — and I were floating in a boat, casting a spell for America's divine intervention.
The 2020 election was two days away, and we needed all the help we could get. The Fisherman was willing to assist. He stayed quiet as I read the spell into the ether; blew out the flame when it was time. We were a team that night: comrades at the helm of an uncertain future.
The Fisherman and I met on Bumble in the late summer of 2020, before the vaccines came out. He was hot, with a muscular, barrel-chested body, thick hair, and a huge ... laugh. Dating was especially weird at that time, mid-quarantine: Everyone was hungry for affection but no one knew what was appropriate; guardedness was at a whole new level.
A few months earlier, in my hometown, my dad was the first person his doctor diagnosed with COVID-19. He almost died from it, and I was recovering from the shock of those traumatic few weeks when my family had no answers. Not to mention, I was still reeling from the arrival of the Me Too movement; confused about the reasons why I was attracted to men in the first place.
On our first date, The Fisherman and I went hiking with masks; on our second one, we ordered beers on a patio, but the seasons were changing and the weather was getting cold. We didn't kiss until the third date, at a one-on-one bonfire at his house; even that was after a long discussion.
The guy was romantic. Like, so romantic that once, when he started kissing me on a street corner — some of the best kissing I've ever been a part of — it went on for long enough that the nearest neighbor knocked on their window from the inside to let us know, I think, to cut it out. The Fisherman made sure he was stocked on red wine for me each time he and I met up, and when my feet were cold on that freezing Halloween night, he cradled them in his hands with care, gliding on a pair of spare socks.
The first time I slept over, he had everything I asked for on hand: a soft outfit to sleep in, a glass of water, a toothbrush, even lip balm. When the snow started, we cuddled on his couch watching films with the dark themes we both loved: George A. Romero's "Season of the Witch" and Andrea Arnold's "Red Road." On Valentine's Day, he presented me with a bouquet of pink and yellow roses and some silver dollar eucalyptus threaded in.
"It's nice to have someone," I remember him saying, "in the winter."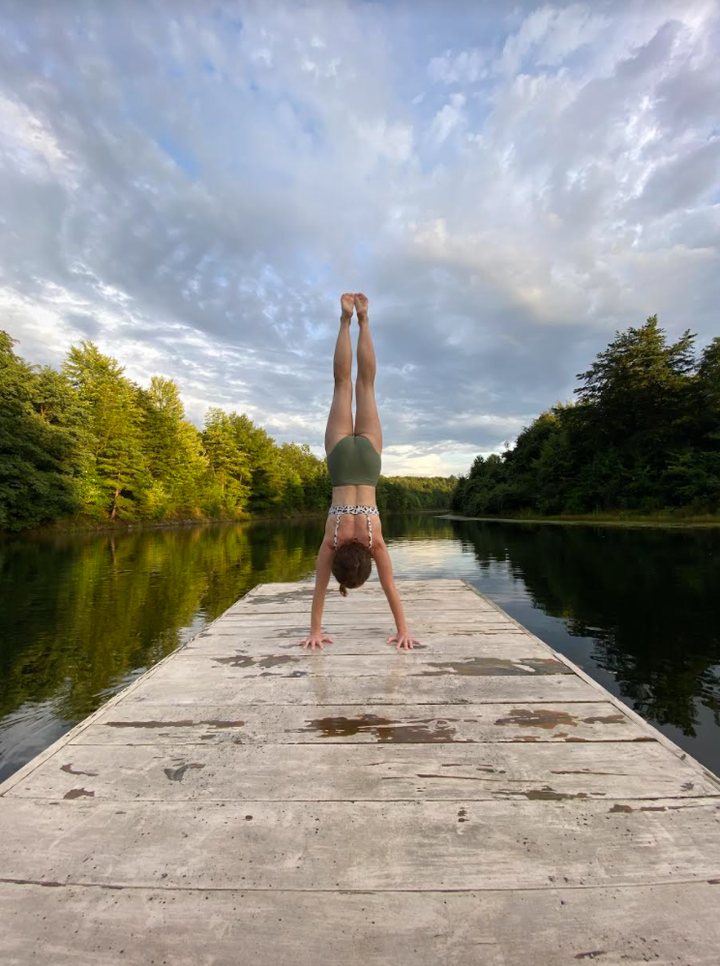 The Fisherman's house was strangely beautiful and dreamlike, complete with peacock-green carpeting and stained-glass windows. Set on the path of a nearby river, its cozy kitchen served as an observation deck for passing barges; at night, the boats' colorful lights had the effect of a miniature laser show on the ceiling. There was fish netting hung on the wall for decoration. In the mornings, The Fisherman would whip us up coffee and eggs or smoothies and we'd sit at his kitchen table, looking out at the water through binoculars. We watched the ducks — mergansers, he taught me — swimming and dipping their heads underwater to scout for fish.
He and I talked for hours by candlelight about lost loves (his ex recovering from cancer; my greatest boyfriend moving to Chicago); the best sad music (Tyler Childers and Lana Del Rey); and, prompted by the "Octavia's Parables" podcast, what we'd pack in a "go" bag if we had to leave and could never look back (he'd bring practical items like a knife; I'd take my Tarot cards).
Once, I brought up his dating app photo of him holding a fish — that cliche image that's become the laughing stock of the internet — and we joked about it. But in time, I found one major fisherman stereotype to be true: In love, they can be absent.
I told The Fisherman that I wanted to be with him one night in early 2021, over a game of vintage Battleship. Sure, there had already been a handful of miscommunications between us — one week, for example, he assured me that he wasn't sleeping with anyone else, but by the next week or so, he was — but those didn't matter so much in the long run, I convinced myself. I wanted to move forward with him with an open heart.
"Be with, be with?" he asked, his eyes shifting.
"Why did I go days without hearing from him? What was taking precedence? When I asked, he took me by the shoulders, led me to his living room, and lifted my chin toward a 20-inch brown trout, I think, mounted to the wall: That was my answer."
It had been a few months now — four at least — of this routine: meeting up about once every two weeks, always at his house, always at my prompting. He never met my friends or my family, and I never met his. He showed me an engraved wooden box from a former sweetheart: She'd loved him, he said with remorse.
I understood then that he'd been in this predicament before. I had questions. If he actually liked me, why wasn't he texting me on the regular? Why did I go days without hearing from him? What was taking precedence? When I asked, he took me by the shoulders, led me to his living room, and lifted my chin toward a 20-inch brown trout, I think, mounted to the wall: That was my answer.
Icelandic singer Emiliana Torrini has a whole album about this: The neglectful devotion of a fisherman. The Guardian describes her work, which is called, aptly, "Fisherman's Woman," as "often desperately beautiful songs stalked by undercurrents of loneliness and depression."
The lyrics to the title track portray a red-lipped woman waiting by a window for her partner, who is away at sea. She imagines him cold and salt-covered, missing her; fueled by his love for her. Deep down, though, she knows better; she's pretending. She scorns herself, but even still, she stands by.
Let's be real, though. My guy was no commercial fisherman, so the Torrini song isn't entirely relevant. More importantly, I was done.
I finally broke things off when two weeks or so had passed without communication. I told The Fisherman that I wasn't going to chase him anymore; his ambivalence had become too much to handle.
I think it was Mark Groves, founder of Create the Love, who taught me that dating is sorting. Here's the thing: The Fisherman didn't want to be with me — he wasn't the right one — but he helped me to unearth parts of myself I wasn't even aware existed. Apparently, I love to be near water, for example. This past summer alone, I've gone tubing, kayaking, swimming, paddleboarding, picnicking, and spectating on or near lakes and rivers as much as I can.
Too — and my therapist helped me with this one — the romantic qualities of magic and wonder that I endowed him with are, first and foremost, my own. So, now, every week, I buy myself a bouquet of flowers at the farmer's market; cook myself fabulous dinners, light candles, drink red wine, eat dark chocolate, and dance unabashedly in my kitchen. I'm the spellworker, after all.
A friend's therapist once told her the greatest gift of relationships is that they teach you about yourself: It's cheesy, but true. I came away from my time with The Fisherman reminded that dating can be fun, men can be tender, and I'm, as The Fisherman once put it, "cool as shit."
You too, reader, are cool as shit. Give that Bumble guy holding a fish a chance: He might be all you need to realize it.
Ashlee Green is a writer, editor, zinester, yogi, acrobat, and advocate of feminism. Her creative work explores the concepts of gender and sexuality, power structures, and personal freedom. She is the co-host of "Itty Bitty Coping Committee," a podcast about the intersections of art and mental health, and has been published in The Rumpus and LALITAMBA. Find her on Twitter at @ashleegreenbean.
Do you have a compelling personal story you'd like to see published on HuffPost? Find out what we're looking for here and send us a pitch.
Popular in the Community