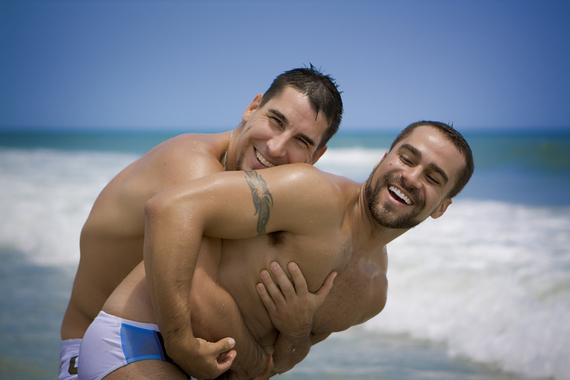 No I'm not recently single. Nor do I plan to be anytime soon. Heck, I just celebrated lucky #13 with my guy, which is like celebrating #26 in the heterosexual world. However, I deal in the dating world regularly because, for most of my clients -- gay or straight -- dating and finding love is a top priority. Whether it's the desire to feel loved or to avoid loneliness, it seems everyone is on the hunt to find a compatible partner so that they can experience the joys and pains of coupledom.
The pursuit for companionship can go a variety of different ways, regardless of your sexual orientation. There's the Hook-up route using apps like Tinder, Scruff, Dattch, Grinder, Pure, Growler and even the 3-way app, 3nder, for those seeking a little more adventure, fun and challenge along the way towards LOVE ROCKS.
Route #2 towards, "Shall we go steady," are the friends make friends love life happen route. Come on, admit it! Who knows you better than your friends...kinda sorta. Often times it's the "I have a great guy/gal you should meet," that can lead to happily ever after or "I never want to talk to you, or that loser you set me up with that you swore was perfect with me, again!" Two strikes, your best friend and the schmuck they rode in with are both outta here!
Which now brings us to option/route #3 -- online dating. Some consider this the last frontier before calling it quits on the dating scene, while others chant it up as the Holy Grail for finding the love that makes your groin tremble. Ok, Holy Grail is a ginormous stretch, but there are those in the dating world that swear that online dating gives them the best variety of possibilities, while affording them anonymity and being able to move at a pace they determine rather than being blindsided at a dinner party with the tried and oh so fake, "I'm so glad you're both here. I've been dying to introduce the two of you!" Yeah right! That dinner party, happenstance meeting, was orchestrated so well it deserves a Tony Award. Any who...shall we move on?
Not a week goes by that I'm in the midst of a coaching session, and low and behold a client asks, "Where would you suggest I find people to date outside the bar?" Of Course, my first response is, "Outside the bar!" After the void of silence prevails while they try to catch up with my punch line, they realize that I'm saying, "Get out of the bars and into your life, and Mr. or Mrs. Right will find you and you will find them." I know. Easy for me, Mr. 13 years and counting to say, but the truth is, you've got to spread your wings and try a little bit of everything. So here's one suggestion I have -- eHarmony's Compatible Partners.

Of course before I could suggest this tool for gay dating to a client, I figured I better do my homework. So I dialed up eHarmony central and said, "Hey, I need the low down and you could use some referrals, so can we go out on a date?" Of course being a handsome, funny, highly aware, fun loving guy with a high does of family values, how could they resist turning me down. I had what they desired, and they had the goods that would enable me to support my clients and answer the question, "Where do I go to find like minded gays and lesbians to date?"
Now, I'm not going to say that I think that Compatible Partners is the BOMB, the SECRET, the ANSWER to all your dating woe's, however I think it is an option for the person who is ready to do some dating, digging and put themselves out there. However, here are my first words of caution...Garbage In, Garbage Out.
Once you sign-up at Compatible Partners, a very quick and easy process, you're then guided through a detailed series of personality profile questions, with more to follow once you've completed the initial sign-up. My profile currently sits at 30 percent complete, which means I still have 70 percent more data I could provide to increase my chances of landing a man if I was looking to tell my partner/soon to be husband to hit the road. If you're in a rush to jump on the dating pony, be forewarned, the initial profile step will require a minimum of 30 minutes to complete and is the kingpin of the eHarmony algorithms for sending your Knight or Knightess in shining armor riding into your life. In other words, if you're coming to Compatible Partners in the hopes of a quick hookup, go back to Craigslist. It might be as time consuming as completing this personality profile, but you'll likely get the booty call you're after quicker. Compatible Partners is for the relationship oriented gay and lesbian, not the one's whose first question is "Are you more of an oral bottom or versatile top?"
Now here's one little notable tidbit that I don't want to prevent you from giving Compatible Partners a try. Their profiling system is based on eHarmony's patented Compatibility Matching System® that was developed on the basis of research involving married heterosexual couples. The Company has not conducted similar research on same-sex relationships. Not surprising given the fact that a) married homosexuals are still a novelty in this day and age and probably don't want to be research objects, b) gays tend to tell it like it is and would probably skew the heterosexual stats and c) at least most gay men I know would have to talk to their therapist, life coach, stylist and spiritual guide before they could participate in this type of research. Thus the reason, eHarmony is using what they know works, at least for now, to help those of you in the gay dating and lesbian dating worlds find love, love, love.
As I confessed earlier, I did set up a profile, please don't tell my partner, in order for me to give Compatible partners a little ride around the block. First, I was shocked at how quickly I got matches with only 30 percent of my profile complete. I was even more shocked that of the 26 I received, right out the gate, 14 of them on first glance -- you know the visual approval thingy based on their photos -- were guys that if I were single, I'd be wearing my little digits out, typing them "Hello, nice to meet you," messages. The others didn't make the cut either because their profile has the standard "no photo" uploaded icon, they're using a picture of palm trees on a beach (yes one of the guys thinks I want to date a palm tree) and the rest, well, they just didn't catch my eye so I defaulted to judging a book by it's cover. Shame on me for being human!
Overall I like Compatible Partners for the following reasons.
People who are on the site appear to be looking for more than the average booty call.
The variety of options to really paint a picture of you is pretty robust.
Navigation of the site is easy, and updating information is not cumbersome.
Overall the site isn't cluttered with a lot of unnecessary bells and whistles except the whistles from those who are your matches.
You have the flexibility to provide as much or as little information as you desire. There is a minimum amount of information required to get the ball rolling.
The downside to Compatible Partners is...
Search, find and exploring their 1M plus database is not possible. You get what you get matched with...period!
A lot of time gets invested setting up a profile only to find that to review the matches you receive -- see their pictures, learn more about them -- requires an upgrade to a paid account. Totally understand the reasoning, but it's not spelled out in advance that the minimum 30 minutes you'll invest to see your compatible partner also requires investing cold hard cash to see more of them. What fun is it to be a voyeur if you can't even see a picture.
You're in control, but not. We're kind of back to the garbage in, garbage out scenario. Depending upon how you answer the profiling questions determines the resulting matches -- so in other words you're in control provided you put good garbage in. Where you lose control is once those answers have gone into the nether regions of Compatible Partners algorithms, you're at the mercy of the heterosexual based research algorithms to produce you a prince charming or luscious lesbian of your dreams.
Pricing for this service could be a little high for the average Joe and Joan.59.95 for one month, 40.95 per month for 6 months and 10.95 per month for 24 months. However, I think it all comes down to what you're willing to invest to find love and create happiness. While most gay dating apps are free, most are also focused on the "O" moment and then the door slams as your hookup shouts, "Next!"
So, just what does this happily coupled, soon to be married, life strategist think overall about Compatible Partners? On a scale of 1 - 5, I give it a 3.9. It misses a solid 4 because of the pricing, and the inability to search profiles. It gets a solid 3.9 for its usability, awesome profiling and technology under wire that helps it stand out in the crowd of gay dating sites.