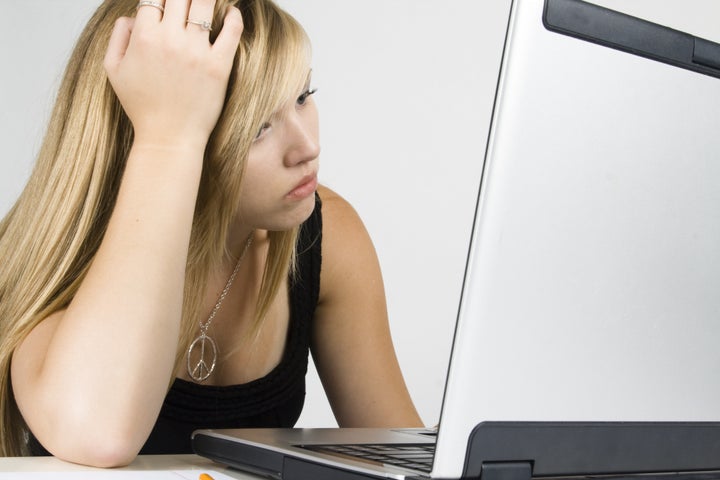 I have always been an advocate of online dating, for a variety of reasons. I think it's a great way to meet people you would never otherwise encounter, see places you may never have heard of and build confidence. Even if you go on one or two unsuccessful dates during the week, you still give off a vibe at the bar that says, "Yes, I am dating," as opposed to the I-haven't-been-on-a-date-in-three-months vibe that people (annoyingly) tend to pick up on, as if through an extra sense.
Nevertheless, as easy as online dating has become (it's evolved into the mainstream and is popular in New York City and across the country), it is still difficult to navigate as a bisexual woman. Sure, there are dating sites specifically designed for bisexual women, but they do not have the reach or the users of other, more well-known sites, and frankly, they tend to alienate gay women and straight men. Because, like many other bi girls, I am attracted to gay women and straight men, I want that exposure. Also, I have had gay and bi friends alike find amazing partners, love and fun on all-inclusive sites. So let's discuss two popular sites, both of which you have probably heard of, and both of which tout millions of users, just waiting for you and a wound from Cupid's arrow.
When signing in to Match.com for the first time, the first thing that appears is a banner that exclaims, "It's easy to get started!" You and I both know that this is not entirely true, considering how many questions you have to answer to complete your profile (physical characteristics as well as "likes" and "dislikes") and how much of a pain it is to allocate and upload attractive photos of yourself. But I digress. Immediately it asks if you are a woman or a man, which is fine for me but isn't necessarily an easy question for others who don't identify with one or either gender. I checked the "woman" box and then proceeded to the next question, which asks if you are seeking a woman or a man.
So, before I have even started, I have hit a wall. Why, Match? Why are you making me decide something that I can't answer so definitively? I am seeking love, and fun, but ultimately love, and I just don't know if that will be found in a man or a woman. It strikes me that there are two options: I can 1) choose a gender that is appealing to me right at this moment, or 2) create two separate profiles. The first seems less viable, because I truly like both genders, and I hate to be boxed in so tightly. The second option seems daunting, because, again, if you have ever filled out an online dating profile, you know it is a tedious, aggravating procedure. It should not be this difficult. (Also, someone stole my handle! The nerve!)
Then there is OKCupid, an extremely popular site not only because it is free but because it offers an app with a Grinder-type platform, and because it's what all the young NYC kids use these days. It asks if I am straight, gay, or bisexual. This is a little more inclusive, which of course makes me feel better, though it is not truly all-inclusive. After I check "bisexual," I have the option to click "I do not want to see or be seen by straight people." But wait! I like men, too! In my previous relationships, both short ones and long-lasting ones, I have dated straight men, so of course I want them to be able to view my profile. My profile now states that I am bi and looking for guys and girls who like bi girls.
And so another conundrum. As much as I like to avoid stereotypes, I couldn't help but wonder how many gay women would actively search out bi women on a dating site. Even if a gay girl is open to dating a bi girl, even if she doesn't harbor preconceived conceptions about bisexual women, my guess is that to make things easier and more streamlined, she is going to search for gay women. To further support this assumption, out of the 24 emails I received within the first 12 hours after creating my profile, I was not contacted by one single female. Four out of the 24 men who emailed me were part of a couple, and they were on a hunt for a third. This explains the abundance of headlines throughout bi women's profiles that read "I AM NOT INTERESTED IN COUPLES!" and so on, usually in all-caps. And when a single man emails me in an innocuous fashion but his profile indicates that he is only interested in bisexual women, I inevitably wonder if and when he is going to drop the threesome request. Now, I know I am just one girl, and this is by no means a well-researched or planned experiment, but I can't help but feel that there are consequences to checking the "bi" box.
Again, I tell myself that it should not be this difficult. I know I am not the only one facing this conundrum, because throughout my searches, there were many women who included in their profile summary a clear disclaimer. Whether they had initially checked "bi" or "gay," many women stated, "I identify as queer but picked [___] for lack of better options." So I follow suit. It takes less than a minute to change my online sexuality and to add an honest disclaimer, or clarification, in my summary.
I still stand by my online dating advocacy; I just wish it weren't so strenuous to navigate as a bi girl looking for romance. Don't think I am not tempted to go the blunt and honest route: "Bi girl, who is in no way interested in being your married couple plaything, seeks a woman who is not threatened by ex-boyfriends and does not believe bi women are incapable of fidelity, or a man who will not assume that he can sit and 'watch' and is not threatened by my fondness for breasts." Bi girl seeks love.
Support HuffPost
Every Voice Matters
Popular in the Community