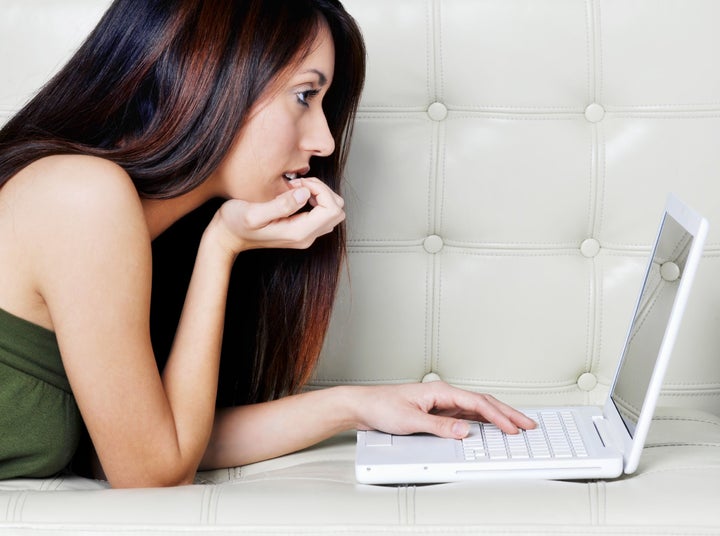 Traditional courtship dictates a seemingly simple concept: men pursue women. But this cardinal rule doesn't always translate when you're dating in the digital age.
Let's face it -- you often find yourself fumbling your way through online dating. And if you're feeling lost when you log in to your dating site du jour, your eRomeo probably has some questions of his own. The process of taking things to the next level -- getting a guy you meet online to ask you to hang out offline -- isn't always as smooth as Rico Suave.
Every day, I help singles navigate online dating. Take it from a gal who knows (and works in an office that's 60 % male) -- the opposite sex is just as clueless as we are when it comes to finding digital love. Despite the fact that Match.com, the first online dating site, was founded in 1992 (which is pretty old for anything in the tech world), in reality this form of dating is infantile in terms of creating a massive dating culture shift. So, step away from the keyboard a minute and consider that men don't always know how to ask you out in the worldwide web.
When you meet in person, the guys' etiquette for courting is obvious: develop some chemistry, get your number... and try desperately not to slosh any of his drink on your skirt. And if he doesn't ask for your digits, you can, well, hint a little. Whether it's conscious or not, most of us have done it, leaning into him, playing it coy to encourage him to make a move.
But when you make dating digital, flirtatious body language and the rest of our feminine, chemistry-inducing wiles are ctrl + alt + deleted. So while of course you want your match of the moment to virtually sweep you off your feet, the truth is that you need to shift his game until you get face-to-face... or until online dating becomes as natural as kissing your date goodnight.
That means adapting some of your best flirty practices to the web so you can move things offline. If he hasn't asked you out after six emails (three each way), follow my rules for hinting that it's time to take your relationship from the cloud to IRL.
1.Mention Something Current. It's cool that you bonded over your favorite museums from your respective profiles. But to meet in person, you need to remind him that you're here and now, not merely an online pen pal. Mention a current exhibit, what you've heard about it and that you'd love to check it out. Then ask if he's been. Hopefully he'll mention that you should head to the museum -- or whatever activity you're discussing -- together.
2.Bring Up The Weekend. Even though most first online dates take place after work, mentioning the weekend is a surefire way to get your match thinking about wooing you. Ask what he's up to during his time off and hopefully he'll respond with his plans and the possibility of including you in them -- even if it ends up being for Monday.
3.Be Bold. If all else fails, you'll have to be digitally daring. When subtle hints don't work, simply say that you'd love to meet. The trick here is to make it a statement, not a question. That way, when he responds, he can officially ask you out.
eFlirting has officially changed the courtship dynamic, but remember that chivalry is not dead -- it just needs a jumpstart once in a while. A tradition dating back to the Middle Ages can't be deleted from history -- after all, we have the hard drive to back everything up! Guys should absolutely still take a page from ye old Knights Code of Chivalry and act accordingly once you meet. But even though things are literally in black and white online, there's still a lot of gray on processes and expectations for chivalry 2.0. Don't be afraid to take matters into your own hands and shade in some color.
Support HuffPost
The Stakes Have Never Been Higher
Related
Popular in the Community