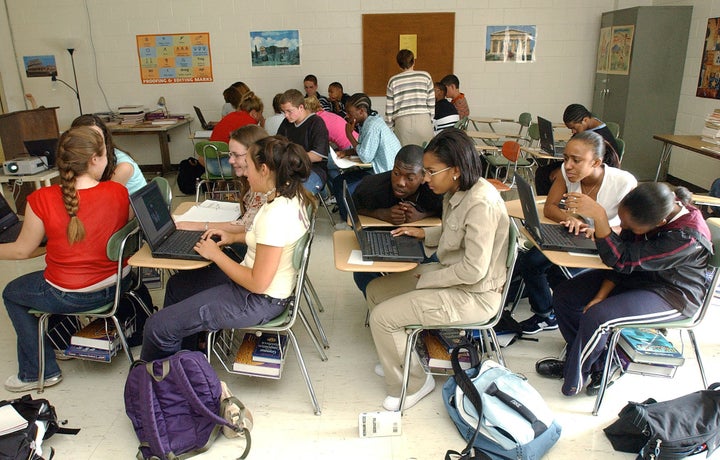 But the rapid growth raises the question do students get as much out of online learning as they do from face-to-face lessons with a teacher?
More than one million K-12 students took online courses during the 2007-08 school year. And with cuts to education spending escalating in recent years, online instruction is one option getting increasing attention as school districts look for ways to cut costs.
A recent article in the New York Times highlights the debate over the efficacy of online classes for K-12 students.
Proponents of online classes say they are a cost-effective alternative to traditional instruction that provide students more flexibility in their learning, as well as access to a greater variety of options. They allow schools to offer makeup courses, additional electives and Advanced Placement classes which they wouldn't be able to otherwise.
However, there isn't much research on the effectiveness of these virtual courses. Critics argue online learning will be used as a way for school districts to cut corners on spending -- to the detriment of their students' educations.
Some school officials offer examples of how online options help boost course offerings. According to the New York Times, a Maine superintendent, Reza Namin, says online courses offer an alternative to paying a Chinese-language teacher to instruct only 10 students -- a cost he couldn't justify when the district faces a $6.5 million budget deficit. Instead, students can take Chinese online through the Virtual High School Global Consortium, a nonprofit school that has seen a drastic increase in requests for their services over the last two years due to local budget cuts around the country.
Other advocates say that in addition to offering a wider variety of subjects, online courses allow students to make up classes they had previously failed, by working at their own pace.
However, a recent controversial state bill proposed by Idaho schools Superintendent Tom Luna demonstrated what online learning opponents fear: that technology might be used to supplant, rather than supplement, traditional classroom instruction.
According to the National Education Association, SB 1184 would have required four mandatory online classes for Idaho students -- tied to an increase in class sizes and paid for by eliminating teaching jobs. While the bill didn't pass in the State Legislature, Luna said he intends to continue to pursue the measure.
Sherri Wood, president of the Idaho Education Association, testified against the bill, saying it "trades teachers for technology."
Idaho is just one of many states where the battle over online learning is playing out. In Florida, thousands of students now rely solely on computers instead of teachers for their daily virtual lessons. And lawmakers are planning to expand online instruction to even more students.
With this and other education reforms, there's concern that the private sector may be behind the push toward online learning, so that companies creating online content can reap the rewards from taxpayers.
That's not the only complaint. Even proponents of online classes are concerned that makeup courses may be too easy, therefore being used as a means to artificially increase graduation rates without students gaining the knowledge they need.
Others worry that online learning will increase plagiarism, fail to take students' individual learning styles into account and add more screen time for an already tech-saturated generation.
As for the most pressing question about online learning -- does it work? -- the answer is not yet known. The Department of Education's review of online learning studies' main finding was that:
"Few rigorous research studies of the effectiveness of online learning for K-12 students have been published. A systematic search of the research literature from 1994 through 2006 found no experimental or controlled quasi-experimental studies comparing the learning effects of online versus face-to-face instruction for K-12 students that provide sufficient data to compute an effect size."
The analysis did find that students in online conditions performed modestly better, on average, than those learning the same material through traditional face-to-face instruction.
However, the report cautions that there were multiple dimensions that may have contributed to the advantages -- not just the instructional delivery medium. And that result was only found in studies comparing straight in-person learning with a combination of online and in-person learning; learning outcomes in studies comparing purely online versus purely face-to-face were statistically equivalent.
While the impact of increased online learning on students is unclear, it is clear that this is an issue that will be receiving a lot more attention -- and perhaps information -- in the future.
Related
Popular in the Community