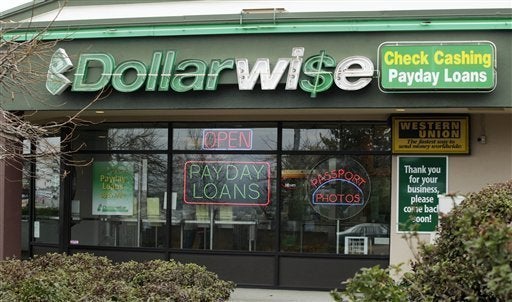 On Thursday the online payday lending industry wrapped up a three day-conference at a hotel near the White House, during which it courted senators and congressmen from both parties. When the Online Lenders Alliance formed in 2005, the "first step was to eliminate the 'bad apples' and standardize the principles by which loans should be made."
"When customers see that you belong to OLA, they know they will not only get financial relief," says the OLA's website, "but that they are doing business with a reputable company that adheres to good business practices and principles."
But who are the good apples who belong to the OLA? The OLA's site provides no details on membership, and one is hard-pressed to find many online payday lenders that mention the Alliance. (Though some do, like Loan Point USA and PaydaySpot.com. An OLA spokeswoman did not respond to a request for more info.) The OLA's conference agenda (PDF), obtained by the Huffington Post, lists several sponsors and exhibitors -- but almost all of them are either marketing or consulting firms.
Nevertheless, it's not hard to find an online payday loan. Online lending is a growing part of the payday lending industry, with $7.1 billion in estimated loan volume for 2008, compared with $35 billion for storefronts, according to one estimate.
Steven Schlein, a spokesman for the Consumer Financial Services Association -- the storefront payday lending lobby -- told the Huffington Post that online lending is "the Wild West."
Consumer advocates sent a letter to members of Congress on Wednesday urging them to ignore the conference and implement a cap on interest rates. "Online payday lending began in large part as a way to avoid state regulations of payday lending," the letter said.
"It's just one of those things with the internet. You're layering a whole other set of risks on top of a product that is set to fail by its basic structure," said Leslie Parrish, a senior researcher with the Center for Responsible Lending. Parrish's group, which signed the letter to Congress, considers online loans essentially the same as their storefront counterparts. But the lenders are harder to track.
Dale Pittman, a consumer protection lawyer who represents victims of debt collection harassment and abuse in Petersburg, Va., has some experience tracking online lenders.
"It's hard as hell to find these people," he told the Huffington Post. "You can't communicate with them and tell them what they're doing is illegal." Thirty-five states have enacted interest caps that effectively ban payday lending, but Virginia isn't one of them. Still, a lender needs a license from the state government.
Pittman tried to track down several online lenders on behalf of a client who was drowning in debt after taking out multiple payday loans over the course of a year. None of the lenders had a license, as far as Pittman could tell, so all the loans were illegal. (If the lenders are OLA members, they're disobeying "best practices" if they fail to remain "in compliance with all applicable laws and regulations.")
Pittman's client, David Redford, told the Huffington Post he took out a $500 online payday loan in late 2007. He said he still didn't have enough to keep ahead of the $950 monthly rent on his family's home in Virginia and the utility bills, car payments, and other expenses. It wasn't long before he went online to take out another loan, and another, and another.
"Every couple weeks we were taking out a new loan to pay off the old one," said Redford's wife, Tawnya.
The Redfords said they made minimum payments every other week -- which started at $75 and eventually reached $250 -- and never dented the principal they owed. A year after taking out his first loan, Redford owed hundreds of dollars to each of at least six lenders, including capitalfunding.com, paydayloanyes.com, papercheckpayday.com, cashtransfercenters.com, and upfrontmoney.com. Bank fees piled up as the lenders siphoned money from his account.
"I was drowning in overdrafts," he said. "I didn't know if it was OK or if it was illegal."
It wasn't, according to his lawyer. But Pittman was only able to locate a human being from one of the websites: upfrontmoney.com, headed by one Warren Williams of North Carolina. (Williams did not respond to inquiries from the Huffington Post.)
"We located him and had several discussions with him," Pittman said. Redford's contract with upfrontmoney.com states that the company "is not in the business of making any type of loan" -- instead, it provides a big cash rebate after the customer purchases a prepaid phone card.
Pittman said Warren didn't put too much effort into the it's-a-rebate-not-a-loan argument -- a typical sham, according Consumer Federation of America -- before forking over $6,000 in a January settlement. Pittman wasn't surprised: "It's just all complete nonsense. It's fairy tale stuff. It's bullshit."
UPDATE: CFSA's Steven Schlein wrote the Huffington Post to say that his "Wild West" characterization was directed at "rogue offshore lenders," not the entire online lending industry. Schlein wrote that the OLA "has been a constructive force in its efforts to bring industry best practices and standards of conduct to the internet cash advance sector."

Popular in the Community