By Robin Respaut and Lucas Iberico Lozada
NEW YORK, April 14 (Reuters) - By one estimate U.S. online political advertising could quadruple to nearly $1 billion in the 2016 election, creating huge opportunities for digital strategy firms eager to capitalize on a shift from traditional mediums like television.
These firms - mostly small, partisan and based in Washington and surrounding suburbs - have grown in sophistication since the last presidential election in 2012. A niche sector in a multi-billion election industry, they are poised to play a much bigger role in 2016 as digital ads assume more importance and change the way political money is spent on advertising.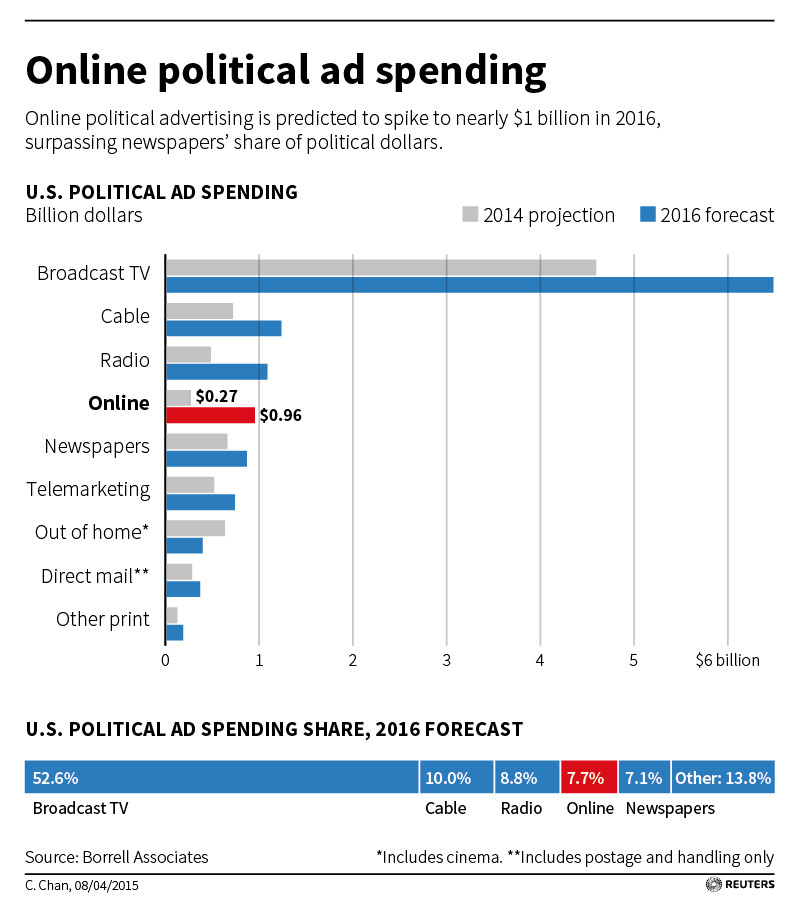 The companies, typically privately held and staffed by 30 to 100 people with engineering and developer backgrounds, will operate in the background of election campaigns. But their influence will likely be felt in millions of households as they help candidates tailor online adverts for specific groups of voters.
Their analytical wizardry enables them to "slice and dice" the electorate so precisely that they can zero in on voters in a single apartment block. A candidate's ability to micro-target likely voters with adverts on issues they care about is crucial in a modern American political campaign.
Firms that target voters with digital ads are multiplying, in some cases seeing the number of both clients and employees triple each two-year election cycle, interviews with multiple firms and reviews of Federal Election Commission records show.
Some of the companies told Reuters they anticipate hundreds of campaigns, ranging from presidential to school board, to sign contracts with them.
Washington-based DSPolitical expects to double in size to 60 employees in 2016 to cope with the increased business, Jim Walsh, DSPolitical's co-founder, said in an interview.
When it launched in 2011 it had a hard time convincing candidates that its ability to target voters with a precision unheard of in prior races was anything other than a sideshow to the traditional advertising strategies that focused on television, radio and newspapers, he said.
But by 2014, the firm, which works mainly with Democratic and progressive groups, had done more work in one month than it had in the whole 2012 election cycle.

Digital targeting works like this: First, partisan data firms, like i360 and Data Trust on the right and Catalist and TargetSmart on the left, compile detailed voter databases and scrutinize them for demographic and geographical information on 190 million registered voters.
Next, digital targeting firms like DSPolitical, CampaignGrid, and Targeted Victory, map the voter datasets against commercially available data like Internet histories and real estate and tax records.
So, a candidate attempting to reach environmentalists in Detroit could, for example, send online ads to specific registered voters in the Detroit metro area who had typed "Honda Prius" into Google.
Predictions for 2016 show online advertising will consume only 8 percent of media budgets, or $955 million. But the growth has been explosive - up from $270 million in 2014 and just $14 million in 2010, according to Borrell Associates, a research firm that tracks advertising.

"Television is still the most effective way to get your message out there," said Vincent Galko, a consultant for Republican congressman Ryan Costello's winning bid for the U.S. House of Representatives in 2014. "But when you have a finite budget and expensive market, targeting online and through social media is very effective."
Costello's campaign hired CampaignGrid, based in Fort Washington, Pennsylvania, a political ad targeting firm that has also worked on New Jersey Governor Chris Christie's gubernatorial campaigns.
Identifying the total number of firms that offer clients targeted digital advertising and consulting work is complicated, however. Many traditional advertising agencies now offer some form of targeted digital work, as well as campaign consultant subcontractors. As a result, measuring growth of this cottage industry is tricky.
Some of the largest strides in digital advertising have come from the right, which worked quickly to catch up after Democratic President Barack Obama's 2012 campaign dominated advertising online and on social media like Facebook.
"2012 was really crude, because our side didn't do so well," said Michael Palmer, president of i360, the data company backed by billionaire brothers Charles and David Koch. Since then, the firm has focused on expanding and refining its data to narrow the technological gap between Republican and Democratic campaigns.
i360 billed candidates and political committees more than $23 million in the 2014 congressional election, FEC data shows, and now delivers advertising so personalized that neighboring households can watch the same television program but see completely different ads based on their political affinities.
"Think of how much money is wasted running an ad during a sports program to people who aren't registered to vote," said Lindsay Conwell, vice president of accounts and media at i360. "This may be more expensive, but it's more effective." (Editing by Ross Colvin)

Before You Go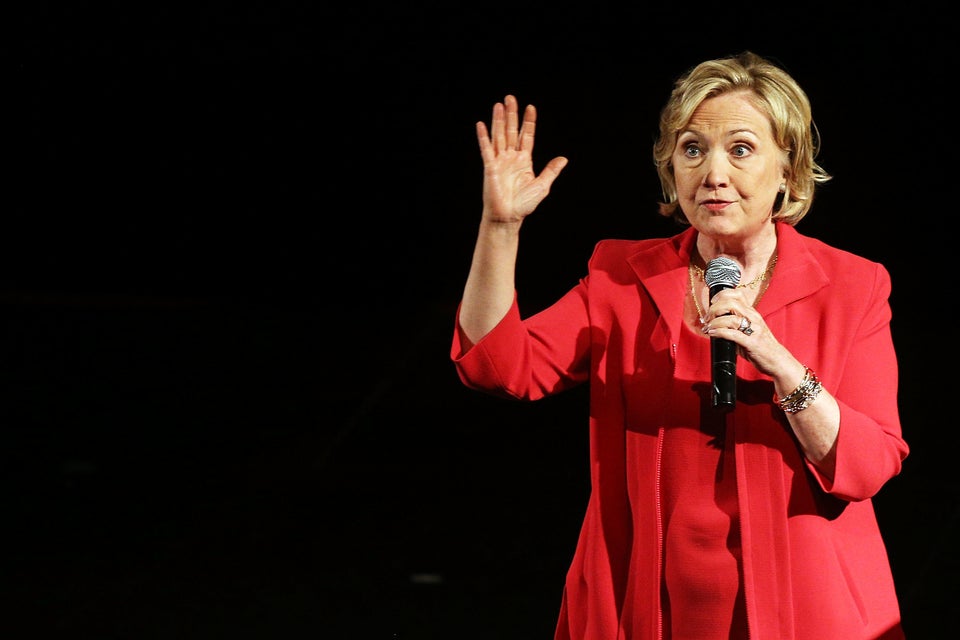 Potential 2016 Presidential Contenders
Popular in the Community