Note: Despite recent economic advances, Vietnam continues to languish when it comes to improving its human rights record, activists say. A new English-language online news portal, Vietnam Right Now, looks to inform readers on the Communist country's human rights situation, including updates on prisoners of conscience and others jailed for speaking out. Vietnam Right Now Editor Hao-Nhien Vu is a former editor with the Los Angeles-based Nguoi-Viet newspaper. He spoke with me about the publication and the day-to-day human rights abuses in Vietnam that it plans to cover.

What makes Vietnam Right Now different than other outlets reporting on Vietnam?
What's special about Vietnam Right Now is that we are single-mindedly focused on human rights issues. Many other news outlets spend a lot of time on other questions such as what the Vietnamese Communist Party happens to be doing. But unless the [government's] actions have a direct impact on human rights, it's not something we cover.
We're also working on a series of informative articles on some of the most important human rights issues in the country, including "Article 258," a law that criminalizes "abusing freedom" and has been used to imprison anyone who says anything the government doesn't like.
We also have a database of prisoners of conscience that provides updated information on every prisoner of conscience that anybody knows about.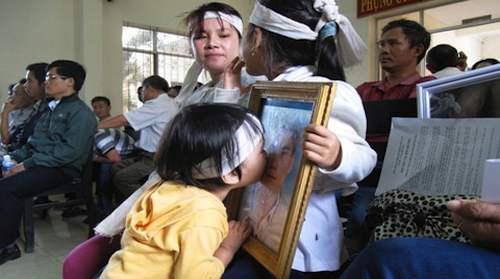 Family of a man beaten to death by police attend a court hearing in coastal Phu Yen Province. The suspects in the case were eventually given suspended sentences. Read story here.
Why have there been so few English-language portals reporting on Vietnam to date?
Actually there are other independent websites that include articles and stories in English for non-Vietnamese readers. But I think because there is a tremendous need to communicate even among Vietnamese, in Vietnamese, there aren't a lot of resources left to do things in English.
What's interesting is that the Vietnamese government itself has long recognized the need to put out their news in English, so a lot of state-owned media in Vietnam have all-English versions. So I think it's timely that Vietnam's independent civil society gets one too. And I hope in time there will be many news portals like ours.
Does Vietnam have a civil society?
It does, and it doesn't. Some segments of civil society are given space to work. For example, you may have heard of a one-man crusade to get kids to read more by getting schools and families to set up libraries. But even in those situations, the government keeps a close eye on their activities and a lot of things must be cleared through local authorities. Aid to victims of natural disasters, for example, by law must go through local cells of the Patriotic Front.
And then there are activities on art and culture and creativity and generally things that involve opening the mind. That's tightly controlled by the government because they're generally very wary of anything that makes people think for themselves. So there have developed underground poetry movements, underground performing arts movements. That's civil society, it's not allowed, but people do it anyway.
And of course civil society segments that hold political views different from the government's are just flat out prohibited. People who oppose bauxite mining in the Central Highlands for fear of environmental harm have been arrested and sentenced to prison.
So what happens is that independent civil society segments in Vietnam are finding room to breathe and work on the Internet. Cyberspace has become the ultimate freedom frontier for independent civil society in Vietnam.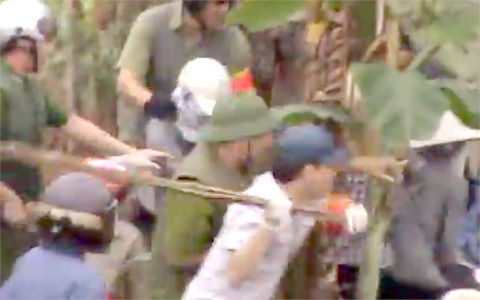 Videos surface of police eating farmers, peasants, in land grab case. Read story here.

Where does the support come from for your news organization?

Many of us who started VietnamRightNow.com are already involved in human rights work. Huan Nguyen from Denmark runs a news portal in Vietnam, danluan.org, and is active in the pro-human rights group Vietnam Path Movement. Another is Hoi Trinh, a Vietnamese-Australian attorney and the executive director of VOICE (Vietnamese Overseas Initiative for Conscience Empowerment).
As for people doing reporting for us, we have activists and other observers in Vietnam alerting us to news that's happening. We try to verify the information, and then we write it up. Some articles have bylines and some don't. Those that don't are either because the writer didn't directly discover the information or the person who reported the information lives in Vietnam and didn't want his or her name used.

Since you are not in Vietnam how do you go about getting your sources, and how reliable are they?
Usually activists alert us to what's happening. We try to verify the information, and what's unfortunate is that if we can't verify then we can't print, even if as individuals all the editors are sure of the story. As you know, there are complicated rules on verification but in general and at the risk of oversimplification if we can get corroboration from a second source unrelated to the first, we consider the information verified.
With the explosion of media and the Internet, do you see signs of change in the government?

Oh yes. One of the characteristics of this generation of communist leaders is that they've realized that public opinion counts for a lot. Several instances of criticism that reached critical mass have resulted in changes. An example involving one of my own pieces of reporting was when the government tried to tax money sent by Vietnamese-Americans to their family in Vietnam. After I broke the story with the BBC Vietnamese Service, it blew up on the blogs, and the government took it back within a day.
Another recent example is the trial, conviction and sentencing of Phuong Uyen. She's a young, twenty-something college student who took pictures of herself with the flag of the former South Vietnam and anti-communist slogans. When the blogosphere and social media uniformly condemned the prosecution, the government relented, and on appeal suspended her sentence and freed her on the spot. Another student in the same case, Dinh Nguyen Kha, had his sentence reduced.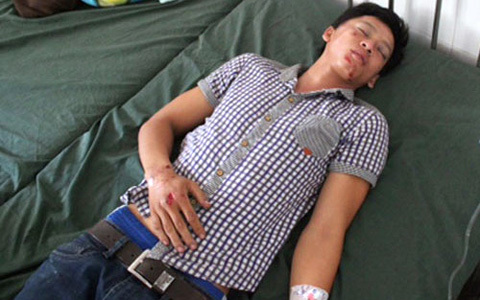 Motorcyclist beaten by police while riding his motorbike. Read story here.

Of course, there are many more cases where public opinion made no difference whatsoever, such as the bauxite mining project in the Central Highlands. Despite widespread opposition, including by many prominent communist party members such as General Giap, the project went on anyway. Now, several years later, it's been reported that the project is incurring huge losses. But it's still ongoing.
There are intellectuals in Vietnam who want to have independent media and are pushing for it. Do you think that can happen some day soon?
I hope so. In fact a delegation of Vietnamese bloggers were in DC last week advocating for an independent media for Vietnam. Hopefully efforts like this will accumulate and end in concrete results.
Six years ago a bunch of us were sitting on a bus in London and we were speculating on when Vietnam will have a free press. I said five years. It's been five years plus one. I'm still optimistic. Keeping a lid on the human spirit is just about the hardest thing possible.
REAL LIFE. REAL NEWS. REAL VOICES.
Help us tell more of the stories that matter from voices that too often remain unheard.