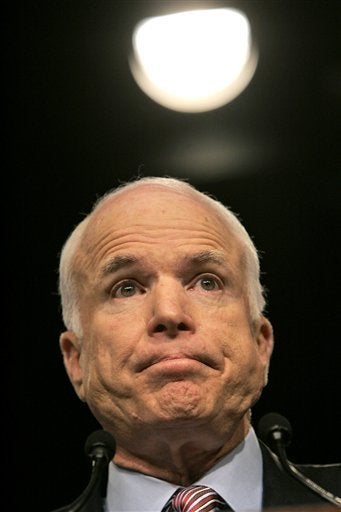 The media may have lost interest in Sen. John McCain's fervent efforts to dodge campaign finance restrictions, but liberal bloggers are ratcheting up pressure over the issue.
On Tuesday, blogger Jane Hamsher filed an official complaint with the FEC on behalf of several prominent online progressives, including Markos Moulitsas of DailyKos, Robert Greenwald of Brave New Films, and MoveOn.org Political Action (see the entire list of signatories).
"McCain has been getting a pass, a major pass on this issue," Hamsher, who founded Firedoglake, told the Huffington Post. Her complaint charges that McCain is violating campaign finance law by spending beyond limits imposed by his decision to take public financing.
"[Campaign finance reform] is his thing and he's just flouting it, Hamsher says. "He's breaking the law."
The complaint comes as the McCain campaign disclosed that it has spent over $54 million during the primary season, surpassing the spending cap for candidates who accept public financing during the primary election.
McCain originally was certified to enter public financing last year when his campaign ran desperately short of funds. However, when big wins in New Hampshire, Florida and on Super Tuesday reversed his fortunes, McCain's campaign wrote the FEC announcing that he would withdraw from the public finance system. McCain has not yet collected publicly matched funds.
However, as progressive blogs have noted, McCain's notification is not enough to pull out of the public financing system. Late last month, FEC Chairman David Mason informed McCain in a letter that his withdrawal would not be official without the approval of a majority of FEC commissioners. And due to a congressional stalemate over the appointment of FEC commissioners, the current regulatory body is unable to muster a quorum, meaning it has not been able to address McCain's letter.
Also at issue is a December loan that McCain procured for his campaign. McCain used his promise to accept public financing as collateral, assuring his creditors that he would accept public financing to repay his debts were he not able to raise this funds on his own. The FEC has sent McCain's campaign further questions about this loan, with the intention of determining if the terms of the agreement committed him to accepting public funds.
But McCain has continued on with his spending, and his lawyers have argued that the campaign has met its burden in opting out of the system. Progressives are unconvinced, and they want a ruling from the FEC. "This as an effort to hold a candidate accountable for his behavior," Markos Moulitsas tells the Huffington Post. "We already have an administration that has made a habit of ignoring the law whenever inconvenient, and I will do what I can to prevent McCain from going down that path."
Popular in the Community