Everyone talks about online safety and we all need to implement it into our cyber-worlds but have you ever truly sat down and thought about what it really means?
Stephen Balkam, the founder and CEO of FOSI, reminded us that the origins of Internet safety started with protection from the three P's: porn, predators, and pedophiles.
As we advanced into the twenty-first century, we were introduced to many new social media and networking sites, which then opened doors to the challenges of cyberbullying, sexting, over-sharing, over-use, and many more digital issues and social behaviors that needed to be addressed for children and adults alike.
According to Wikipedia, the definition of Internet safety is as follows:
Internet safety, or online safety, is the knowledge of maximizing the user's personal safety against security risks to private information and property associated with using the Internet, and the self-protection from computer crime in general.
FOSI offered an excellent breakout session with two leading experts in the field of Internet safety and privacy issues to discuss redefining online safety.
Kim Sanchez, formerly was the director of online safety at Microsoft Corporation, and Adam Thierer, a distinguished researcher with a focus on digital safety and online privacy lead an open workshop with audience participation.
When they asked the audience what online safety meant to them, it was interesting to hear the responses that people from all over the country and world (as far as New Zealand) shared.
Here is the condensed list they came up with: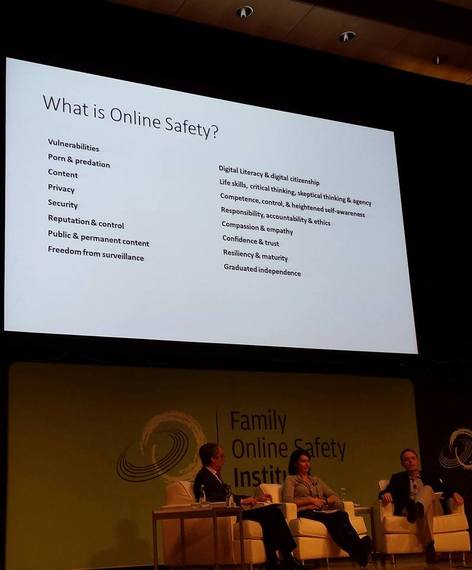 Adam Thierer tweeted earlier that day, which I believe speaks volumes:
There was a participant in the audience who felt that online safety shouldn't be approached as a risk. Her thought process was it seemed too negative or fear-based. However, in life, almost all things we do -- including driving a car -- has risks. It doesn't necessarily mean we are living a negative life based on fear, it only means that we all have to be aware that if we are not cautious in things we do, there can be risks.
Interestingly, when asked what concerned parents most about the potential harms their children could encounter in the digital space, we can see some similarities to past fears with added concerns:
•67 percent said seeing harmful content (could be perceived as porn)
•67 percent said company's tracking for marketing
•69 percent said communicating with a stranger online (predators and pedophiles)
•67 percent said over-sharing (providing too much personal information online)
(See the full report online)
The awareness of this can absolutely maximize benefits in living, which is why online safety is imperative.
The concept of this was further explored and some excellent points were made. Living life well online was the most popular concept, and one that many people embraced in this session.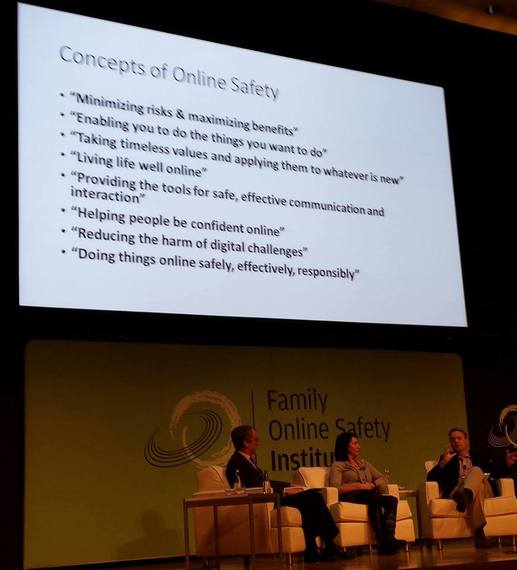 Another interesting takeaway from this session was that many people think of online safety strictly as it relates to children. Larry Magid, a leading technology expert was a participant in this session and reminded us that adults that can become victims of online harassment, marketing scams, and other cybercrimes at a higher percentage than youth according to a recent PEW Study. Online safety education and awareness needs to include young adults, parents, and especially seniors.
I have repeatedly encouraged parents, teachers, schools, and communities to start embracing the Internet, not running from it or ignoring it. The fact is, it is not going away -- it is only evolving -- which brings us to the next finding in the Hart Research report:
When parents were asked who they trusted the most for information about their child's use of technology, 38 percent of parents (the majority) said it was their child's teacher and/or school.
The next step, requiring all schools to have cyber-civics classes for students and offer seminars to parents so they will be able to keep up-to-date with cyber-skills and technology information. The catch is getting parents to attend!
Cyber-Civics is the new generation of Home-Economics and Wood-shop, with the exception that the class needs to be a requirement not an elective.
Stephen Balkam said it best when he referenced online safety as acknowledging risks and recognizing a culture of responsibility today. It is about being proactive and creating awareness in all realms of cyber-reality.
Our needs have evolved beyond the three P's. Redefining online safety is about building onto current online safety measures to meet today's digital needs so we can continue embracing life and living well -- at all ages.
How do you define online safety? Let's start a dialogue and learn from each other.

Takeaway tips:
•Offline parenting will improve online safety and social media behavior in youth.
•Online safety is part of all of our lives. Be a cyber-mentor, always share cyberTips with friends and others.
Related