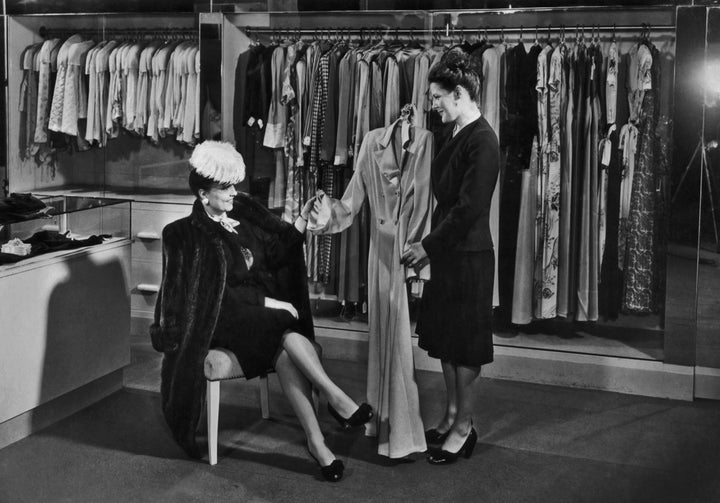 Walk into my home at 11 p.m. and it probably looks and sounds like any other family's house at this time of night. After tripping on the truck my three-year-old has left out in the living room and hearing the buzz of the baby monitors, you could easily declare that everyone is sound asleep. Even our dog would barely lift her head to greet a stranger entering our house at that hour. However, this is not about my family life or children's sleeping (or lack thereof) habits. It's my opportunity to confess and express my gratitude for online retail therapy.

Before play dates and potty-training, I looked forward to some Me Time at the stores. The saleslady knew my first name and we often acted like long lost friends. She always warmed my day by having just the "perfect Elie Tahari dress, skirt or blouse." On days when skinny jeans were not feeling so skinny, she had the perfect Prada ballet flats for me. (Gorgeous shoes can fix any problem). This is the first part of my confession: I have not seen my saleslady in months! As a matter of fact, I feel like I'm cheating on her. Now my shopping is done online.
When the lights go out and all three of my children (four if you count my husband) are asleep, I get my second wind and am ready for some retail therapy. No, I don't quickly get dressed to run out to the local 24-hour drug store. In fact, I'm in my old college sweatpants and a t-shirt.

I was first introduced to the world of online luxury shopping by a friend who told me to take a look at a sale going on at Gilt.com. Little did she or I know that her recommendation would take on a whole life of its own. Being able to shop solo, without a stroller, sippy cup or bored five-year-old was like hitting the jack pot. (My husband would strongly disagree with this analogy).
Shopping on sites like Hautelook and Moda Operandi requires some speedy finger tapping, confident decision making and of course, a good eye to find what you are looking for. Initially, the learning curve was steep; I didn't have my saleslady for guidance. Nevermind that I had to learn to be an abstract and a visual thinker. (No fitting rooms or three-way mirrors forces me to use my imagination and trust my gut instinct). I had to learn quickly; the timer on my computer screen flashed a countdown to the sale ending as well as a flashing threat that the contents of my cart would soon expire -- never was the saying "You snooze, you lose" more true.
I became a pro. I no longer needed to bring my credit cards to bed, and I became such a regular that I was greeted by first and last name when signing onto my favorite online boutiques. Most importantly, not bringing the credit cards to bed and not having any receipts laying around the house meant that I didn't have to hide the evidence. Between soothing my crying six-month-old and taking my three-year-old to the potty, I was able to hop back into bed and pick up exactly where I had left off -- no checkout line or dirty looks from shoppers also meant less frustration for all of us. My habit went mobile: My iPhone was quickly synced to online boutiques so that I could multi-task. I'd be carrying my son on my hip and packing lunches all while daydreaming about the perfect summer sandals.
My online purchases mean that I am also more excited and eager to get home and check the front door. However, on days when I get stuck in the pickup line at school my husband beats me home and is often greeted by a pile of boxes -- and not a single box is addressed to him. The goods in these packages are intended for me to excitedly open, admire and appreciate.