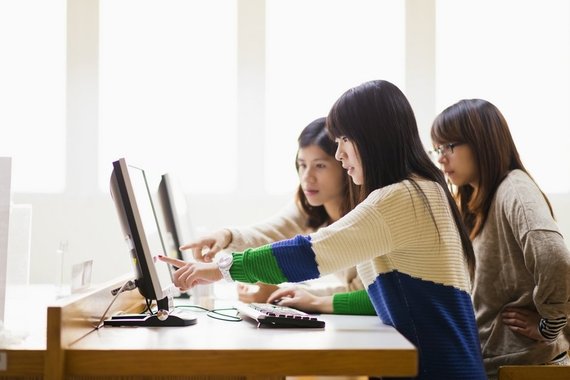 We're only a matter of weeks into 2014, but there have already been promising developments to fix our nation's elections system and make it easier to register to vote. By the beginning of 2014, at least 21 states had established or were in the process of establishing online voter registration systems. This means that 100 million, or nearly 50 percent of, all eligible voters in the nation will live in states that provide this easy and convenient way to register to vote. According to new research by the Pew Charitable Trusts, online voter registration provides great benefits for voters and election workers alike. The benefits of online registration are so great, in fact, that the bipartisan Presidential Commission on Election Administration (PCEA) has taken notice. In January, the PCEA released a report recommending that states adopt online registration.
Online voter registration is a critical step to bringing our voting systems into the 21st century, however, most of the systems implemented thus far leave out a significant and important part of the population -- citizens who don't have a driver's license or non-driver's ID. The League is committed to ensuring that every eligible voter can register and update their registration through online systems.
Why We Need Secure Online Voter Registration
Secure online voter registration is one of five key election administration reforms that the League believes are critical to making our elections as free, fair and accessible as possible. Pew's study confirms that online registration saves taxpayer dollars, increases the accuracy of voter rolls and provides an easy and convenient option for citizens who need to register to vote or update their information. Pew found that online voter registration increases voter satisfaction, with polling data showing that 65 percent of registered voters support allowing online voter registration -- likely due to the system's ease and convenience. Online voter registration also decreases the administrative burden caused by the need for officials to re-enter information from handwritten forms and eliminates the risk of transcription errors.
Improving Current Online Voter Registration Systems
The League is encouraged that states are increasingly updating their elections processes to meet the needs of our modern, mobile society. However, we must ensure that advancements in our voting systems apply to all eligible voters. Currently, almost every state with online voter registration requires that voters who use the system possess a driver's license or a state-issued ID card with a signature on file. As a result, millions of eligible voters who lack driver's licenses or state-issued IDs are unable to use the system. For example, young people are much less likely than the general population to have a driver's license - and young people are also much less likely to be registered to vote! What's more, there are strong economic and racial divides in Internet usage and access. These circumstances raise concerns about voter discrimination, as those locked out of the current online voter registration systems overwhelmingly tend to include low-income, minority, elderly and disabled individuals.
The League is committed to ensuring that elections are free, fair and accessible, meaning that all eligible voters have equal access to the ballot, including minorities, the elderly, women, low-income individuals, young people and people with disabilities. We believe that online voter registration systems should not be contingent upon an individual's possession of a driver's license or state-issued ID, or ready access to the Internet. It's critical that these systems are designed to be equally available to all eligible voters, and that states work to help mitigate the impact of a system that relies on access to computers and the Internet.
One way to increase the accessibility of online voter registration is to utilize existing technology to capture and accept an electronic version of the registrant's signature. This option would enable voters both to register online and provide a signature to complete the registration process instantaneously. In addition, the use of mobile devices like tablets and smartphones would not only directly increase voting access, but it would also enable organizations that conduct voter registration drives, like the League, to incorporate mobile devices into their efforts and help mitigate the problem of uneven access to computers and the Internet.
Online voter registration could also streamline the elections process for government public assistance agencies, which are already required by the National Voter Registration Act (NVRA) to offer clients who are eligible voters the opportunity to register to vote. Providing online registration at government public assistance agencies allows clients -- who are often low-income individuals or people with disabilities, populations that might lack either a current driver's license or stable access to the Internet -- the ability to register to vote both easily and instantaneously.
Additionally, states should enable eligible voters to attest that the information they enter online is accurate by using a computerized mark, similar to the way in which Internet users can "sign" contracts, credit card invoices, banking and other transactions online. These voters could then be required to provide a "wet" signature or an image of a written signature when they visit a polling place for the first time. This method is similar to the Help America Vote Act's (HAVA) requirement that first-time voters present identification at the polls if they have not done so when registering by mail.
Finally, the League recognizes that many individuals have out-of-date voter registration records, often due to recent changes of address or changes in their name, including from marriage or divorce. The League believes that an efficient online registration system must also give individuals the option to update their voter registration record to reflect changes. We are, after all, a very mobile society, and updating addresses online would significantly improve the accuracy of voter registration lists.
The League is encouraged that states across the country are increasingly implementing online registration systems, and that both the Pew study and the PCEA recommendations reinforce the many benefits of online voter registration. We hope that the remaining states will consider updating their registration process to include online opportunities for all and that those with systems in place will update their systems so every eligible voter can benefit equally. Leagues across the country will continue to work to ensure that no eligible citizen is left behind.
The voting process should be as easy and accessible as possible, so that all eligible citizens are able to register and cast their ballots. Secure online voter registration is a crucial, common sense step in modernizing our nation's voting system, and we're committed to making sure it is available to all eligible voters.
REAL LIFE. REAL NEWS. REAL VOICES.
Help us tell more of the stories that matter from voices that too often remain unheard.