"Please vote for us even though this is the fifth contest we've tried to win in the last year. This time we really need it!" - Not-for-profit Communications Team
'Crowd sourced philanthropy' is a hot trend in the for-profit marketing world. Nearly every 501(c)3 has been eligible -- and tempted -- by the possibility of winning cash through some voting-based contest in the last year. Think Chase Community Giving on Facebook or Pepsi's Refresh Everything or Best Buy's @15 program or the American Express Members Project. Simply, these campaigns "democratize" philanthropy by turning decision-making over to the voting public. Your vote means money for the organization you love...or does it?
In some ways, crowd-sourced philanthropy is not so different to the eternal "foundation lottery" game most not-for-profits play in a gamble for grants: at the mercy of strangers, a slim chance of winning, countless hours "wasted" on the process itself.
Are Organizations Crying Wolf?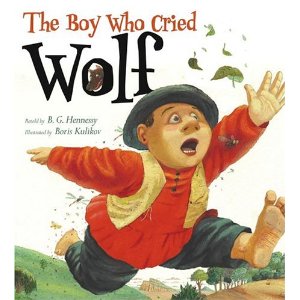 The dangerous difference is that with charity contests, the organizations face "list fatigue" -- aka spamming your loyal constituents via e-mail, Twitter, Facebook, annoying them to the point that they stop caring about you or possibly your cause. Every new plea for a vote decreases engagement over time. Every day, my inbox is cluttered with requests for me to go somewhere and "just vote" because "it only takes a second." Think about it this way: there are only so many times you'll help move your friend's furniture before you realize he's running a moving company.
What happens when the wolf actually appears? When you need them to call their local Senators about off-shore drilling? Or when you need them to show up at your annual walk-a-thon? Has your list become tired of your vote requests to the point that they no longer listen at all? (Interesting conversation from organizations about online voting on Beth's Blog)
Should Organizations Do This?
Last week, DoSomething.org was in second place for the Webby Award in the Youth category against PBSkids.org. We were pretty far behind. In order to have a shot at winning, we'd have to spam our entire database...multiple times. Nancy, our CEO, and I decided that the tax on our list wasn't worth it.
Knowing your odds of winning a contest and the expected value of your choice is crucial to the 'should we push this' question.
In poker, a player's expected value (EV) is calculated by taking the percent chance of winning and applying it to the amount of money to be won. Ask the question "If this happened regularly, would it make sense based on the required work?" What is your organization's minimum EV?
In an ideal world, organizations that are pitted against each other would negotiate an equitable distribution of the winnings so they didn't have to burn their lists and divert their attention. Unfortunately this is not the case. Not-for-profits rarely collaborate, let alone collude. (Though I always root for it.)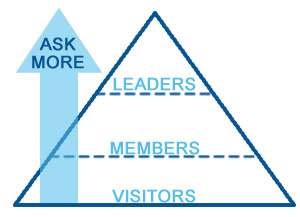 Consider your engagement pyramid
The more a person cares about your organziation, the more you can ask of them, so have a different ask for more engaged supporters. When Obama reached out to his closest supporters during the election, he didn't ask for their vote, he asked for their time. Galvanize your super users to engage their communities and tribes by aligning their goals with yours, incentivizing them to help spread the word and giving them the resources/language to get their networks to vote for you.
Keep it simple - [MyOrganization].org/Vote
Voting systems can be tricky, your organization may be buried on the voting site. Create a page on your site that quickly explains why you need to win, breaks down a three step voting process, and includes a HUGE link to the specific voting contest page where you're listed. Include other ways loyal fans can help you once they've voted. Even if you can't create this page, you can redirect [MyOrganization].org/Vote directly to the voting page.
Facebook
The goal is to get in as many news feeds as you can as frequently as possible. Set up an automatic status update feed -- or just request that people "donate" their status update to you to spread the word.
Fanpage: Update your status regularly about the contest and encourage your staff to comment/like posts as soon as they are posted. Notifications are alright but are usually ignored. Tip: Facebook gets the most activity on Sundays.
FB Events: The events application is a part of the Fanpage and is a great way for your fans to send multiple event alerts to their friends. Set the "date" to be the end of the voting competition. Include the link to the event everywhere you can.
Photos: Create some fun voting image propaganda and post away. Uploading photos and tagging them are a great way to add fresh content and engage your audience.
DoSomething.org has been a part of many voting competitions including the Best Buy Challenge, where we won a record breaking 49 percent of the vote and our total votes were more than the past 12 organizations combined. We were the only organization that consulted on the Chase Giving Challenge and we're in the "inner circle" of hands on the Pepsi Refresh Project.
We encourage companies to build secure and fair systems.
We encourage companies to only allow vetted organizations to compete.
We encourage companies to have transparent voting totals and leader boards.
Related
Popular in the Community