Digital transformation in marketing is simply the application of information and technology to bolster marketer's performance. The marketing technology landscape has exploded in the past 3 years, with 323 marketing tech startups fetching over $11 billion from venture capitalists in 2015 alone. The unprecedented growth in marketing technology landscape is overshadowed by the massive growth of information and business related data production and consumption. We are in the age of the customer, where everyone is mobile, social, data driven and almost always connected. According to Pew 2016 research, 1 in 5 U.S. adults (50 million) are almost always online. In the digital economy, customers and prospects are well-informed and expect personalized, and always available delivery of services that lead to meaningful engagements. Only advanced marketing organizations are well positioned to meet the ever growing expectations of digital customers.
To better understand modern marketing and advanced marketer's use of technology to best position their companies to develop differentiation through customer experience, Salesforce partnered with Harvard Business Review Analytics Services to find out how organizations are adopting to business disruption as it pertains to marketing.
A total of 556 global respondents completed a global survey, representing executive management, board members and middle management across key industries (technology, financial services, manufacturing, etc.) and geographies. How important is sales and marketing alignment in the today's age of the customer? Do marketing organizations have access to the right tools to effectively support and enable sales growth, while engaging with the mobile, social, data-driven and almost always connected customer? How does the modern marketer drive digital business transformation, balancing the science and art of marketing, to deliver on the brand promise while proactively finding ways to connect with customers in a whole new way? The need for marketing automation, mobile and social collaboration technology and advanced analytics like machine and deep learning advancements in artificial intelligence (AI) are critical tools in the digital marketer's tool box. To learn more about the research methodology and participants profile, you can visit here: High-Value Marketing: Connecting Customers Through Technology, Analytics, and Collaboration

Marketing today is less about a megaphone and more like a telephone. Today's always connected and highly intelligent ecosystem of stakeholders expect a bi-directional exchange of information and insights among buyers, sellers, prospects and partners. The joint research between HBR Analytics Services and Salesforce discovered a range of challenges that marketing leaders face today including:
Technology complexity
Integration complexity with existing systems and processes
Shortage of analytical skills
Marketing automation is essential
Inability to qualify leads or pass lead to sales
Research points to developing analytic skills in marketing as the top critical success factor over the next two years. Better than half of marketing leaders said they cannot manage marketing programs without marketing automation. The gap between sales and marketing is more than just technology. The second most important critical success factor is integration of marketing and sales teams - a company culture, leadership, talent and process related set of challenges.
At the highest level, the research notes the following necessary steps needed to transform marketing for the digital economy:
Address the skills gap among marketers
Better integrate marketing and sales processes and data, and develop a culture of collaboration between marketing and sales
Reflect the strategic importance of customer relationship development through shared performance goals across marketing and sales
Concentrate the power of serving customers through multiple channels by developing a single customer view across them
Adopt and ensure organization-wide use of advanced, user-friendly marketing technologies, including analytics and automation
Ensure marketing efforts can be comprehensively tracked and reported, and that that information is used to constantly adjust marketing activities and investments
Only 15 percent of respondents have widespread use of advanced tools, analytics, and practices to better leverage data in their marketing and sales efforts.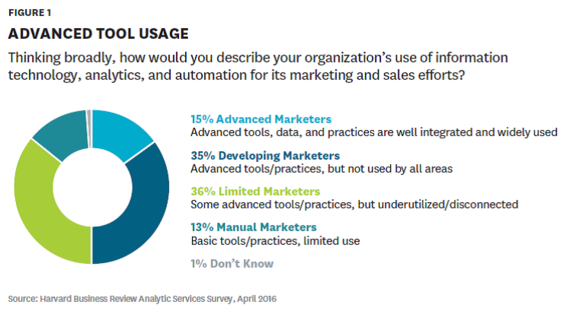 The driving change is that the center of gravity in commerce has shifted from sellers to buyers. In the age of the customer, information is easily accessible to consumers on a variety of channels. And these channels include social channels where the level of trust and advocacy can highly impact the buyer during their purchasing decision process. Regardless of B2B or B2C, customers expect companies to deliver personalized, timely and relevant services - they expect businesses to know them. Successful marketing organizations use data to personalize delivery of content on the right channels, at the right time, and to the right audiences. And the use of technology extends far beyond online commerce to include all phases of the customer journey, for all industries and business models.
Here are the stunning findings from the research:
56% of marketing leaders say technology is extremely important at every phase of marketing and sales (are the other 44% sleep at the wheel? - Yes!)
Only 23% use technology extensively to manage customer relationships
Only 38% say their sales data is fully integrated with their CRM and marketing automation systems
70% said the ability to integrate marketing systems with other systems is extremely important - without integration, delivering a consistent, seamless experience to customer is not possible
Advanced marketers are six to eight times more likely as manual marketers (those with limited use of the most basic marketing technology and practices) to manage customer relationship.
80% of marketers have little to no automation when it comes to qualifying leads
75% of marketers cannot pass leads to sales
47% of marketers without marketing lead qualification systems simply pass all leads to sales, unqualified - this is an incredible waste of time for sales, forcing them to chase meaningless activities instead of spending time strengthening relationships with customers and qualified leads.
46% of sales lose track of leads when they partner with manual markers, as compared to only 7% of leads that are lost between sales and advanced marketers.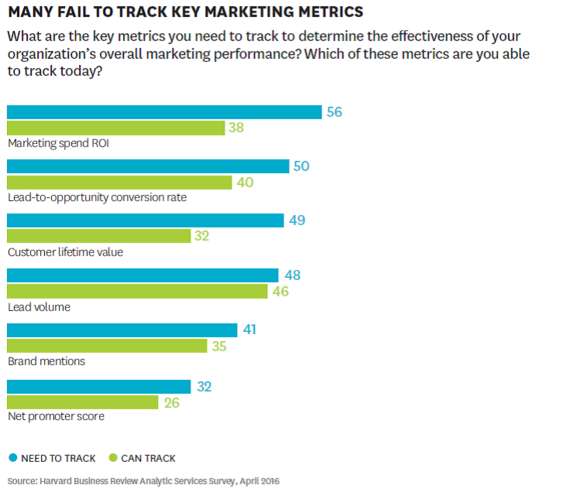 The research found that in the next two years, 93% of marketing organizations do plan to increase their use of technology to compete in the digital economy. B2B companies in particular will look to technology to improve relationship-building efforts based on expertise, thought leadership and trust.
The research discovered that advanced marketers stand out in a number of ways, including:
Effective use of mobile, location-based marketing, lead scoring, content marketing, and segmented email marketing
Extensive use of technology for managing customer relationships
Integration of both marketing and sales data with the CRM system
Clear and easily understood use of marketing metrics consistently used across organizations
A stronger culture of collaboration between sales and marketing (shared goals and process) as well as with IT
A view of marketing leaders as digital strategists

New skills, collaboration and alignment

71% of respondents said that ease of use is the most important attribute to getting value from new marketing solutions. But only 42% of marketing leaders say their marketing technology is easy to use. But even if the solutions were easy to use, and accessible, marketing still has a major obstacle to overcome and this is the need for analytical skills in marketing. Marketing professionals need to be able to interpret data.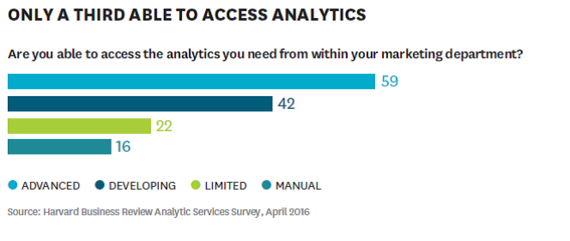 91% of marketers say today's marketers must be adept at data analytics.


Advanced marketers are twice as likely to say their marketing and sales organizations are fully aligned. And they are significantly more likely to describe their relationship between sales and marketing as an equal partnership with high collaboration and shared goals. Selling is a team sport and marketing leaders must be more collaborative and interested in mapping marketing programs to business objectives including revenue growth, customer satisfaction, retention, advocacy, and company optimization and continuous improvements goals.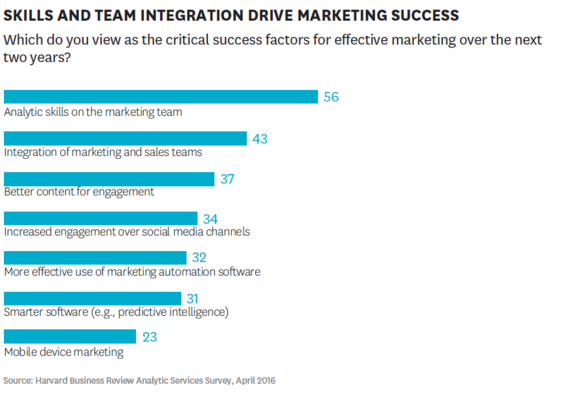 The research concludes by noting that advanced marketers are able to leverage technology - CRM, marketing automation, analytics - to go from data to insights, to rapid decisions and actions, that add value to customers. Advanced marketing leaders are also collaborative and transparent, sharing and aligning their key performance goals (KPGs) with sales, IT and other lines of business.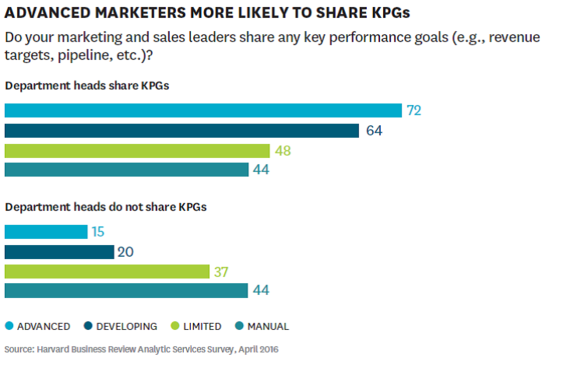 It is important to note that only 15% of the respondents in this survey are identified as advanced marketers. There must be a sense of urgency for the other 85% of companies to achieve marketing digital transformation in an accelerated manner that helps their companies stay relevant and competitive. The companies that ignore market transitions and the changing behavior of consumers, are likely to significantly lose market share and ultimately be disrupted by their competitors with advanced marketing and sales capabilities. To learn more about high performing marketing organizations, also refer to the 2016 State of Marketing research.
Related
Popular in the Community