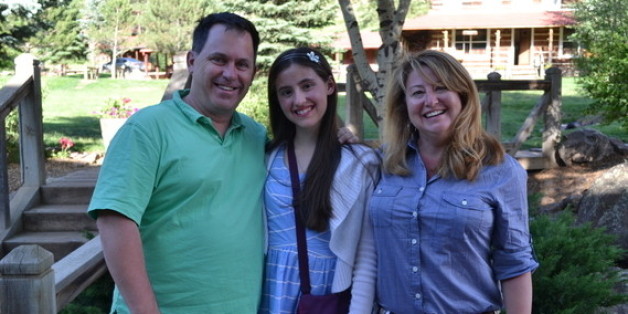 Once a year, around the second week of June, my younger daughter revels in being an only child.
Her older sister, an astronaut wannabe, heads to Space Camp in Huntsville, Alabama, where thousands of her peers engage in simulated missions and try out what it feels like to bounce around in zero gravity. She's sure she's the luckiest kid on earth.
But my 13-year-old? She knows she's got it made.
My two daughters were born only 18 months apart, and neither of them ever forgets it. My older daughter loves to taunt her younger sister about the fact that, for an entire year and a half, she had the benefit of my full attention. My little one celebrates every chance to remind us of the fact that, pretty much the minute she was born, she got hauled around in her big sister's wake.
That's why, several years ago, when my now-15year-old started flying off into space once a year, the 13-year-old announced that she was going to be queen for a week. It would be her week, she said. It would be the very best week of the year.
It would be Only Child Week.
We made it happen.
It's not that we're indulging her, really. My husband and I embrace Only Child Week, perhaps because we, too, feel we missed out on letting our little one be the only one. We're making up for lost time. We're giving her the chance to shine without the shadow of her older sister blocking our view.
And so, every year, as soon as we put our older daughter on the plane to Alabama, we start a journey of our own. A few years ago, we hit Charlottesville, Virginia, and took cooking lessons at the classic colonial Clifton Inn. The summer before that, we zip-lined our way through upstate New York and pretended to be genies in our pink sparkly suite at the funka-licious Roxbury Motel. Last June, we rode WaveRunners and kicked back on the beach at Florida's Sandpearl Resort.
This summer's Only Child Week? Couldn't have been better. Sure, while we relaxed to the max at Lost Valley Ranch, high in Colorado's Rocky Mountains, we yahooed our way on horseback through the trails. We do-si-doed at the weekly square dance. We drank milkshakes at the ranch's old fashioned soda fountain and ate pancakes by the creek after a morning hay ride.
But the greatest part of the week was hanging with our "only child."
We took a family ride, just the three of us and a wrangler, high up a hill where my husband almost hyperventilated and my daughter soothed his frazzled nerves. We made ice cream sundaes at a ranch social, letting our teenager dump as many M & M's on top of hers as she could fit. We cannonballed and splashed each other in the pool and made midnight treks to the main lodge to swipe homemade chocolate chip cookies from a giant jar the kitchen kept filled for hungry cowgirls.
We giggled with our daughter over her stuffed animals' antics (yes, even at 13, she goes nowhere without her oversized pals). We sat on either side of her on our cabin's porch swing and at the ranch's hayloft theater.
We made it all about her.
And in the process, we got the chance to really connect with who she was this year, how she'd changed from the last time she took on only child status. She'd gotten braver, we noticed, more willing to try scary stuff like galloping through a field on a horse she'd met only days before. She'd definitely let her more independent side emerge -- last year, she never would have agreed to go off with the teen supervisor for a pre-breakfast ride or an evening bonfire. She'd become shyer, in a way, resisting me when I tried to take her photo, but more outgoing and self-assured somehow, too, bonding with some kids from across the country and choosing her very own cowboy hat at the ranch store.
It wasn't that we didn't know our daughter. It was that Only Child Week gave us a chance to bring her into sharp focus, without the distractions of work and school and French horn practice and babysitting commitments.
Some of my friends comment, from time to time, that it's not fair that we take our little one on a week's vacation every year while we send the older one off to camp. But they're missing the point. Our big girl? She's convinced she's got the best end of the deal. She's at Space Camp, with zillions of kids just like her. Her baby sister's stuck with Mom and Dad.
And our little one? She's getting the chance to be what she's always wished she'd gotten the chance to be, even for just the eighteen months her sister had. For one week, every June, she's an only child.
REAL LIFE. REAL NEWS. REAL VOICES.
Help us tell more of the stories that matter from voices that too often remain unheard.