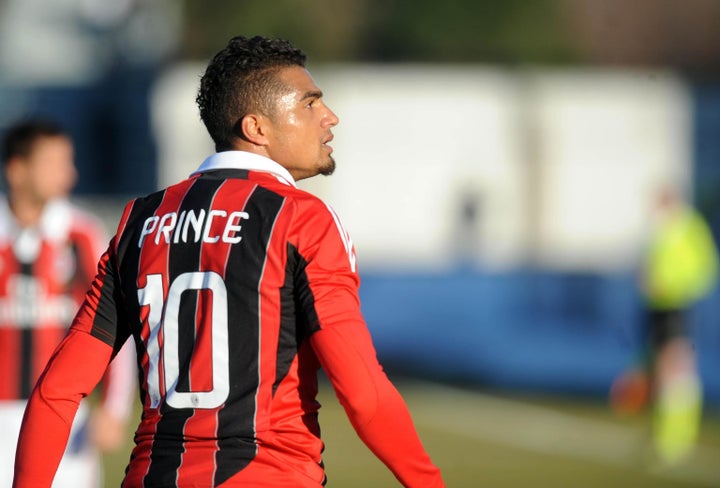 Perhaps the most promising factor in the recent incident involving Kevin-Prince Boateng -- the Ghanaian-German midfielder for the venerable Italian soccer club AC Milan, kicked the ball into the stands and walked off the field in the middle of the game after having reached his limit of being subjected to the vile racial abuse by some fans of Milan's opponent Pro Patria -- was the loud and demonstrative cheer that other Pro Patria fans accorded the Milan players when they joined Boateng in solidarity thus ending the game.
One thing is quite clear: The open -- even prideful -- use of the ugliest racist invectives imaginable that has become a ubiquitous staple of Europe's soccer grounds will not disappear via legal steps and institutional interventions by the relevant authorities such as teams, leagues and federations. Rather, they will only do so if and when the fans themselves will find such language and behavior unacceptable. Only the fans can raise the threshold of shame which will eliminate this scourge and make the public expression of racism an iron-clad taboo. What European soccer needs is a "London, Ontario" moment in which a racist fan who had abused Wayne Simmonds, a black Canadian hockey player for the Philadelphia Flyers, by, among others, throwing a banana on the ice was turned in by other fans which subsequently led to the racist fan's prosecution by the authorities. As long as a majority of fans tacitly tolerates racist invectives towards players (and opposing fans) by a vocal and assertive minority that often enjoys legitimacy for being viewed as the team's only true and most loyal fans, this scourge will not disappear from Europe's soccer stadia.
Taking pride in racist chants and behavior is, after all, not part of general European culture and discourse. Indeed it barely exists in any other European sports besides soccer. Why there? Because winning in this most important cultural icon attains a special importance, especially for men. And this constitutes the toxic brew.
Since sports are almost always adversarial, and since they are competitive contests, winning plays a crucial role. The importance accorded to winning creates an atmosphere in which contestants and their supporters will do everything to achieve victory. This includes deriding the opponent, taunting him, making him uncomfortable and insecure, trash talking and "getting into his head". After all, these are among the most powerful components of what is "home field advantage," "the 12th man" to stay with football (of the American or Association variety). And who is to decree what constitutes permissible language and behavior in the act of exercising partisanship? If fans can make fun of a contestant's looks or the colors of his uniform, who is to say that they cannot deride his race? Who is to draw the line of properness and with what logic?
The more important the sport's cultural standing is in a society, the more important winning in it becomes. With soccer being by far the most culturally dominant sport in Europe (and Latin America as well, where European-style fan behavior is also commonplace) winning in it becomes paramount and non-negotiable. As to the role of men: they have been massively overrepresented in the production and consumption of soccer (and similar culturally dominant team sports) since its modern incarnation in the late 19th century. Women remained excluded from the sports world on both sides of the Atlantic until the major changes wrought by the feminist movement of the late 1960s and early 1970s which, in the meantime, have rendered women close to men's equivalents in terms of their numerical presence as athletes. However, women's involvement as fans has thus far assumed a different trajectory in that their following of sports varies both in its quantity and texture from that of their typical male counterpart.
Moreover, it is on this dimension that there exists a major difference between the venues in American team sports and European soccer with the former featuring a much larger presence of female spectators compared to the latter's continued paucity, especially on the grounds of lesser pedigreed teams. And even though the ugliest expressions of racism, xenophobia and homophobia have been subdued -- though far from eliminated -- at Europe's top-tier leagues where appearances do matter for the global product that these leagues are hawking to a global audience, the event from Pro Patria's ground which caused Kevin-Prince Boateng to exit from his torment remains quite the norm in the venues of European soccer's lesser leagues. Not coincidentally, there are far fewer female spectators attending matches in these leagues as there are in the fancy stadia of the top leagues. There is no question that a larger percentage of female spectators in European soccer would help diminish, if not eliminate, the abominable behavior and language that have continued to mar "the beautiful game" as soccer fans so proudly -- and quite plausibly -- like to tout this sport. It would not be the first time that women would assume the role of men's civilizing agents in human history.
Andrei S. Markovits teaches at the University of Michigan. His latest book is SPORTISTA: FEMALE FANDOM IN THE UNITED STATES co-authored with Emily Albertson and published by Temple University Press.
Popular in the Community