Don't be surprised when the newest flavor at your local gelateria is cannabis, because Italian gelato and pastry products giant MEC3 of Rimini, Italy has just released its "One Love" gelato mix on the US market. Call it cannabis or marijuana or hemp... a gelato flavor by any name tastes just as sweet, and with an ad campaign that includes tag lines like, "The Revolution Is In Your Gelato Shop" and "Only the Best of Hemp," MEC3 is poised to create quite a stir from this mix.
At SIGEP in Rimini, the world's largest trade show for gelato, MEC3 premiered the new hemp flavor to the tunes of Bob Marley and record-breaking crowds of curious gelato (and pot?) lovers. Having sampled the flavor at SIGEP, I was surprised by its subtle yet unmistakable taste, more than just a novelty, it's nutty and herbaceous and actually very good. So I decided to sit down with the affable MEC3 Director Gian Maria Emendatori, son of founder Giordano Emendatori, to talk about the revolution.
Emendatori explained that while the gelato does have the flavor of marijuana, it has no THC, and includes only cannabis sativa seeds, no other part of the plant is used. Sharing what he thought when "someone" brought him the seeds "to taste out of curiosity" he exclaimed, "I was really amazed by the flavor! It has a taste somewhere in between pine nuts and walnuts. So I said, "we've got to do something with this product and we decided, maybe as a joke, to launch it in our shops."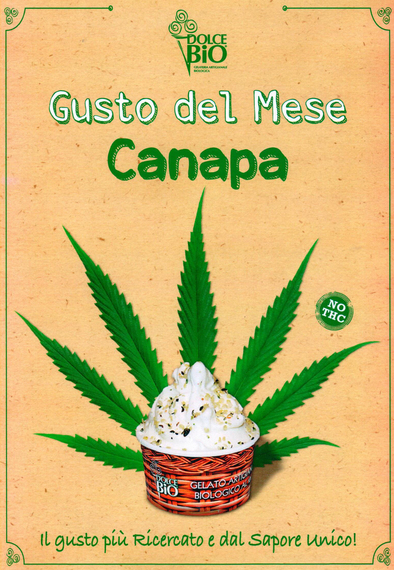 MEC3 Ad Campaign for its Dolce Bio shops: "Flavor of the Month: Hemp...The most sophisticated and unique taste." Gian Maria Emendatori explained, "We don't use the leaf in the ads anymore because it's only the seeds in the product." (Image courtesy MEC3)
Creating an ad campaign invoking all things hippie, MEC3 tested the market by releasing an organic version in its own Dolce Bio organic gelato shops in Italy. The public response was overwhelmingly positive. "It immediately became the biggest seller. People were lining up out the doors to get it!"
After much testing in the kitchen-labs, what started as a simple test mix added to their Fior di Latte flavor is now a unique flavor mix that includes whole hemp seeds and is enhanced with vanilla and caramelized brown sugar. "It's really something amazing," declared the animated Emendatori proudly. "We really studied the flavor!"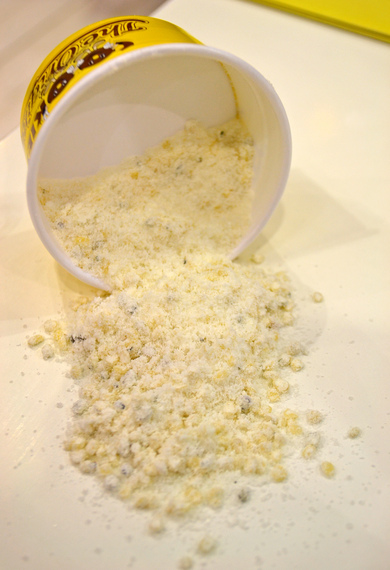 MEC3 One Love Hemp Gelato mix with seeds that give it a "granular and crunchy consistency" (Regina Varolli)
Matching the "subtle and delicate" nuances of the sativa seeds with a sauce developed for One Love, it was a must-sample at SIGEP. By noon on the day of this interview, already 2,000 people had tried it. "We have never given away so much of one gelato flavor at any expo in 30 years. We consider it our best, most interesting and most important product." Gian Maria had high expectations, but its popularity exceeded them. "I was sure the product would encounter big success, but honestly not this big."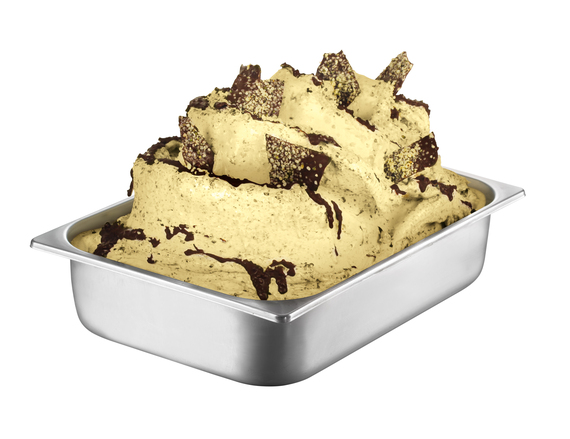 One Love Hemp Gelato drizzled with its complimentary crushed cacao nib and sativa seed chocolate sauce (Photo courtesy MEC3)
The interview got quite amusing at times. How can anyone talk about and taste cannabis gelato, Bob Marley beats in the background, without talking about marijuana itself? The laid-back Gian Maria played along, "Well, you know, there's a big rumor about hemp... But," he reiterated while maintaining a mischievous smile, "all of the THC is removed from the seeds, so the product is perfectly legal." Then he glanced side to side and leaned in, grinning, "I did this on purpose, because we have removed all the THC and it's stashed at my house." My reply, "Where do you live?"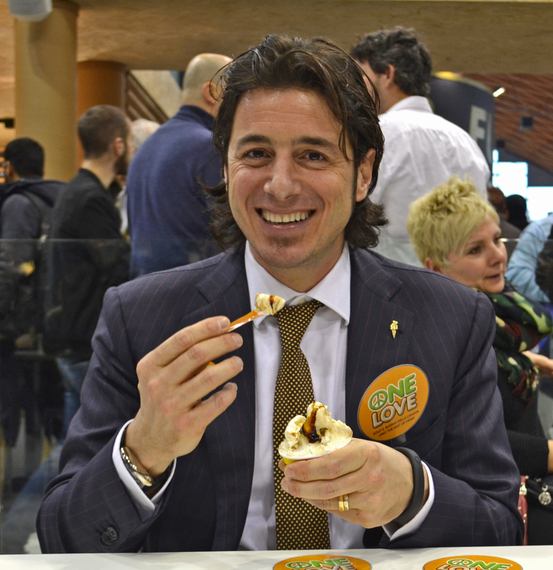 At SIGEP in Rimini, Italy, MEC3 Director Gian Maria Emendatori enjoys a cup of THC-free One Love Hemp Gelato (Regina Varolli)
With the legalization of marijuana now in three states in the US, and medical marijuana in twenty-three plus Washington D.C., the whole concept of cannabis is becoming normalized and the product mainstreamed, with or without the THC. It's a well-timed move for MEC3 to bring the revolution to your gelateria. While Director Emendatori was clear that "One Love gelato mix will never have any THC in it," who is to say a gelato-maker in Colorado or Washington can't spike this tasty THC-free mix and create their own, perfectly legal, adult version?