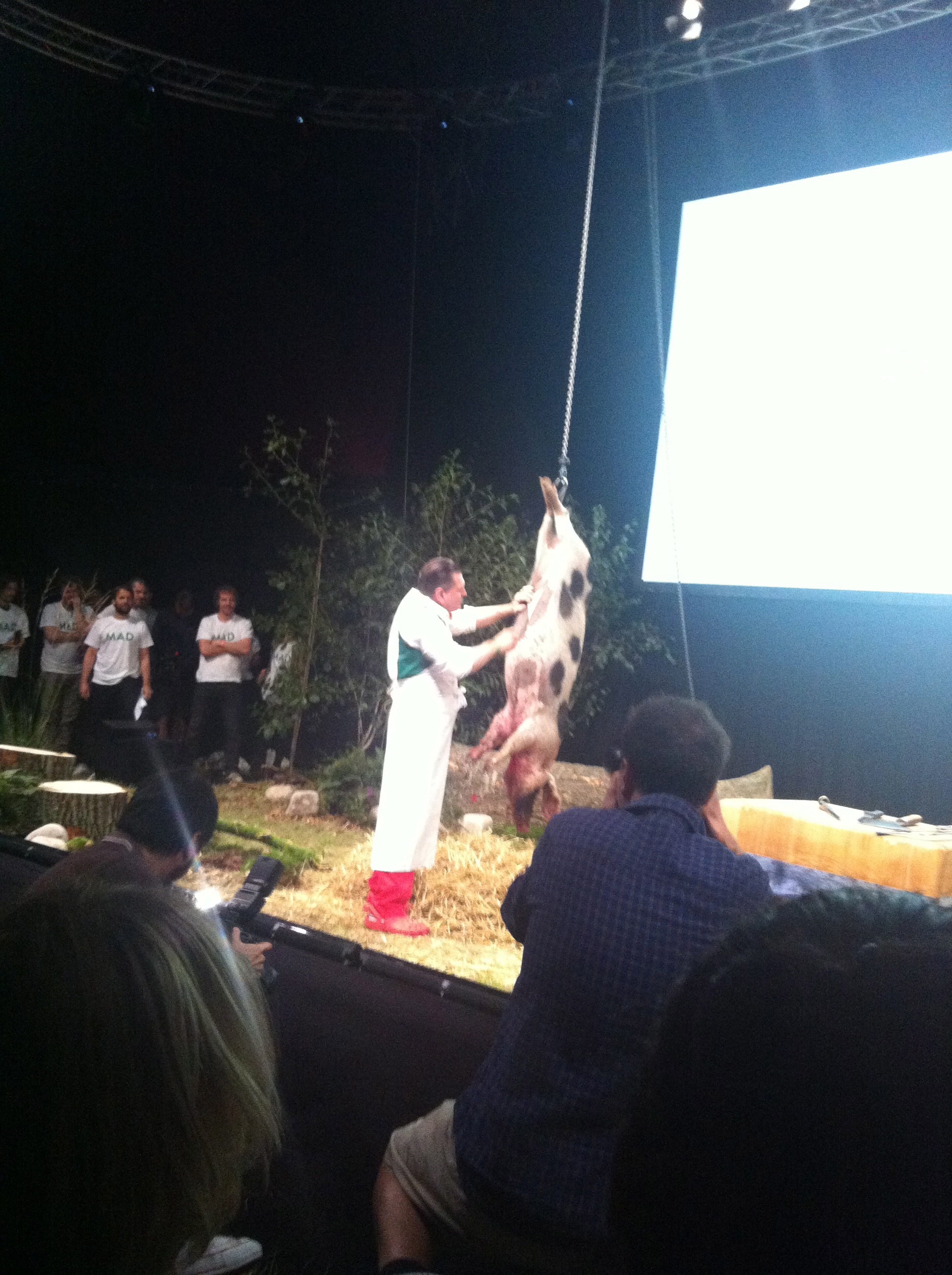 Decapitated chickens, Whitey Bulger's neighbor and a 10-year old. If you're wondering what brings all these things together, look no further than the Ringmaster Rene Redzepi's 3rd annual MAD Symposium.
Started by Redzepi, the owner/chef of Copenhagen's famed Noma, the MAD Symposium has now become mash up of TED, Burning Man and SXSW, bringing together chefs, scientists, producers, artists and activists to discuss food in every possible iteration. Adding to festivities were co-curators David Chang of Momofuku and Lucky Peach.
This year's theme was guts, and who was no better to show what guts are really made of than the symposium's first speaker, master butcher Dario Cecchini. With heavy metal blaring in the background, Cecchini gutted a 350 pound hanging pig in the center of the stage. With eau de entrails wafting in the audience, Cechini, a butcher with 200 years of family tradition behind him, reminded the audience that carnivory is a responsibility: "Butchers are the link between knowledge and consciousness...we must not kill indiscriminately or wastefully."
But killing indiscriminately is not just related to animals. In speaking about building a restaurant in Somalia, chef Ahmed Jama described the process of building a restaurant in war-torn Mogadishu. In a decade of loss, Jama described how the restaurant was an effort to rebuild civil society one pizza at a time. And this despite the fact that that last year a pair of suicide bombers destroyed his restaurant and killed 14 patrons. And for others, killing comes at the hands of nature. In an incredibly poignant video on the fishermen surviving the 2004 Indian Ocean earthquake, Daniel Klein described how out of tragedy comes courage: "Being vulnerable is what really takes guts." And that vulnerability came no other than in the form of Martha Payne, the 10-year old blogger of Never Seconds. Terrified at the sight of a massive audience, Martha's father spoke on her behalf; however, it's perhaps her actions that spoke the loudest, blogging about her school lunches raised over $200,000 for Malawi's children: "People ask me how brave am I. I say a little bit. But the kids in Malawi? A whole bunch more."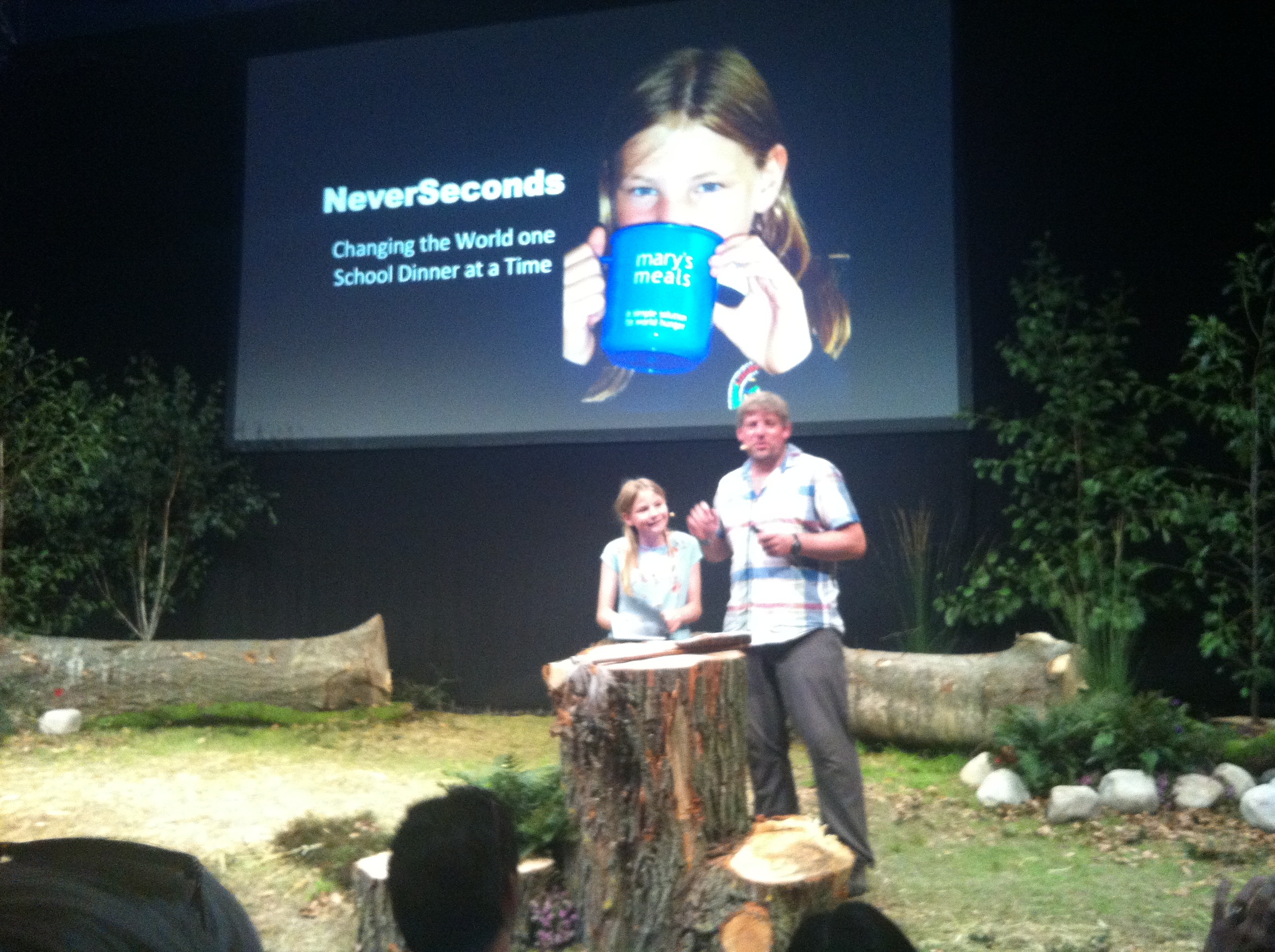 Vulnerability can also mean self-destruction. Writer Knud Romer talked about how alcoholism nearly destroyed his guts literally and how he had the guts to come back. But that required, well, a gut-check: "If you're honest, you might learn something." Graffiti artist David Choe also hit rock bottom and realized that that he needed self-control to get where he needed to go. But that did not mean not living without risk. In an unfiltered monologue that included references to Korean mothers, lasagna (pronounced "la-sag-na") and irritable bowel syndrome, Choe broke it down: "If you put yourself on the line, you either are going to be like Rene or David, or you're going to jail and die."
Speaking of jail, both chefs Christian Puglisi and Roy Choi have been hanging out with future jail inmates. Both men, working in marginalized communities in Copenhagen and Los Angeles, respectively, have taken to the streets. For Puglisi, he chose to place his restaurant in Jægersborggade in Copenhagen - a street formerly controlled by Hell's Angels and drug dealers and the challenges, were, suffice it to say, interesting: "When we did our test dinner, Noma director, Peter Kreiner, who's always smiling, suddenly changed expression when he went towards the door. Apparently two large neighborhood locals were sitting at our doorstep eating Thai food out of box." But Puglisi did succeed, and his restaurants, Manfred's and Relae have become anchors for urban renewal in the area. In a similar vein, Roy Choi, of the famed Kogi food truck in Los Angeles, has chosen a different route. In an area surrounded by liquor stores, 50 percent of a population in poverty and low educational attainment, Choi decided to start doing what he knows best in South Central LA: "It's in our [chefs'] nature to take care of people." Reformulating school lunches, creating a café for work opportunities, giving high schoolers job training, Choi put down the ultimate challenge to chefs, "I stand here with the guts to ask you to feed the people who we haven't been reaching."
Environmental change is not only a function of urban areas, but also of natural ones. Glaciologist Jason Box explained the rapidity of glacier melt in Greenland and the arctic due to climate change and why it's important for those involved in food to take notice: "Climate change is not just about destabilizing ice-it's destabilizing food systems." Dr. Vandana Shiva also pressed this point on the problems of modern agriculture: "75 percent of industrial agriculture goes into destroying the earth." To see the immediate linkages between greenhouse gasses and cooking, Lucky Peach editor Chris Ying asked emissions analyst Peter Freed to do a CO2 analysis of meals from Noma, New York City's Frankies Sputino and home cooking. Biggest emissions? From ingredients. But did that scare off Redzepi? No. "It's a risk [doing a CO2 analysis] but I really wanted to know. And now I can do something."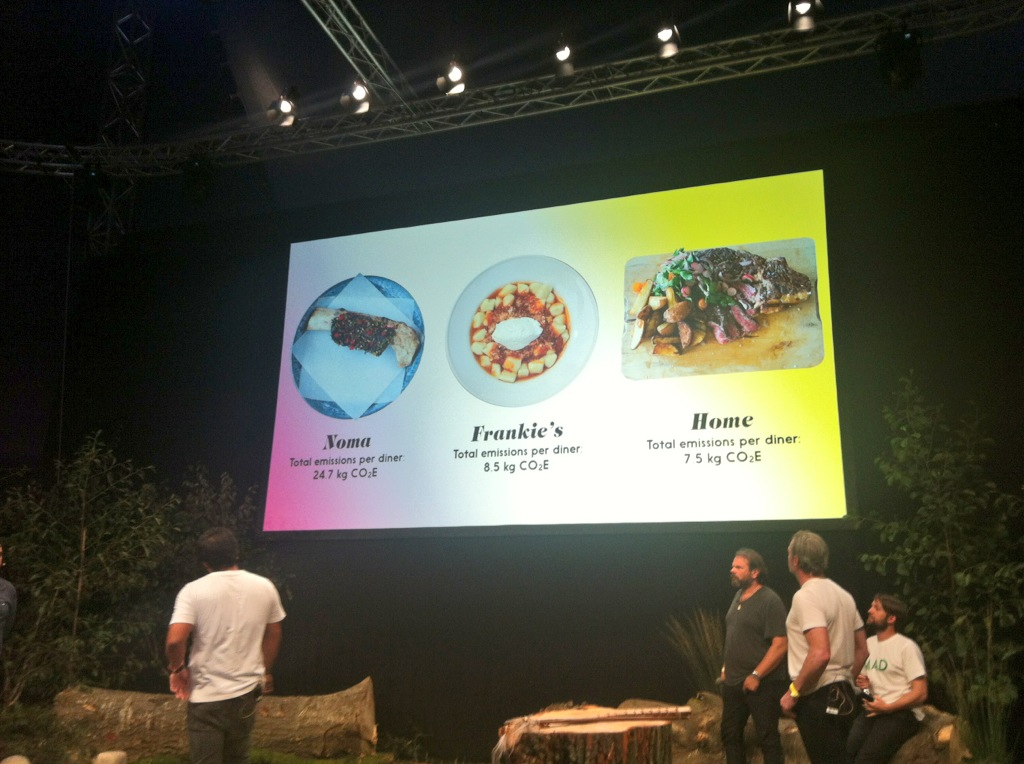 While knowledge can come to empower people, false knowledge can also be problematic. For fermentation specialist Sandor Katz, the war on bacteria is one that is fueled by fear and misinformation: "We're utterly dependent on them...all life is evolved from bacteria and all life has not lived without bacteria." As if to prove Katz's point, popular science writer Tor Nørretranders explained how both processed food from industrialized agriculture destroy the very biodiversity of gut microbes that keep us healthy.
But how does biodiversity come into practice? Look no further than Diana Kennedy. A pioneer in promoting the cuisine and life of Mexico, the 90-year old was spry as ever - even David Choe admitted he had a crush on her. Using only ingredients native to Mexico, Kennedy described the 250 different plants she uses in her organic garden. Food historian Michael Twitty has also done the same for Southern cooking in the United States. In an attempt to truly understand the historical legacy of the South, he has reenacted literally the rituals of slave life in the 18th and 19th centuries: "I want to be the first black chef who works in the fields." For Twitty, racial injustice is intimately tied to cooking traditions as "culinary justice begins by respecting and reviving the traditions of the oppressed."
And sometimes oppression comes in the form of fame and gadgetry. Margot Henderson, Fergus Henderson's "favorite chef", railed against the arms race of "laboratory" cooking instead of remembering what "their grannies cooked." To that end, Henderson asked, "Where are all the women chefs?" There's definitely one in the form of Barbara Lynch. Growing up in Boston's South End, where notorious mobster Whitey Bulger was a neighbor, Lynch described her upbringing and the "quenelles of steel." Without any formal culinary training, Lynch built a restaurant empire in Boston, even opening a fine dining establishment at the height of the financial crisis. But for Lynch having guts is not an excuse to be reckless. "I like to be called ballsy, but it's not all about that...you have to make it personal and authentic."
And there's nothing more personal than the life of a teenager. While other boys had posters of cars or scantily clad women on their walls, the young Rene Redzepi? Alain Ducasse. In a dream question and answer session for most chefs, Ducasse answered a host of questions from the audience on failure, expectations and fame. But what was the real message? "Chefs are united as a group and we have a responsibility to protect the resources that we all use."
Ducasse's statement raised the question of what responsibilities we all bear as human beings. The last speaker of the day was Alex Atala, the chef of critically acclaimed DOM in Sao Paulo. In a video with discordant images of butchery, blood and guts alongside sublimely plated dishes, Redzepi recited a series of statements on the brutal nature of food with the steady refrain, "Behind every great meal there is death." After the video, Atala held a live chicken in one hand and a thumb outstretched on the other as the barometer of the vox populi. Chaos ensued as some audience members chanted "KILL KILL KILL" in a scene reminiscent of the Lord of the Flies. With a quick snap of the wrist, the chicken was dead.
"Who trusted God was love indeed
And love Creation's final law
Tho' Nature, red in tooth and claw
With ravine, shriek'd against his creed"
Alfred Lord Tennyson, In Memoriam A. H. H, 1850.
Related