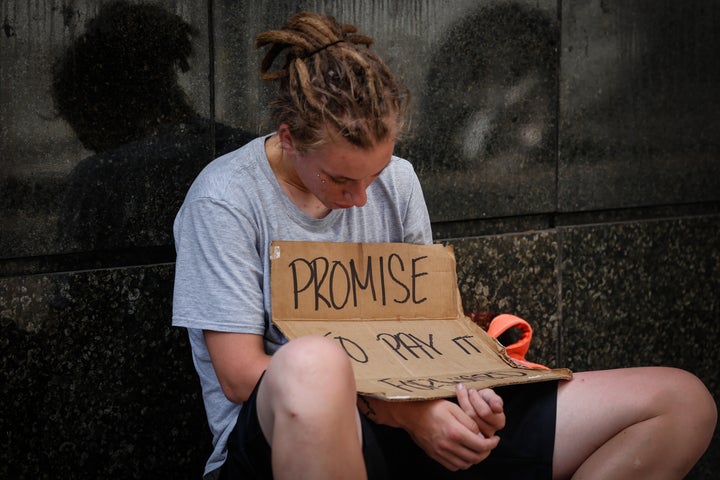 Updated on Aug. 17, 2015 at 2 P.M. EST.
One in six Americans doesn't know where he's going to get his next meal. But chances are, you won't hear about those struggles from anyone who has actually experienced them, according to a poverty expert.
Barbara Ehrenreich, author of New York Times bestseller "Nickel and Dimed," an expose about the impossibilities of living on minimum wage, recently wrote an op-ed in the Guardian about how journalism has closed its doors to people living in poverty. Ehrenreich, who chronicled her days as a waitress, was able to write her explosive book because she had the privilege of opting out of her comfortable lifestyle to temporarily document what life's like for underserved groups.
But for Americans who have no choice but to live without the very basics, telling their stories from their perspectives in order to ignite change isn't really an option.
Journalism's notoriously meager pay bars impoverished people from entering the industry.
"There are many thousands of people … who want to address serious social issues but cannot afford to do so in a media environment that thrives by refusing to pay, or anywhere near adequately pay, its 'content providers,'" Ehrenreich wrote in her opinion piece. "They want to write –- or do photography or documentaries. They have a lot to say, but it's beginning to make more sense to apply for work as a cashier or a fry-cook."
While the average annual wages for a journalist last year amounted to $60,240, according to the Bureau of Labor Statistics, getting to that point often requires insurmountable obstacles for someone hailing from an underprivileged background. 
Reporting and editing jobs often require a journalism degree, which –- in 2009 –- cost $31,000 on average. But that tuition can run as high as $80,000, according to Forbes. 
But getting the degree isn't even enough.
 (Disclaimer: This author splurged on a master's degree from the Medill School of Journalism after completing far too many unpaid internships that never led to full-time jobs). 
"Journalists of prior generations worked their way up. Today, journalists are expected to start with an elite status and accept wages that have dwindled to nothing," Sarah Kendzior wrote in Al Jazeera. "The result is that journalism is a profession which most Americans cannot afford to formally enter."
Compounding the issue is the fact poverty stories don't yield the clicks news outlets need to sell ads. And, when news organizations actually do report on the issues, it often comes from the standpoint of a removed, middle-class writer who has no idea what it means to have to reuse diapers because WIC doesn't cover that expense.
That common narrative results in uninformed reporters often blaming poor people for making "bad lifestyle choices," Ehrenreich noted.
However, every once in a while, an impoverished writer who has the grit and determination to sit down and describe the horrors of poverty can seep into the mainstream media.
Linda Tirado, for example, a mother of two who worked as a night cook, decided to set the record straight in October 2013 when she wrote an essay on Gawker about the overwhelming challenges she faced while living in poverty. 
Her essay went viral, likely because of the way she was able to cut straight to the heart-wrenching issues people in that demographic face. Something people who haven't directly experienced can't relay. 
For example, most days, Tirado's parenting, schooling and job obligations required her to work straight from 6 a.m. to 3 a.m. While she was aware that smoking is a terrible habit, Tirado continued to make that "bad decision" because it was the only thing that kept her going whens she was utterly exhausted.
"When I am too tired to walk one more step, I can smoke and go for another hour," Tirado wrote of what she experienced during that challenging period. "When I am enraged and beaten down and incapable of accomplishing one more thing, I can smoke and I feel a little better, just for a minute." 
But after her essay went viral, investigators were quick to question the veracity of her story. The Houston Press unearthed that Tirado had attended an elite boarding school when she was young and owns a home thanks to help from her parents. 
Those allegations, though, help to further support Ehrenreich's point.
It often takes somewhat of a privileged upbringing to develop and hone the skills required to gain entry to the journalism industry.
While Ehrenreich remains despondent about poor people's chances of relaying their experiences, a number of nonprofit news sites have committed to covering social justice issues that relate to low-income groups, even if they aren't guaranteed to go viral.
The Marshall Project, for example, focuses its coverage on the criminal justice system, "with an emphasis on stories that have been underreported or misunderstood." ProPublica is another nonprofit news outlet that's using its resources to report on how people in power and major corporations exploit the weaker members of society.
"Investigative journalism is at risk. Many news organizations have increasingly come to see it as a luxury," the news outlet said in its mission statement. "New models are, therefore, necessary to carry forward some of the great work of journalism in the public interest that is such an integral part of self-government, and thus an important bulwark of our democracy." 
Calling all HuffPost superfans!
Sign up for membership to become a founding member and help shape HuffPost's next chapter