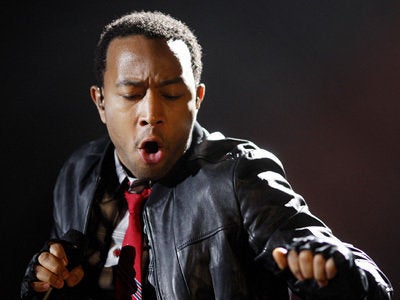 It all started with a trip back to his father's birthplace.
That's where Arnaud "Onra" Bernard found the inspiration for his signature sound. After spending time with children at an orphanage in the Vietnamese city of Hue, the Parisian producer was so moved by the experience that he rushed to a local city market to arm himself with a new cache of vintage Chinese pop records. Aiming to construct a new sound based on a fusion of Asian melodies and soulful hip-hop, Onra began to build a foundation for his underground symphonies by adding a dose of J Dilla, the legendary hip-hop producer who lost his battle with lupus in 2006. The end result was Chinoiseries, a groundbreaking album released in 2007 that garnered reputable buzz in exclusive music circles and made him a legend on the Internet's most selective blogs. Using the history of his father's homeland and soaking in the spirit of his mother's French roots, Onra has established himself as a harmonious maestro who can adapt to any type of music as he travels around the globe searching for crates of rare vinyl to pick apart for his distinctive samples. Onra is hard at work touring in Asia and promoting his new album, 1.0.8, which was released in February, while the hip-hop world awaits a greatly-coveted Chinoiseries Part II. As his sound continues to evolve into an international staple, this renaissance man is focused on paying homage to his musical past, while creating amazing sounds for the bright future that awaits him. But if he ever runs out of inspiration, he can always return to that orphanage in the city of Hue.
Talk a little about your journey into music.
I got into music at the age of 10. My step-brother was older than me and I was kind of looking up to him -- he was listening to old school hip-hop and I thought it was cool. I started with hip-hop music and I've always listened to it since then. I was in my early 20s when I got into other kinds of music. That's when I discovered the samples that different artists used to make instrumentals. That's also around the time that I got into making music with cheap software. It got more serious in 2003 when I bought my first piece of equipment, an Akai MPC 1000 sampler. When I was traveling back and forth to Africa, all of my friends were listening to hip-hop and black music in general. They had a big influence on me as well.
Why do you think hip-hop culture is so revered worldwide?
What we know now as hip-hop is totally different from what it used to be originally. The media helped hip-hop get more famous, but at the same time, [the media also] drew a wrong image of it. The original motto was "Peace, Unity, Love and Having Fun," and you can't really find that nowadays in rap music. I don't really know why it traveled to so many countries, knowing it was born in the Bronx, NY. I guess the youth needed something they could relate to, and hip-hop is a really contemporary kind of music. Hip-hop culture is rich and deep, and there are many kinds of sub-genres. Everybody can find something they like in hip-hop music.
Who were your musical icons growing up?
I went through many phases growing up; I was inspired by who was hot, and it was right at the time when there was this East Coast vs. West Coast rap rivalry. I found something I really loved in OutKast. Then, when a group from Detroit called Slum Village came out, I truly found what I loved the most. [It was] mainly because of their beats, produced by the late, great J Dilla.
We know that J Dilla is a part of the catalyst for your sound. How did his music affect your creativity?
I fell in love with his music because he simply is the best who has ever done it; he opened our minds and ears to new genres. I think most people in hip-hop would agree with me. He is respected by all the pioneers, and his music is magic -- it has that natural human swing nobody can imitate. Everything that he's made is just great...he never came out whack and always evolved and pushed boundaries. He was also light years ahead of his time. There's this famous sentence you can read here and there, "J Dilla changed my life," and it's really the case for me. Without his music, I never could have been as inspired to make the music I make today.
What projects do you have planned for 2009?
I've been currently touring in Japan for over a month. When I come back to France, I have a few more gigs scheduled for early summer. I'm working on two different projects at the same time. The first project is going to be my first album with vocals, and that's going to take me a lot of time because I have to make songs and not just beats. The second project is another instrumental album, more in the vein of what I did recently -- it will be more inspired by '80s funk and R&B. I'm looking forward to making gigs in as many countries possible.
Are you planning on coming to the U.S. anytime soon?
This is secretly what I'm waiting for, but nothing is planned for now. I think people don't want to spend too much nowadays because of the economic crisis, but hopefully some opportunities will come to me in the future. So far, I've played across Europe, Vietnam, New Zealand and Japan. The U.S is next on the list.
What's the hip-hop scene like in your native France?
The hip-hop scene in France is divided. You have the commercial rap, the independent ghetto rap, the jazzy scene-which is more inspired by U.S. hip-hop from the 90's-and the alternative scene, which I guess I'm a part of. All in all, artists like the Jazz Liberatorz and Hocus Pocus are putting France on the map. Some labels are doing some good work too--like Favorite, Trad Vibe and Kif Records.
At the end of the day, what do you want your legacy to be in hip-hop?
I hope I'll have some recognition from the French hip-hop community, even if I have more support abroad than in my own country. I hope I'm opening doors for people and creating opportunities. I just hope people will respect my name and my art later on.
Calling all HuffPost superfans!
Sign up for membership to become a founding member and help shape HuffPost's next chapter