By Carolina Martín, Executive Director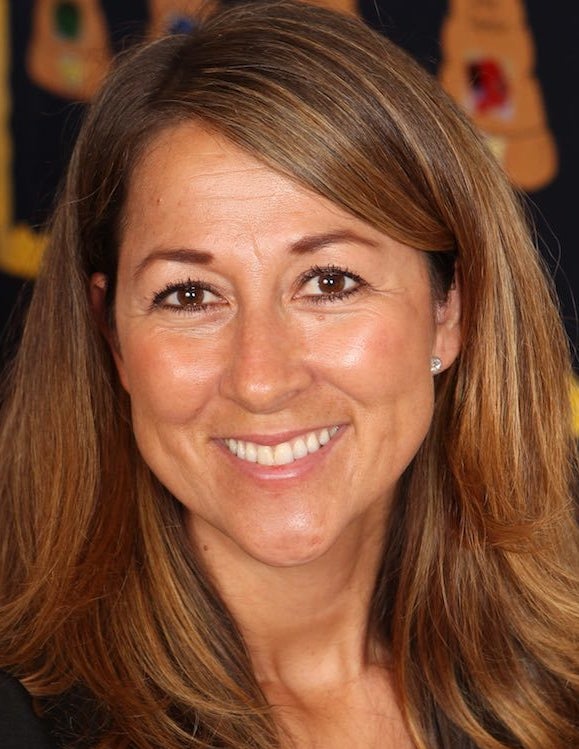 I'm thrilled because I am joining a team whose mission has been so near and dear to my heart for my entire professional career: Helping young facing long odds realize their full potential through education.
I'm especially fortunate to be joining an organization that has set the national standard for helping low-income, first generation students get into college, through college and into a career-ladder job. The pioneering work that Executive Director Emeritus Lynne Martin, Barb Hendricks and the entire SRA team have done for many years is nothing short of astounding.
I can relate to the challenges many SRA students face because I experienced them firsthand.
I moved here from Mexico City with my family when I was 1½ years old. We were poor by today's standards, but my mother and father always knew that education was the way to a better life, both economically and personally.
After arriving on the East Coast, we moved to California, where I earned my Bachelor of Art's degree in Education from University of San Diego (USD). Then we went back to Mexico City so I could attend the Universidad Iberoamericana and earn a degree in Arts & Anthropology. Then we returned to California so I could get a Master's degree in Educational Leadership and Administration from USD.
The more education I received, the more career opportunities opened up for me. My education and commitment to professional development helped me land positions of increasing responsibility at Summerbridge, Hispanic Scholarship Fund, in the private sector at SallieMae, and most recently DonorsChoice.org, where I was for eight years as Senior Vice President and head of Partnerships and Business Development.
Throughout my journey, I encountered my share of challenges, especially in college. At times, I wanted to give up, but my parents were always there offering love and encouragement. Without them, I'm not sure I would have made it through the difficult times.
The support I received from my own parents mirrors the support that SRA provides to its students. That's what makes SRA so special. SRA is family for many students whose have no families or for those students whose own families can't comprehend the struggles of going to college as a low-income, first generation student.
Even more impressive is SRA's total commitment. SRA makes a five-year financial commitment to students, so they leave school with a degree and minimal college debt. As important, SRA advisors and mentors serves as surrogate parents who are always there in moments of doubt or personal crisis.
SRA truly completely understands that students need the opportunity to talk to someone who understands them and the college experience – to ask the most basic, personal and potentially embarrassing questions in an atmosphere of total trust.
The 360-degree support for students in our direct services program is the reason SRA has a 90% college completion rate. It's also the reason 93% of our students are in a career-ladder job or graduate school within nine months completing their four-year degree.
Innovator and Change Agent
SRA's college completion rate and its success on kick-starting the careers of graduates are not the only reasons SRA is so successful in helping break the cycle of poverty. SRA is also one of the most innovative nonprofits in the Bay Area that has created another ground-breaking innovation – SRA's College2Careers Hub.
Launched just 2½ years ago, College2Careers Hub is an online resource for college-bound students that now has more than 10,000 users in California. Over the next five years, my goal is to substantially grow the Hub to make its unmatched resources available to tens of thousands of students across the country.
The Hub has grown so quickly because it provides everything tech-savvy students needs. They can communicate online, ask questions of one another, find valuable information and ultimately create relationships. The Hub in an online meet-up that allows students to get the resources and help they need now. And, it offers something else truly unique: 24-hour turnaround to questions from a trained SRA advisor.
My entire career has been focused on helping others reach their potential.
Joining SRA is both a perfect match professional and personal interests. I look forward to getting to know the entire SRA family, and I welcome the opportunity to work closely with students, advisors, parents, corporations, foundation and our great team.
Together, our future is very bright!
Carolina Martín is Executive Director of Students Rising Above, an award-winning nonprofit based in San Francisco that works with more than 10,000 low-income, first generation high school and college students across the U.S.
REAL LIFE. REAL NEWS. REAL VOICES.
Help us tell more of the stories that matter from voices that too often remain unheard.
This post was published on the now-closed HuffPost Contributor platform. Contributors control their own work and posted freely to our site. If you need to flag this entry as abusive,
send us an email
.