Buckeye brownies make any chocolate and peanut butter lover ecstatic. We know you're gonna love 'em.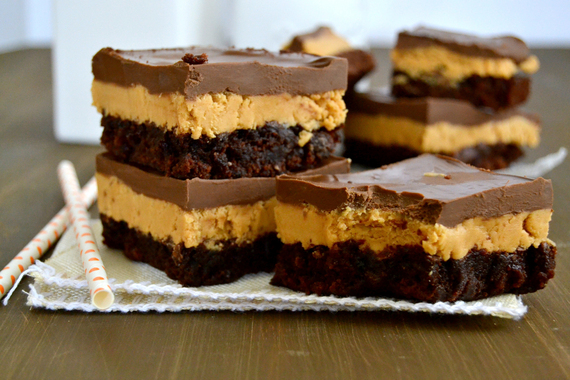 I hear there's a certain treat out there called 'Buckeyes' and it's taking the interwebs by storm.
Unless you live in Ohio, where these treats originate, you probably have no idea what I'm talking about. And that's okay, because I'm here to educate you – and ruin your diet.
Buckeyes are peanut butter truffles rolled into cute, bite-sized balls that are then coated in creamy, rich chocolate. They're perfectly poppable, definitely addictive, and an Ohioan favorite. And even if you've never been to Ohio, it's totally okay – you can adopt this love, too.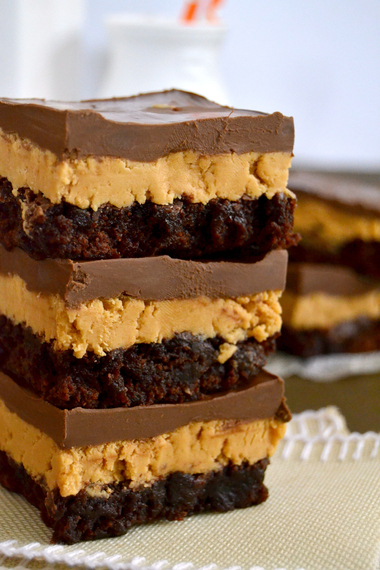 Because really, there aren't a lot of "things" for other states, you know? I wouldn't say California had a state dessert. It's not like every Californian walks around proclaiming pie to be our state dessert of choice. Not everyone likes pie (and in my life, I've found to never trust people who don't like pie) but I can't think of what else it could be. Cupcakes? Fro-yo?
Now I'm kind of peeved that we don't have something. Like why can't we have macarons? Or brownies? WHAT GIVES, CALIFORNIA!?
New York has cannoli. Florida has Key lime pie. St. Louis has butter cookies. Tennessee has goo-goo clusters. Ohio clearly has their Buckeyes on lockdown. And yeah, I love each and every one of those like it's my j-o-b (oh wait, it actually is). But it's time California get their own treat, along with the other states. Let's do this! … after I post this recipe which clearly praises the Buckeye.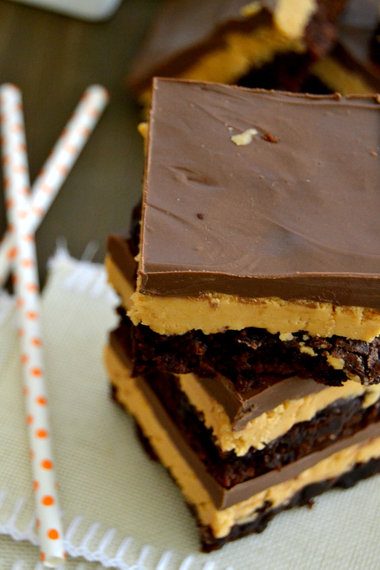 These Buckeye Brownies have the classic chocolate & peanut butter components of a Buckeye but are in a chewy, gooey brownie form. They're ultra rich and delicious and will make you an Ohio convert in no time.
So how about it? Does your state have a dessert it's known for? Please tell me I'm not the only one with a dessert-less state.
About Hayley
Hayley is known for over-the-top desserts of all kinds on her blog, The Domestic Rebel. Since she's fanatical about cookie dough, she's our cookie dough fanatic!