Consider the 3,300-word anti-diversity "Google manifesto" published last Friday by James Damore, a white male engineer at the company, who argued women are not able to perform tech jobs because of their biology. Damore wrote that women are held back from leadership and jobs that are stressful because they are neurotic and not assertive. A global uproar ensued, the news made front page headlines worldwide, and he was fired Monday night. Sadly, his scathing comments show how deeply embedded discrimination remains in the world's tech capital.
Women — and women representing females in technology — are outraged, but not surprised because discrimination against women is so pervasive that it has become normalized and is often brushed off. Adriana Gascoigne, founder of the nonprofit Girls in Tech, with 60,000 members in 60 cities and 36 countries, called Damore's statements "toxic, driven by emotion and not logic, and simply 100 percent wrong." She added that sadly, "He used pseudo science to make his argument sound 'academic' when he broke down the biological aspects of being a woman versus a man."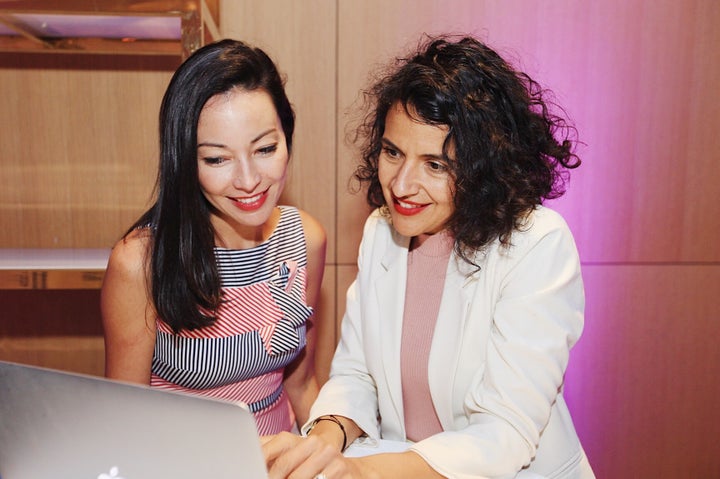 Consider the following: Gender inequality is the greatest moral and social issue of our time, but if one only considers the narrow lens of economics, it is the world's most critical challenge there too. If half of the global population does not fulfill their human potential, economic growth will falter.
In the tech industry, women face the most profound imbalance and outright discrimination. At risk are the immense contributions to innovation that women around the world could make ― if simply given the chance.
We are now in what The World Economic Forum calls the "4th Industrial Revolution," an era built on technology that fuses digital, physical and biological worlds. It is imperative that women contribute to the planet's sweeping transformation.
Sadly, the numbers speak for themselves.
Globally, women are grossly underrepresented in scientific research and development (R&D). Catalyst, a global nonprofit that works to accelerate women's workplace inclusion, reports that worldwide, women account for less than 29 percent of those employed in R&D. In America, which prides itself as possessing the worlds' most advanced tech companies, women hold less than 25 percent of science, technology, engineering and math (STEM) jobs, according to the U.S. Department of Commerce.
When women actually do work in the tech sector, retention is an issue; negative work experiences and a lack of support spur women to depart from careers in STEM. Women leave for other industries at high rates. Almost one-third of women in the U.S. intend to leave their jobs within a year.
Imagine if women participated fully and their intellects, talents, and skills were fully used. Think of the products developed, technologies created, companies funded, and discoveries found. What answers would women find for the world's most pressing problems?
Keep in mind women's inventions to date: Marie Curie, winner of two Nobel Prizes, who discovered radioactivity, radium and polonium; Grace Hopper, who designed Harvard's Mark I computer in 1944; and Ann Tsukamoto, whose work with stem cells may lead to a cure for cancer.
If one narrowly looks at the gender issue from a business standpoint only, the argument is undeniable. Put simply, companies with more women gain invaluable perspectives, can see the bigger picture and capitalize on it. Many of the users (and buyers) of these tech products are women — and obviously they know what features would be most useful. When they contribute during product development, the final result is a better iPhone, tablet, computer or other.
Technology companies generate more revenue than firms with fewer women, according to a report published by Morgan Stanley. A five-year research period included over 100 tech companies found that companies with a highly gender-diverse workforce grew 5.4 percent more revenue-wise per year.
Board representation matters too. The Morgan Stanley Capital Index (MSCI) analyzed the quantifiable impact of women on boards, and what causes a tipping point — just three women. The MSCI found that these companies realized a ten percentage point gain of return on equity and an earnings per share increase of 37 percent. "Put simply, gender balance in the boardroom correlates with strong business performance," said Coco Brown, founder and CEO of the Athena Alliance, which promotes board membership for women.
Gender balance could also have great impact on entire countries, not just companies. In emerging markets, gender parity in tech could enable greater self-sufficiency. Consider the recent visit of Google CEO Sundar Pichai to Nigeria and the promise that the company will train 10 million Nigerians in the next five years, ushering them into the digital economy, a lofty goal that would open more Africans to the global marketplace. What if half – five million ― of the newly trained tech workers were women?
Dr. Unoma Okorafor, founder of the Nigerian-based foundation Working to Advance African Women (WAAW), is working across eight countries to increase the pipeline of females in tech. She believes that fostering gender parity is critical to poverty alleviation and Africa's rapid development. "Technology can empower women who are currently working in agriculture or at home. Many entrepreneurs are women, however, they are excluded from the formal system," she said, adding that the burgeoning tech sector could change the continent from a culture of aid to trade. "We could empower Africans to innovate for themselves," said Okorafor.
The obstacle is in training and retaining women leaders globally, but problems also exist in the funding mechanisms used to birth these companies. In Silicon Valley, where the world's largest tech companies launched – Uber, Airbnb, Google, Facebook – women face obstacles in venture capital (VC); in fact, women-led companies comprised less than 5 percent of all VC deals in 2016. Only 7 percent of partners at the leading 100 VC firms are women.
This summer's avalanche of sexual harassment scandals at Uber and several prominent American venture capital firms have made front-page news around the globe. Unfortunately, for women in other countries, the story is also the same. In late July, the board of Kenyan software company Ushahidi fired Daudi Were, executive director, after an investigation of sexual harassment by a former employee. She published details online, recounting the disturbing impact of his actions. Eleven other women experienced similar incidents.
Access to capital is unmistakably powerful. Trish Costello, founder of Portfolia, a crowdfunding website that aims to create a new class of women investors, said that, "The goal is to design spaces that work for women in terms of investment vehicles. Men say that there are no female VCs and that is why there is a leaky pipeline, but that simply is not true."
Interestingly, there is no leaky pipeline in mainland China, where the largest venture capital firm in the country is run by women, said Jane Shih, Director of Girls in Tech Taiwan, adding that women are seeing greater opportunities – and a meritocracy in VC. "Women are the face of digital transformation and launch more than half of all new Internet companies in China," she said.
A growing number of women tech executives are laser focused on diversity, said Debra Vernon, a corporate and securities lawyer at DLA Piper, who represents tech companies from startup to exit, as well as venture firms and corporate venture investors. "The way business is conducted is key to advancing women. Women can benefit from new technology that can optimize internal systems and create transparency," she said.
Elizabeth Reynolds, tech executive and startup advisor, noted there are actionable things to be done. "Right now, the question is how to move the conversation forward," adding that she is encouraged by conversations by male colleagues who are seeing bad behavior and calling it out. "We can't rely on victims to be brave, we all need to be brave if anything is going to change," she said.
A healthy organization needs to have a balance between men and women who contribute, said Dr. Ioana Cozmuta, Industry Innovation and Microgravity Lead for the NASA Ames Research Center's space portal. "This balance should not be incentivized artificially but be based on meritocracy. We need to think of diversity in the broader concept of what an effective workforce looks like," she said, adding that the most innovative workplaces embrace diversity of opinions, backgrounds and genders.
Diversity is key to real innovation, as well as shifting the culture. "This means having an environment that is more aware of the single-minded thinking that exists in tech, something that is more important than spending more on product development or creating bureaucracies to deal with diversity," said Ari Horie, founder of the Women's Startup Lab, a Silicon Valley-based accelerator for female founders in the U.S. and abroad.
These conversations on how to tackle diversity are uplifting and encouraging. However, across the tech industry, it is still a boy's club. It is up to all of us – men and women – to change the rules of the game. Innovation and the world's future are at stake.
REAL LIFE. REAL NEWS. REAL VOICES.
Help us tell more of the stories that matter from voices that too often remain unheard.