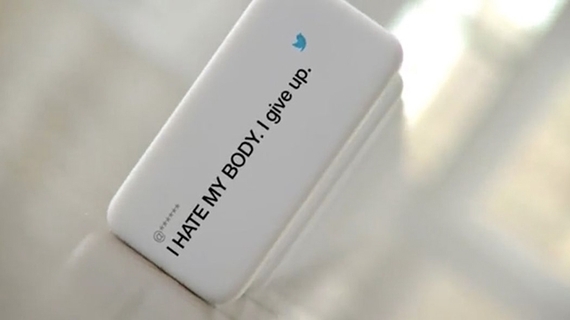 A careless tweet came across my timeline recently from a respected businesswoman and style influencer with a large following. It contained a simple photo of a meme with the text "I wish everything was as easy as getting fat" and she added the hashtag #StruggleIsRealButGettingFatIsEasy. Although unremarkable, this sentiment is a harsh reminder of the types of messages we're inundated with every day on social media from our friends, family, media outlets, and even women we might consider role models.
Fat. F-a-t. Three letters that elicit negativity when used in the comment section of our photos and are dangerous when used in conjunction with how we feel about ourselves. Many in the body positive community are using fat to describe themselves, shifting the power away from those who sling it around wildly like an unregulated weapon. Although fat is merely a descriptive word, negative uses come loaded with decades of institutionalized stigma, prejudice, and discrimination. Fat is also one of the most commonly used negative words when we're tweeting about our bodies or others, according to research from the Dove #SpeakBeautiful Social Media Study (2016) conducted in partnership with Twitter.
When we talk about women's bodies (even our own), we're reinforcing negative stereotypes and the shifting cultural ideals that create impossible beauty standards. The next generation has a front row seat to our bad behavior and as a result, being "fat" is one of the most common reasons that children are bullied. Imagine if a teenager saw the aforementioned meme and decided to skip breakfast so she didn't become "fat." In China, teens are comparing their waists to a piece of paper, victorious only if their midriffs remain entirely concealed by the unrealistic width of 8.27". The media's obsession with diet culture, youth, and "the obesity epidemic in America" has worldwide impact.
Our words reverberate far beyond their intended targets, catapulting into real world actions. Just this year, blogger Fat Heffalump documented an incident of street harassment where a stranger thought it was acceptable to take a photo of her, leading to confrontation. Many seemingly simple and mundane public actions, like going to the gym, grocery store, or traveling can be cause for extreme anxiety, leading to avoidance and depression. Fat women are often reduced to caricatures with perceived impenetrable exteriors that protect us from the unsolicited opinions of others. Actress Gabourey Sidibe has become culturally defined by Precious, not only her first role, but shorthand to refer to an unattractive, overweight woman.
As much as it seems expected to encounter negativity online there is hope for positive change, particularly within the next generation. 65% of girls want to be taught to use social media in a positive way and 62% want social media to be used for body positivity & empowerment, according to Dove research. We have an opportunity to impact the way they feel about themselves through the words we choose to use, and we shouldn't take that opportunity lightly. Body positivity is not a static achievement, but a constant evolution of our relationship with ourselves. The way we think, feel, and speak about our bodies sets the standard for everyone around us and it's time we raised the bar.