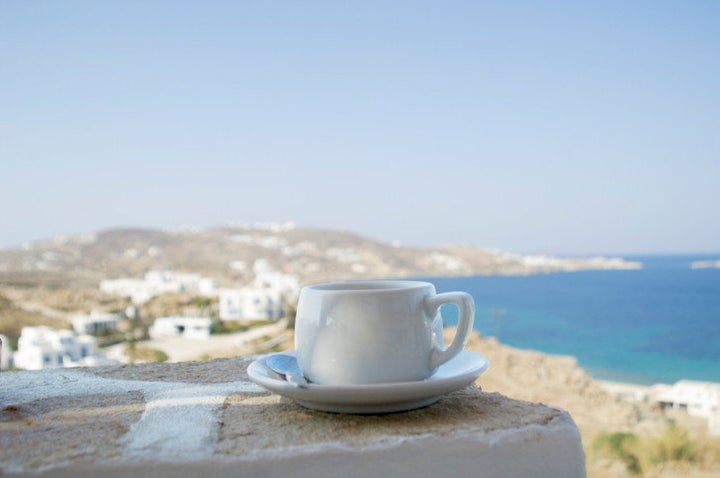 Over the years, we have been advising individuals and leaders in all walks of life and in many of the world's leading organizations in the areas of Innovation and meaning. A few years ago we noticed that something was changing. People told us that they were losing enthusiasm and meaning in both their personal and work lives. Many felt that they were rushing through life, just going through the motions. Many felt that their work lacked meaning, that the products and services they were offering lacked meaning, and that, increasingly, they felt that they weren't making a positive difference in the world around them.
The existential question people kept asking us was: "How can we live more meaningful lives?" So we decided to go in search of an answer. Our journey took us back to Greece, where we visited many traditional Greek villages and were met with amazing hospitality. We danced on the very beach where the character Zorba danced and felt the burdens of life lift from our shoulders. We rose at dawn to watch the fishermen return with their early-morning catches. We walked in the footsteps of the Minoans and marveled at the high quality of life they enjoyed so many millennia ago. We celebrated birthdays, name days, weddings and special holidays with feasts attended by extended families and people from neighboring villages. We sat with indigenous villagers of all ages to listen to their life stories. We explored, we listened and we learned.
And that is when the "answer" found us! We had an "aha!" moment, or as we would later call it, an opa! moment. The Greeks we had met on our journey truly knew how to live! They had the answer to our question on how to live better, more fulfilled lives. They knew how to embrace all of life -- all the ups and downs, all the difficulties and joys. They knew how to live with enthusiasm and meaning. As we turned to the Greeks once again to help us solve the challenges we face today, we realized that we were coming full circle. Thousands of years ago, philosophers like Heraclitus, Hippocrates, Socrates, Plato, Aristotle and others had grappled with a very similar question: "How do we live the good life?" Their wisdom and advice can still be applied to our lives today.
So together with lessons from our journey and from the ancient Greek philosophers, we developed the notion of The OPA! Way®, a new philosophy, a new lifestyle. Although our lives may appear to be very different from the Greek villagers and their ancient predecessors, at the basic human level, they are the same. We are all trying to "live the good life," to live better, more fulfilled lives.
The Greek word "opa!" has deeper meaning and significance than many people may realize. To be sure, most people of Greek heritage, and even those who are not, have used or heard this word on some occasion. Perhaps it was in association with Greek dancing. Perhaps you've heard someone shout "opa!" when a plate was broken in a restaurant, whether it was a Greek establishment or not. A single definition for this commonly used word or expression does not exist. However, we can all agree that the word refers to something that is inspiring, uplifting, exciting and life-affirming. We've heard some Greeks say that it signals "danger" and therefore is an awakening call to remain alert to and in harmony with the ebbs and flows of life. Still others believe the word signifies a moment to embrace and celebrate the totality of life. Whichever definition is chosen, we believe that "opa!" is a fitting word to encompass the lifestyle we discovered.
Not very long ago we received the following insight into the word "opa!" from the editor of a publication of the one of the associations representing Greek Americans in the United States. With obvious enthusiasm and meaning, Mr. George Passes shared the following perspective on what "opa!" really means in everyday life: "We Greeks know that the word 'opa!' touches the core of our being, because it conveys the Greek spirit, the kefi, the independent spirit, the celebration, the joy, that which gives us the feeling it is great to be alive, and 'opa!' is important enough to have it at any cost." We are grateful to Mr. Passes for capturing so eloquently the true essence of this important concept and for giving us even more reason for advancing The OPA! Way lifestyle message.
Drawing upon the key lessons learned from our journey and ethnographic research, we then translated the word "opa!" into an acronym for Others, Purpose, Attitude, three core elements that truly embody what it means to live (and work) The OPA! Way. Opa! Indeed, it is much more than a mere word; it is a lifestyle and a workstyle! Against this backdrop, let's now review briefly each element of this inspirational philosophy of living and working.
Dr. Alex Pattakos and his partner, Dr. Elaine Dundon, are the co-founders of The OPA! Way® lifestyle of "Living Your Inner Greece," which means living all of life to the fullest with enthusiasm and meaning. You can find out more about Dr. Pattakos, author of the internationally bestselling book "Prisoners of Our Thoughts," and Dr. Dundon, author of the international bestselling book, "The Seeds of Innovation," in their HuffPost bio.
Related