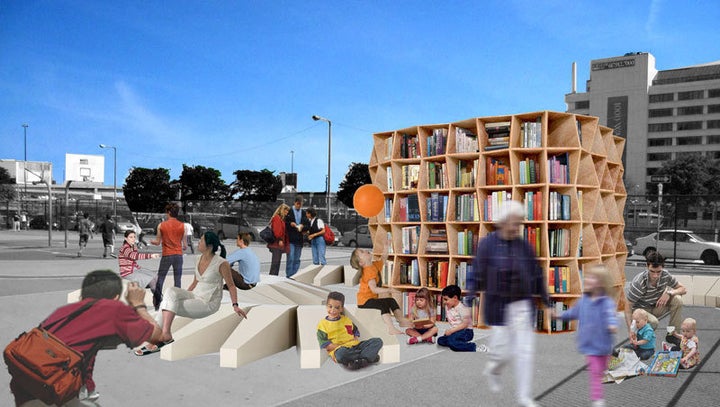 In July this year, a curious project appeared on the website Kickstarter, asking for donations. The Uni Project was described as "a portable, open-air reading room for public space," fronted by the cellist from the Magnetic Fields, Sam Davol, and his wife Leslie.
The design, created with the help of graduate students at MIT, is innovative and distinctive; the project's aim is to "temporarily transform almost any available urban space into a public reading room and venue for learning." But will people engage with its unusual look and ambitious goals?
The team will find out this Sunday, as The Uni Project is open to the public for the first time on September 11th, in the New Amsterdam Market.
We spoke via email to Sam Davol about why they created the project, where they want it to be placed and why they choose September 11th as a launch date.
There's the long-winded answer on our website, about making books and learning more accessible and prominent in urban settings, creating a way for community-oriented activities at street level, and helping institutions reach outside their walls.
These are the "rational" reasons for embarking on creating this.
But maybe your question goes to a deeper issue of motivation on our part. There is a part of this story which is not entirely rational and is about a drive Leslie and I have had to carve out space in an increasingly corporate and consumer-oriented society. The Uni is what I want to see when I'm walking down the street with my kids. What we put at street level says all the world about our priorities as a society, and I'm seeing a few too many ATM's and Dunkin Donuts, and not enough books and learning. I'm talking about New York, yes, but also other American cities where I travel and have lived.
Actually, in many European cities, the Uni is not so radical as a concept. You see more books. Here in America, we've figured out how to offer performing and visual arts in parks and plazas, how about books and learning activities? In a way the Uni is a kind of experiment in new infrastructure.
For some time, I've been a lawyer (worked for Legal Aid in NYC) and much longer than that, a musician. I'm in a band called the Magnetic Fields - I play the cello. So this new endeavor is not related directly to either, but it feels a familiar mix of business and art, rational and emotional, that I've been balancing for quite some time.
How did you finalize this design?
We teamed up with Howeler + Yoon and Meejin Yoon, in her role as a professor at MIT, to come up with a design.
We gave them specs that included:
* provide storage for as well as access to books arranged in categories
* provide seating and work tables such that it is capable of supporting a full schedule of public readings, talks, classes, workshops, and screenings produced in partnership with other local institutions, organizations and nonprofits
* be modular and adaptable to accommodate different site conditions
* be able to fit into a standard 16' truck and be moved by 2-4 people with an industrial hand cart or dolly
We had a few false starts. Then we came up with this modular design and Meejin enlisted some MIT graduate students - Alexander William Marshall, David Costanza, and James Coleman - to figure out how to fabricate it. Together, they came up with all of the details and are also the ones fabricating it.
There's also a beauty to the limitations of the 16" cube - provides a great platform and ignites people's creativity about what you can do within that limitation.
What kind of spaces are you looking for in which to place it?
Short answer: we're taking care with locations to keep testing the boundaries both of where this thing can be installed physically, and whether there is a way to build a well-loved institution that doesn't stay in one place or building.
In Fall 2011, we'll launch the Uni in New York City and demonstrate the project in several locations. We are already reaching out to community groups and others to determine locations. Then, in Spring 2012, Uni NYC will hit the ground running at full capacity as a permanent resource for New York City.
Uni NYC will be a test-kitchen and model for a second Uni designed for Boston, to be constructed Summer 2012. Uni Boston will focus on blocks adjacent to Boston Public Schools, offering books and learning resources for school children, their families, and neighborhood residents.
Our siting strategy will prioritize locations that lack existing access to books and learning opportunities, including neglected areas and areas near urban public schools. However, the Uni is not envisioned as a tool only for chronically underserved neighborhoods. The purpose of the Uni is to create an elegant physical structure, a collection of books and programs, and an institutional framework that can enrich our most prominent parks and plazas as well as underserved neighborhoods. To do both makes an important point about how our desire for education, learning, and books is a core, shared value that binds us together, transcending neighborhood boundaries.
At its core, the Uni is an effort to create programs for public space that reflect our strong belief that the public realm should bring together people from all walks of life.
Where are it and the books stored when it's not on the street?
Books, for now, are stored in our office. Starting in October, we're looking to borrow a vacant storefront in NYC where we can store the Uni and also have our librarians work behind glass, visible from the street, on cataloguing/organizing the growing collection in preparation for deploying it with a full schedule of locations starting Spring 2012.
It's the city we know best, and have lived most of our life. New York is a great place to do anything with a mission about cities, and also to test new ideas. The competition for street-level space is also where many cities are headed (getting more crowded) so is a great place for us to see how space can be carved out for books and learning. New Yorkers are game and I think they like to see people going out on a limb, say with an 8ft cube full of books that can look like a sea urchin.
Well, the Uni is ready to launch, and it doesn't do anyone much good sitting in storage. And the Market where we're placing it falls on a Sunday.
For personal reasons, the date also makes good sense to me. Leslie and I lived in Lower Manhattan for most of our lives as a couple and our kids were born and started school there, before we moved to Boston a few years ago. (We're moving back to New York over the next year.)
The Uni is no doubt forged from our experience in our old neighborhood, not just on the morning of Sep. 11, but all the other days before and after. As such, the Uni is intended to be, over time, an institution that sticks with residents and neighborhoods in New York, improving public space. We're aiming to offer something beautiful and useful to residents, kids and adults alike, that will make sense on 9/12 as well as on 9/11.
What programming do you have lined up so far?
It includes book cubes donated by: 826NYC, New York Bound Books, Furnace Press, and others. The Yoko Ono Wish Tree, Drawing Lab, Flash Fiction Activities are some early programs. This list should grow quickly, once we start approaching organizations and institutions about having their own cube. A great example is the Museum of Math, set to open in NYC in 2012. We're talking with them now about creating a cube in the future.
Will it still be open in the winter?
I'd love to find someone who would donate a vacant storefront for the Uni during the winter, so we can keep serving the public. If not, we'll go to storage and bring it out for a few indoor installations. We've done a number of vacant storefront installations in Boston, including a writer in a storefront.
We've been running outdoor films for the past six years, so we think about rain a lot. Outdoors, the Uni will be closed up in heavy rain. The cover/seating elements (cones) protect the books when inserted into each cube. On top of that, we'll have a security cover that is waterproof for nighttime. The current Uni design is intended for operation in good weather, but we think there are opportunities to build on this initial design in the future to offer shade and shelter.
What are your aims for the project?
We want to create a sustainable, well-loved, institution for New York. We want to do one thing and do it well: temporarily transform almost any available urban space into a public reading room and venue for learning.
Related
Popular in the Community