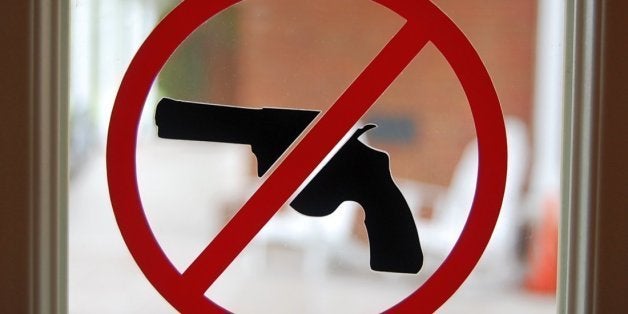 In June, Texas Gov. Greg Abbot signed legislation permitting people with proper licenses to carry handguns in plain view. Though this so-called "open carry" law won't take effect until January, one Texas restaurant chain has already prohibited visible firearms from its properties, and experts say other local eateries will follow.
While only 5 states and Washington, D.C., now ban open carry in public places, businesses can issue their own no-gun policies. In fact, a HuffPost/YouGov poll in 2014 found that 55 percent of Americans prefer that shops and restaurants forbid guns.
In recent years, several major restaurants and retailers across the country have asked customers to refrain from openly carrying firearms -- some have even banned concealed guns altogether from their locations. Here are a few of the businesses that have taken a stand against open carry laws:
1. Whataburger
On July 2, the Texas-based hamburger chain asked customers
openly carrying firearms in its restaurants. Whataburger President and CEO Preston Atkinson affirmed his company's commitment to serving the gun rights community -- even mentioning that he has his own open carry license -- but went on to say that customers had expressed concerns over visible firearms in the restaurants. Concealed carry, he added, is fine for Wataburger patrons, but he asked people not to open carry in his stores:
We've had many customers and employees tell us they're uncomfortable being around someone with a visible firearm who is not a member of law enforcement, and as a business, we have to listen and value that feedback. ... We have a responsibility to make sure everyone who walks into our restaurants feels comfortable. For that reason, we don't restrict licensed concealed carry but do ask customers not to open carry in our restaurants.
2. Chipotle
Chipotle, which noted that it traditionally complies with local laws regarding open and concealed firearms, asked customers in 2014 to refrain from bringing firearms into its stores. The move came after a group of open carry activists
, bearing military-style assault rifles. When the gun-control advocacy group Moms Demand Action for Gun Sense in America
for Chipotle to publicly denounce the open carry of firearms in its stores, the company complied:
The display of firearms in our restaurants has now created an environment that is potentially intimidating or uncomfortable for many of our customers.
3. Panera Bread
Following Chipotle's lead, Panera Bread also asked customers not to bring guns into its restaurants. In a statement, the company said:
Within our company, we strive to create Panera Warmth. This warmth means bakery-cafes where customers and associates feel comfortable and welcome. To this end, we ask that guns not be brought into this environment unless carried by an authorized law enforcement officer. Panera respects the rights of gun owners, but asks our customers to help preserve the environment we are working to create for our guests and associates.
4. Sonic
In 2014, Sonic waded into the debate, announcing that firearms were no longer allowed in its restaurants. Patrick Lenow, Sonic's vice president of public relations,
:
Sonic and our franchise owners work hard to provide an inviting environment for customers and employees alike. While we historically have relied upon local laws to guide how we address the display of guns at drive-ins, recent actions required we carefully reconsider this approach. We've considered the views and desires of our customers and employees that staff the drive-ins across the country. Accordingly, we're asking that customers refrain from bringing guns onto our patios or into our indoor dining areas. With respect to the storage of guns in vehicles, we ask that our customers continue to honor local laws.
5. Chili's
Chili's launched a coordinated statement with Sonic to take a stand against open carry policies. Ashley Johnson, a spokeswoman for Chili's' parent company, Brinker International, explained the company's decision in a 2014 email to HuffPost:
We recognize that the open carry of firearms creates an uncomfortable atmosphere and is not permitted under many local liquor laws. So, we kindly ask that guests refrain from openly carrying firearms into our restaurants and we will continue to follow state and local laws on this issue."
6. Starbucks
Starbucks was among
to request that customers leave their firearms at home. In 2013, CEO Howard Schultz
to customers regarding the polarizing issue of open carry:
Recently ... we've seen the 'open carry' debate become increasingly uncivil and, in some cases, even threatening. Pro-gun activists have used our stores as a political stage for media events misleadingly called 'Starbucks Appreciation Days' that disingenuously portray Starbucks as a champion of 'open carry.' To be clear: we do not want these events in our stores. Some anti-gun activists have also played a role in ratcheting up the rhetoric and friction, including soliciting and confronting our customers and partners. For these reasons, today we are respectfully requesting that customers no longer bring firearms into our stores or outdoor seating areas—even in states where 'open carry' is permitted—unless they are authorized law enforcement personnel.
7. Target
In 2014, the third-largest retailer in the U.S.
guns in its stores. Target's interim CEO said in a statement:
This is a complicated issue, but it boils down to a simple belief: Bringing firearms to Target creates an environment that is at odds with the family-friendly shopping and work experience we strive to create.
Related