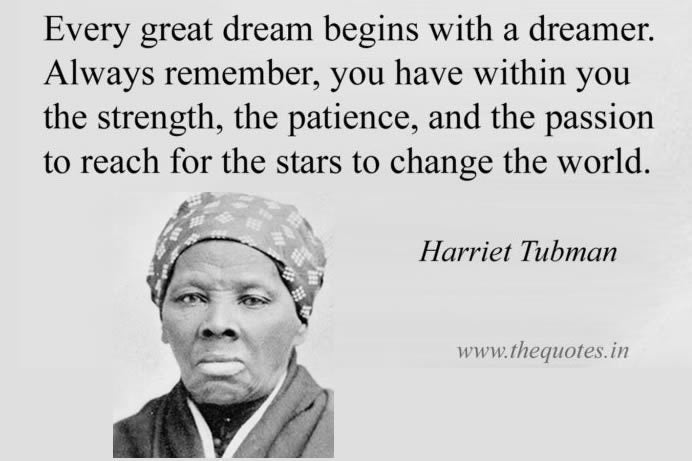 "Every great dream begins with a dreamer. Always remember, you have within you the strength, the patience, and the passion to reach for the stars to change the world." - Harriet Tubman
Accomplishing dreams in life is a personal journey. I can't do it for you, but I can encourage you to dream. Dreaming is not just what we do at night when we're sleeping, but rather a process of imagining a positive future. My experience in life has been that all people have dreams, but not all people follow them. It indeed takes courage and perseverance to follow your dreams.
Below are some examples of dreams in life I've had starting with a recent one.
Last year, my wife and I traveled to the beautiful Montreux, Switzerland for a vacation. We were each living in different countries at the time and the hardest moment of the trip was when I was on my return flight to the US. There was a moment when I knew my plane was flying one direction and my wife's, another, and I could literally feel the distance as it grew. I cried because that year was so hard. But work matters and we passed the test.
Over the months after the trip, I had "a dream" that my wife and would be going somewhere together in life and not apart. I actually saw in my mind's eye a train much like the trains of Switzerland.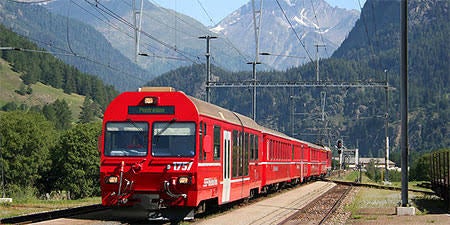 So, I got out my trusted journal and drew what I was thinking. I drew a 'Swiss' train and put our names on it. Moreover, I sensed that this train — having our names on it — would not be something we missed.
PICTURE OF A JOURNALED TRAIN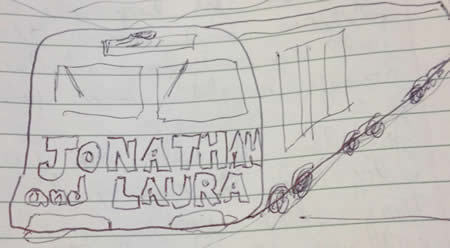 Dreams are like that. They take us from POINT A TO POINT B. Oftentimes dreams also involve courage. Moreover, they may be a part of a longer journey. Dreams are exciting — and following them helps us reach our destiny in life.
I wonder what you are thinking about when it comes to DREAMS IN LIFE. Here are a few past dreams that I've accomplished and the main lesson learned from each one. You might think of a few past dreams of your own and any lessons you learned along the way.
Age 11 DREAM — To live in northern Canada or Alaska. Drove to Alaska at age 27: hence, fulfilling the dream took 16 years. LESSON: If I don't do it, who will?
Age 21 DREAM — To be an International teacher. Attended 2 recruiting fairs: hence, fulfilling the dream took two years until I got my first international teaching job. LESSON: Amazing things come from following a dream in life.
Age 32 DREAM — To get a PhD. This took applying, getting accepted, and doing the work: hence, fulfilling the dream took seven years. LESSON: the unknown is uncharted waters, and lots of lots of growth opportunities can be created to get there.
So those are some examples of accomplishing dreams and how to do it. Let's finish by talking about the what it will look like to follow your dreams.
I said earlier that courage is an ingredient for making dreams happen. Courage creates the conditions for changes to occur when you follow a dream. In addition, there are actually many reasons and even incentives for being so bold as to follow a dream.
Catherine Alford of Life Hacker shared 11 amazing reasons for following your dreams. These are super-important, so I've listed them below.
They make life worth living.
You'll meet other dream seekers.
You'll be an inspiration to others.
You can provide for your family.
Working in a job you hate makes the days go slowly.
Because no one is going to follow them for you.
So that you can finally be happy.
To prove them [i.e. Naysayers] wrong.
It will make your parents proud.
It will make YOU proud.
You only live once.
Lastly, you may wonder what the direct connection is between following OPEN DOORS in life and FOLLOWING YOUR DREAMS. The connection is this: as you make a habit of seeing closed doors as opportunities. you will habitually be proactive and more positive than ever before. Also, positivity will get you to a place of remembering and rekindling your dreams - or even refining these dreams if you already know them. The final part is the one that takes courage: it is to FOLLOW your dreams.
I can only encourage you from the bottom of my heart to follow every dream you have. Overall, my experience has been that in doing so, we are happier, more fulfilled, and letting our potential be what guides us in life. It's awesome, indeed!
In closing, I want to encourage all of us — you, me, and others — in following our/their dreams. No one can do it for us. The world is filled with Dream Followers — so let's join them.
Popular in the Community