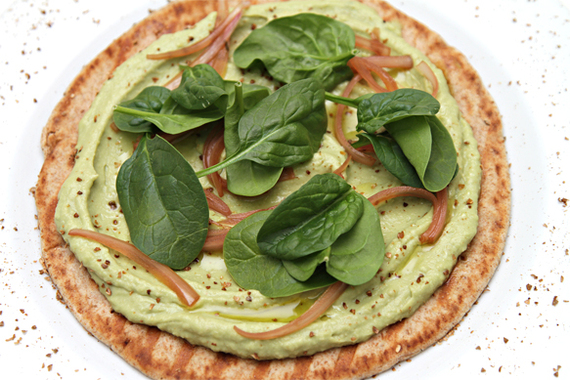 Here's a sandwich that's easy to assemble, healthy and quite spunky! Indeed, the pickled shallots bring a marvelous contrast to the creamy avocado hummus and the hefty whole-wheat pitas (which I love to use for this sandwich). Drizzled with avocado oil and dotted with baby spinach leaves, this sandwich is downright addictive.
Open-face Avocado Hummus Sandwich with Pickled Shallots and Baby Spinach
serves 4
active time: 15 min
Heat a griddle or panini press to high heat. Grill the pitas until grill marks appear. Place each pita in the center of a large plate. Top with 1/2 cup of avocado hummus and spread it evenly over the whole surface of the pita. Sprinkle with the toasted coriander and drizzle with a little avocado oil. Dot with the pickled shallots, top with the baby spinach and serve immediately, while the pita is still warm.