No-one would blame you for feeling that the world is pretty risky right now. But let me demonstrate to you that it's not all doom and gloom.
I invite you to explore what happens when you combine a mindset of optimism with a passion for problem solving and open innovation. This is what characterizes the team behind the Global Opportunity Report 2017, presented by DNV GL, Sustainia, and the United Nations Global Compact.
For the last three years now, we have waited for the World Economic Forum to release its annual Global Risk Report. And then BANG! One week later, we launch our Global Opportunity Report - which I personally see as the white smoke of hope and optimism puffing out of the Nordics.
Where does all this optimism come from? Truth be told it doesn't come from just one region: it flows from the insights of thousands of collaborative people around the world.
The project team has canvassed 5 500 leaders from within business, government and civil society across five continents, and asked them to rank 15 sustainability opportunities. Within these they found 120 solutions and existing projects around the globe to showcase practical and inspirational solutions to global challenges.
We start where the risk reports stop. The top 5 risks this year were: unstable regions, soil depletion, rising inequality, cities disrupted by climate change, and cyber threats. The corresponding opportunities that the Global Opportunity Report 2017 responds with include, among others:
•micro grids that make cities more resilient to climate change;
•smart water technology that provides access to safe, clean water;
•bacteria that bring depleted soil back to life;
•open access peer-to-peer trading;
•education and reskilling to stabilize post-conflict regions; and
•ethical hackers who test cyber security.
In the 'Wheel of Opportunity' (see the full-sized version here) you can explore the 45 new market opportunities that 3 years' worth of global opportunity reports have identified. These relate to the risk areas of extreme weather, water shortage, and unsustainable urbanization to non-communicable disease, youth unemployment, and the global food crisis.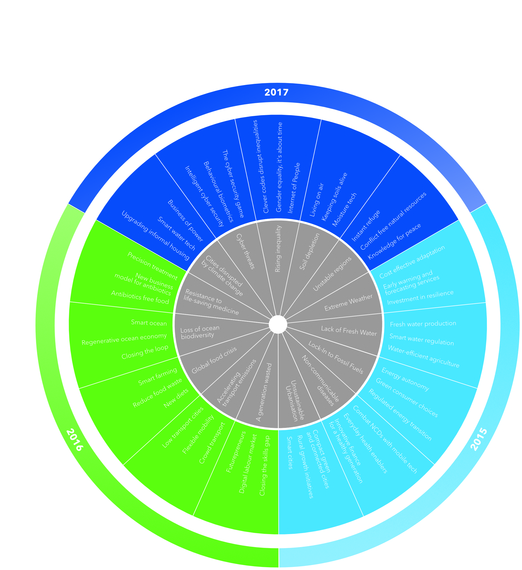 It might make your head spin a little to navigate this big wheel, but you can drill down into each of these opportunities by reading the accompanying report. All three Global Opportunity Reports are now available online.
One thing you will encounter in your further reading is just how interconnected these opportunities are - in the same way that the UN Sustainable Development Goals (SDGs) are interconnected. You can also explore how the opportunities may link to the Goals. It should come as no surprise that the SDGs, while mapping a path to the sustainable world that humanity desires, also show the way to significant new markets and opportunities.
Distruptive technology drives sustainability
What is a striking trend over the last 3 years is the rise of technology and digitalization, to the point where, this year, it infuses almost every opportunity. This is in line with the promise of the Fourth Industrial Revolution. As my colleague and CEO of DNV GL, Remi Eriksen points out, the technology behind this revolution is not new as such, it is just that it is being combined in new ways that will allow business to tackle seemingly competing concepts - like growth with sustainability. Advanced technologies are gaining traction and becoming an accepted - even expected - part of daily life.
For instance, while big banks wrestle with the pros and cons of blockchain, the technology is gaining a fan base in some of the world's least developed regions. A blockchain-based internet allows access decentralized services like electricity, healthcare and financial services. Blockchain technology introduces the ability to replace trust in institutions with trust in a protocol based upon the impartiality of mathematics and cryptography. The immediate benefits of using a distributed, and not centralized, trust model are efficiency, integrity, transparency and security and the long-term benefits are a more involved and empowered global citizen.
Mobile phone apps provide opportunities for e-education in unstable regions around the globe and Internet of People makes healthcare services accessible to poorest and most remote regions. The 2017 report details how many businesses see the importance of facilitating educational systems for refugees and migrants through technology using smartphones.
Open innovation take us into the future
The Global Opportunity Report is a digital native. We rely on technology to find, analyze and test our findings; it is created through an open innovation process that includes digital crowd sourcing of ideas, digital conversations as well as opportunity labs where people meet face to face.
My own company is living its digitalization vision by offering an open data platform for collaboration between the owners of large assets like ships, rigs, pipelines, wind farms and so on, and providers of data driven analytics. This way of working allows us, our partners and our customers to become more efficient and to innovate and solve problems together.
However, digitalization doesn't change our purpose of being, our vision or our core values.
As so it is in the wider world of digitalization. The UN Sustainable Development Goals represent the only plan we have. We have no plan B and we have no planet B. We need to get to the goals quickly - by 2030 - and open innovation, distruptive technology and digitalization offer us many opportunities to take us there.
I'll leave the final word on this journey to my friend and co-collaborator on Global Opportunity Report, Sustainia CEO and founder Erik Rasmussen: "The report's findings show that business leaders from all corners of the world are ready to use technology for sustainable disruption - to use technology to deliver on the UN's Sustainable Development Goals."
Related