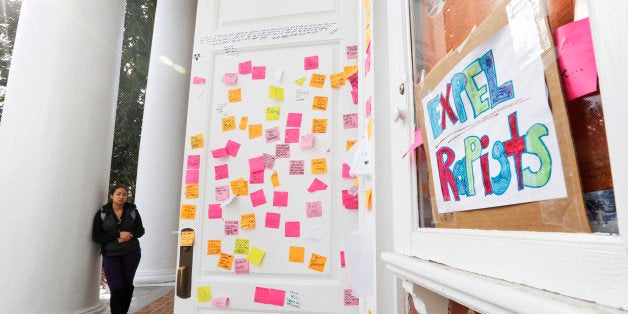 We want safe campuses. We want to see action taken against sexual assault at the highest level of government. We want to see this issue taken seriously, and as an advocacy group working to prevent sexual violence at the University of Virginia, we appreciate the time, effort, and resources you have devoted to combatting sexual assault. While One Less at UVA recognizes that the Safe Campus Act contains measures that could improve the security of colleges across the nation, such as requiring reporting and bystander intervention training for university students and faculty, we find many of its provisions deeply concerning.
The reality is that if this bill passes, it would have the opposite of its intended effect by ultimately decreasing safety on college campuses.
Of primary concern is Sec. 163 of the bill, which mandates that survivors must initiate a police proceeding before any action can be taken by the University in regards to incidents of sexual assault. We fear that this provision will exacerbate the already severe problem of the underreporting of sexual assaults.
According to the Bureau of Justice Statistics, eighty percent of the college students surveyed who were victims of rape and sexual assault did not report to police. One factor cited for this lack of reporting was that twenty-three percent of students, "believed the incident was a personal matter and twenty percent cited fear of reprisal." From our own education and experiences working with survivors, One Less at UVA has identified three additional factors relating to this low reporting rate: the lack of trauma-informed police officers, low conviction rates in cases dealing with sexual assault, and the disproportionate effects on minority students. Additionally, the Safe Campus Act would have an even greater impact on low reporting rates on college campuses by decreasing access to University resources and assistance provided by Title IX. Therefore, this bill will contribute to a greater culture of silence around sexual violence rather than augmenting current advocacy efforts to increase reporting rates.
Lack of Trauma Education Among Police Officers
Currently, the majority of police officers in the United States are not trauma-informed, as it is not a mandatory part of their training. Sexual assault is a trauma that affects memory, compromises the security of the survivor, and often brings feelings of shame and embarrassment due to the context of the assault. Additionally, on college campuses, eighty percent of sexual assault survivors know their perpetrator, creating barriers to reporting due to increased fear of social isolation or retaliation. For these reasons, among others, it is very difficult for a survivor to tell anyone about their assault.
The increased risk of being dismissed by an authority figure when sharing their experience further reduces the likelihood that a survivor would report to an untrained police officer.
According to the U.S. Department of Justice's Office of Violence Against Women, "Too often, a lack of understanding about how victims of violence react to trauma leads police officers to wrongly dismiss the accounts of survivors, which is why [it is important to] include detailed lessons on how trauma can negatively impact survivors' memory, reactions, and demeanor when recounting how they were abused or attacked." Survivors are often retraumatized by having to relive the experience of their assault each time they are asked to repeat its details to investigators. Trauma-informed training would reduce the likelihood and magnitude of this continual stress, which has bred a persistent distrust of the criminal justice system among survivors. Wariness of the system can only be combatted through the increased numbers of trauma-informed police officers, not with an act that would force survivors to provide their accounts to officers who do not have the proper training to respond effectively.
Even if cases are reported to the police, there is no guarantee that there will be a conviction. In fact, according to the Rape, Abuse, & Incest National Network (RAINN), of cases reported to the police, only seven percent result in an arrest and three percent are referred to prosecutors. An astonishingly low rate of 2 in 100 police reports of sexual assault lead to felony convictions and eventual arrests.
This low conviction rate can be attributed to the burden of proof in criminal cases. The prosecution in sexual assault cases must establish that the assault occurred "beyond reasonable doubt." In other words, there must be no possibility of an alternative situation. Sexual assault is a crime that most often happens behind closed doors, especially on college campuses. Conclusive evidence that an incident occurred is often minimal. In rare cases, there are eyewitness accounts, and in some cases, rape kits done within 72 hours -- but even then, neither can prove "beyond reasonable doubt" that an assault occurred. These forms of evidence are hard for the prosecution to rely on.
Witnesses are often closely related to both the survivor and the perpetrator, so they do not want to get involved. In cases where rape kits were done, there have been instances of backlog in processing the DNA evidence. In 2009, over 12,500 untested rape kits were found in Los Angeles. In the same year, over 11,000 were found in Detroit. At least 100,000 kits remain untested nationwide. Even if these forms of evidence are found acceptable, there are several intermediary steps such as an initial police investigation, getting the case picked up by a prosecutor, etc. that stand between the report and the conviction. At any of these points, the case can be dropped or derailed, ultimately contributing to the low conviction rates of sexual assault and rape. As a result, rape cases often seem "unwinnable" in the current criminal justice system. By obligating students to use a system with such low rates of conviction, the passage of the Safe Campus Act would ensure even less reporting and thus even more perpetrators walking free.
Campus adjudication does not currently exist as a substitute for the criminal justice system in handling campus assault, but rather serves a different purpose altogether. The intention of the Title IX mandated adjudication process is not to put dangerous criminals in prison, but to ensure equal access to education for men and women. When access to the adjudication process offered by Title IX is so significantly diminished as it is under the Safe Campus Act, survivors, who are predominately women, are much more likely to have to endure the trauma of living and learning alongside their attacker, greatly impeding their ability to thrive in a university setting.
The Safe Campus Act subverts Title IX in two major ways. The first is that by requiring survivors to report their sexual assaults to the police, the Safe Campus Act fails to recognize that the criminal law is not coextensive with the policies of many universities; universities' sexual violence policies are able to cover topics such as affirmative consent, stalking, retaliation, etc. that are not often reached by criminal law. If students are obligated to pursue their case through criminal law, critical issues relevant to problems of sexual assault covered by university policy but not criminal law will be neglected.
The second is that in Sec. 164 (b) of the bill, universities are allowed to establish their own standard of proof. This provision is problematic as currently under Title IX, schools adjudicate incidents of sexual violence under the preponderance of the evidence standard, a standard of evidence that requires just over fifty percent certainty of guilt for sanctioning. With the difficulty of procuring evidence in cases of rape and sexual assault, it is usually only under such a standard that cases are able to be adjudicated or won. Under the Safe Campus Act, however, universities would be allowed to adopt a "beyond a reasonable doubt" standard for university policy, which would substantially lower conviction rates in university cases.
Racial Inequity in Reporting
The problem of decreasing reporting rates will also disproportionately affect minorities who are survivors of rape and sexual assault. A 2014 report conducted by the White House Council on Women and Girls shows that, although the issue of rape and sexual assault affects women of all races, minority women experience victimization at far higher rates. The report reveals that "33.5 percent of multiracial women have been raped, as have 27 percent of American Indian and Alaska Native women, compared to 15 percent of Hispanic, 22 percent of Black, and 19 percent of White women." Yet despite increased prevalence of rape and sexual assault among minority women, an article from the American Association of Collegiate Registrars and Admissions Officers posted on June 18, 2015 cites that white women report at ten times the reporting rate of minority women.
Although there are few concrete studies on this issue (in order to have studies, one should remember, there must be funding and interest in the topic), women of color have repeatedly attested to their distrust of police and court systems. For example, in a Columbia Spectator article about the exclusion of women of color from discussions about sexual assault, one minority woman explains, "I wasn't raised to believe that those institutions were there to help me. I may benefit from them as residual consequences, such as keeping criminals off the street, but I wasn't taught that they were there to help me." Recent incidents in Ferguson, New York, and even at the University of Virginia have only served to bring more attention to issues of minority students' negative interactions with police. Thus in a reality where minority students are already wary of reporting incidents of sexual assault, a bill that would require all students to report these incidents to the police would discourage even more minority students from reporting, further silencing groups that need their voices heard.
One Less at UVA is a group composed of survivors and allies, united in our passion for the prevention of sexual assault through education and advocacy. Should it pass, the Safe Campus Act of 2015 would negatively affect us, our peers, and survivors of sexual assault across college campuses. Therefore, we cannot stand with the Safe Campus Act. Instead, we stand for decreasing barriers to reporting instead of erecting new ones. We stand for students' rights to a fair adjudicatory process guaranteed by Title IX. We stand for the right of survivors of all races, sexualities, and backgrounds to have control over their voices, their bodies, and their stories. Today, and every day, we stand with survivors.
Sincerely,
One Less at the University of Virginia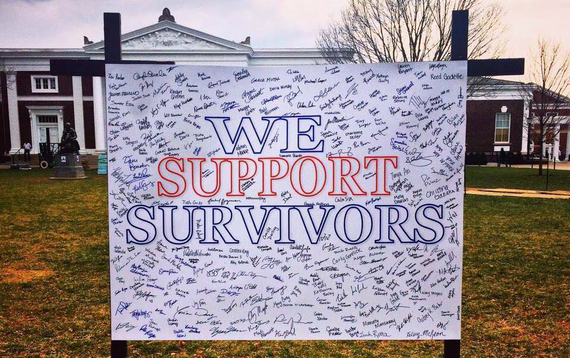 Popular in the Community