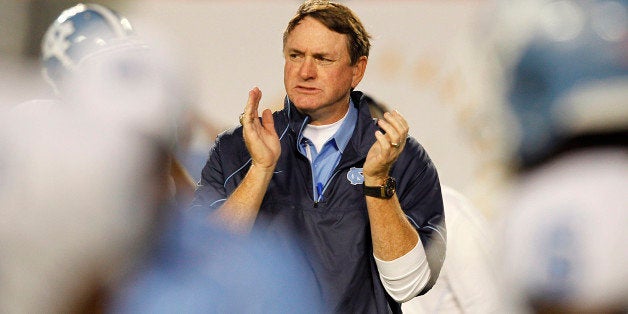 When it came time to select a college, I made my decision how every other seventeen-year-old girl does -- by choosing the school whose football team was currently in the throes of victory. Having always been an avid sports fan, I knew that my college experience was sure to revolve as much around athletics as academics, and I wanted to ensure that I attended a college that was a good culture fit in that way. So naturally, my gaze fell south to the small city of Coral Gables, where, for decades prior, an unlikely football team had taken the nation by storm.
Fast forward to the present day, and the sheen that once adorned my beloved program has since dimmed. As football season approached this year, I found myself gazing longingly at the "U" window decal on the back of my car; a sticker that is now weathered and faded, like the memories of our illustrious past. For the last 10-plus years, the University of Miami football team has been mired in mediocrity, uncharacteristically underachieving season after season. Fresh off the worst loss in program history, the present day harbors no reprieve.
And yet there is light at the end of the tunnel. Through the clouds and ensuing darkness, there comes a ray of sunshine -- a glimmer of hope. His name is Butch Davis, and he may not be the hero we deserve, but he is the one we need.
Years ago, Davis once faced a similar situation as Al Golden did at the University of Miami. Shortly after assuming the role of head coach, each man was told that their team faced NCAA sanctions as a result of infractions committed under their predecessors. In the end, Al Golden's team was stripped of nine scholarships; Butch Davis', 31. And yet Davis persevered through the storm. Despite what was sure to be an abundance of negative recruiting and limited scholarships with which to do it, Davis assembled what is largely regarded as one of the greatest college football teams to ever walk the gridiron. The talent on the team in his final year, robbed of the opportunity to appear in the National Championship, would only be surpassed by the team of the year to follow -- a team that would take home that coveted crystal ball. It was those teams, and the 17 first round draft picks on them, that brought me to the University of Miami --that made me want to be a Cane.
Today, the University of Miami finds itself with a coaching vacancy they desperately need to fill. And after three failed hires in a row, it's a hire they desperately need to get right. To this point, they've gone the route of up-and-coming coordinators in Larry Coker and Randy Shannon, and up-and-coming small-time head coaches in Al Golden. Now they must travel a different path and pursue a proven commodity, lest an up-and-comer prove futile yet again, further distancing the current regime from its once proud, storied past. This proven commodity must not only be available, he must also be affordable. And above all, he must be interested. It's the trifecta of qualifications that Miami has had a hard time securing in searches past, but now, they needn't look any further than in the pages of their own record books to find it.
Outside of being widely recognized as one of the best identifiers, recruiters, and developers of talent, Butch Davis has also proven to be quite adept at assembling a staff. During his time at Miami, five of his staff members went on to become head coaches at either the NFL or collegiate level, and yet another three went on to become coordinators, position coaches, or strength coaches in the NFL. While at UNC, he continued his tradition of success, hiring three more individuals who would go on to become head coaches in one capacity or another. Ultimately, as he's proven time and again, Davis has developed quite the impressive coaching tree -- one he would no doubt draw upon were he given the opportunity to assemble a staff at the University of Miami once again.
Beyond his ability to identify successful players and coaches alike, Davis would reinvigorate the program in a way that other candidates could not. A fan favorite amongst this rabid, increasingly restless fan base, Davis would inspire hope -- hope for the future; hope of a return to the glory days of the past. Better yet, he would instantly attract the presence of those former players who hold him in such high regard; former players who would make this campus their home again, providing invaluable support to current student-athletes and serving as a major draw for the student-athletes of the future. For what has always set the University of Miami apart from the rest was not its facilities or its game day atmosphere, but its camaraderie -- the U family, as it's called. Butch Davis is a respected member of that family; one with a charismatic gravitational pull that would reel back in those other members of the family who have since gone astray. As a result, attendance, fundraising, and recruiting would all receive monumental upticks, marking this program as an attractive destination and national contender once again.
Of course, the usual suspects will have their criticisms, but a deeper examination into their claims show them to be nothing more than trivial, hollow, and devoid of any valid meaning. Some point to the investigation into the academic scandal at the University of North Carolina, but a cursory look into the details of the investigation and the subsequent findings is all that's necessary to discover that Davis was cleared of any and all wrongdoing in that case. In the end, he was named in neither the NCAA investigation, the Secretary of State's investigation, nor the Governor's investigation, and UNC's then-Athletic Director, Dick Baddour, has since stated that it was not his recommendation to fire Davis and that he wanted him to remain on as coach. James Moeser, now a Chancellor Emeritus at UNC, shared in these sentiments, stating that he too would not have fired Davis and that the outcome of the process was most unfair to him. The University of Miami knows what it's like to be the brunt of an oft-unjust NCAA investigatory process. They understand how realities are twisted and how half-truths or blatant falsities are presented as fact. Butch Davis was scapegoated in a very similar manner to how the University of Miami -- the NCAA's perpetual punching bag -- was. Let's not treat him in a way that we wouldn't have wanted to be treated ourselves. Nobody knows the importance of letting a process play out better than we.
Other critics of the suggestion to hire Davis point to his age, but as Jeremy Fowler recently discussed in his CBS Sports article, "Old dudes are running college football." In fact, five of the teams in the AP Top 10 are coached by individuals that either share Davis' age (63) or are within just four years: No. 2 Baylor, coached by 59-year-old Art Briles; No. 4 LSU, by 61-year-old Les Miles; No. 6 Michigan State, by 59-year-old Mark Dantonio; No. o7 Alabama, by 63-year-old Nick Saban; and No. 10 Iowa, by 60-year-old Kirk Ferentz. And let's not forget Miami's next opponent, No. 22 Duke, coached by 61-year-old David Cutcliffe. At the end of the day, there are coaches of a similar age dominating college football all over the country, and as Butch Davis said himself on the Zaslow & Joy morning show, "Age is just a number."
In that same regard, we can dismiss the oft-made contention that the game has "passed him by." It certainly hasn't passed him by in age, nor has it passed him by in terms of his immersion in the sport. This isn't Jimmy Johnson, who's spent the better part of the last two decades on a fishing boat in the Keys. Davis serves as a college football studio analyst on ESPN and appears as a regular guest on local talk radio. He's kept a steady finger on the pulse of the collegiate football landscape, and due to his high level of visibility, is still a known commodity amongst high school recruits -- not that he'd have any trouble selling them anyway once he laid out his NFL track record at both UM and UNC. In fact, he stepped away from the game of college football for seven years in between his stops at the two institutions, but that didn't prevent him from assembling a team that was regarded by many as a dark horse national title contender, nor did it prevent him from coaching or recruiting the most amount of first-round draft picks over the time from 2008-2014 out of any school in the ACC and fifth most nationwide. And if that seven year hiatus didn't affect his ability to stockpile talent, it seems unlikely that the four years since he left UNC would miraculously cause him to forget all that he's learned or dampen his keen ability to adapt.
In the end, Miami needs a hire with very little downside and a tremendous amount of upside. Butch Davis offers just that. After all, Coach Davis and the success of his teams were what initially attracted me to the University of Miami.
Won't you give him the opportunity to do the same for someone else?
REAL LIFE. REAL NEWS. REAL VOICES.
Help us tell more of the stories that matter from voices that too often remain unheard.