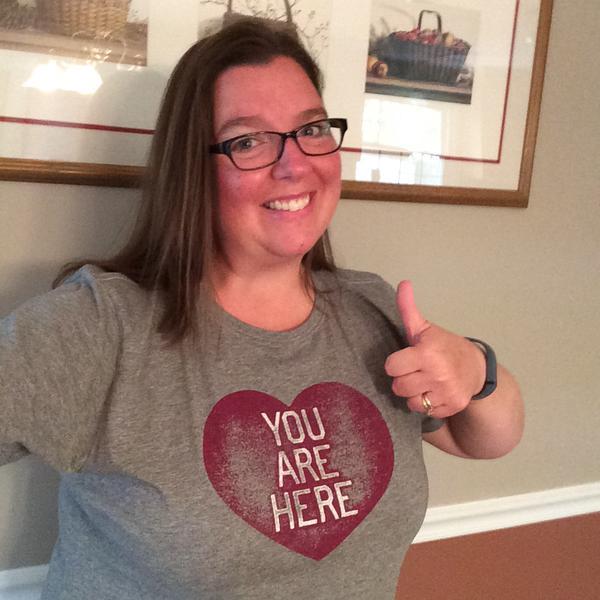 After our brief encounter thanks to Bravo TV's "Watch What Happens Live After Show" where I welcomed you in the Widow Maker/Sudden Cardiac Arrest Survivors Club, I wanted to formally introduce myself. My name is Leigh Pechillo and I am a fellow heart survivor from Connecticut. Looking at us, I never would have thought that you and I would have anything in common. But as of February 12, it seems I have been proven wrong. Hearing you share your story on NBC's "Today Show" was the first time I truly felt strong emotion about my own story as I've never heard anyone who has shared the same experience.
Just like you, I never thought I would have a heart attack. I was a 44 year old stay-at-home mom, busy spending time being a mother, daughter, wife, a friend. At the time, I had been a volunteer with the American Heart Association for seven years and I did all I could to raise money and awareness for congenital heart defects and heart disease in honor of my son, a congenital heart defect survivor, and in memory of my father who died at 70 of congestive heart failure after many years of cardiac issues.
Yet in a cruel twist of fate, I suffered a massive heart attack on Mother's Day, May 11, 2014. I woke up to my kids singing a song they had written for me and sat down to a homemade breakfast made by my husband. But I just wasn't feeling right. I had terrible heartburn! I also remembered the day before that I had some shortness of breath walking up and down stairs.
My husband suggested I call the doctor who said it might be esophageal, but he couldn't rule out a heart attack. The doctor told me to take an antacid and if it didn't feel better to go to the emergency room. There was no urgency in his voice, so when I couldn't find an antacid, we continued our Mother's Day celebration. My husband noticed I was rubbing my chest. He said, "Let's go to the ER and make sure everything is okay."
I just kept thinking, there is NO WAY it can be a heart attack. I may not exercise everyday and I might not have the perfect diet, but I've never been told my blood pressure, cholesterol or blood sugar were something to be concerned about. I knew I had a family history of heart disease from my father, but he smoked for 50 years, never exercised and had a steady died of fatty foods and sugary drinks. It COULDN'T be a heart attack.
I went to the bathroom to get ready. I have no memory of the remainder of that day or the next three.
I was told I collapsed in my bathroom and my then 10 year old daughter heard me fall. My husband yelled for me and when I didn't answer he opened the door and found me on the floor. He immediately called 9-1-1 and started administering CPR until the paramedics arrived - while my children knelt and prayed. As you know, ninety percent of out-of-hospital cardiac events end in death because the victims don't receive CPR. You and I were blessed to have people who knew what to do nearby.
Every medical professional has called my husband, Tom, a hero, because he performed CPR. If he hadn't, I might not have survived long enough for them to help save my life. Once the EMTs arrived, they shocked my heart to get it beating again and brought me to our community hospital where they quickly realized I needed more help than they could give me. From there I was sent via Life Star to another hospital where I could be provided the care I needed.
At the second hospital, an angiogram showed I had a 70% blockage in my left anterior descending artery, a.k.a. "The Widow Maker." They discovered that the blockage was high up, so close to the left coronary artery, that placing a stent was going to be extremely risky. They began using American Heart Association protocols for preventative hypothermia to cool me in an effort to save my brain and organ function in preparation for bypass surgery.
Over a three hour period Monday night into Tuesday, I went into cardiac arrest three times and it took the medical staff performing CPR and defibrillating me 13 times to stabilize me. It was then the doctors made the decision not to wait for bypass surgery, but to try and place a stent. At that time the risky option became the only option. The stent worked!
While they knew they had opened my LAD and my heart was repaired, they didn't know if there had been any damage to my other organs or brain function. Later in the day after removing the breathing tube, my husband leaned over to me to say I love you, and I responded by signing with the American Sign Language symbol for I love you. That was a great indicator of my brain function! But the best sign came as my uncle, with whom I had a running joke that my dear friend Melissia is actually his favorite niece, leaned over to say, "I'm glad you are feeling better, but Melissia is still my favorite niece." To that, I responded by giving him the middle finger. They laughed and at that time knew I was responding appropriately to the right people and would be fine! It seems even a near death experience couldn't take away our senses of humor, Bob!
The next day was filled with everyone repeating the story of what happened over and over again as I suffered from short term memory loss. My kids laughed when they heard you describe it as if you were Dory from "Finding Nemo" saying that is exactly how I was.
I was released from the hospital after nine days, complete with incredible chest pain from multiple rib fractures, which I was so grateful to have! Every sneeze, cough and laugh hurt so good – because I was alive to feel them! I underwent several weeks of cardiac rehab, bonding with people 30+ years my senior (including the father to a high school friend). While we were there to take care of our hearts, not one of them shared the experience I had. I felt very alone. It was just the beginning of the roller coaster ride of depression and gratitude that I am still on today.
I have been called a walking miracle, told that based on what happened I shouldn't be here and that my work here on earth must not have been done. Retelling my story has caused medical professionals to widen their eyes and shake their heads in disbelief that something like happened, I am alive, doing well and able to talk about it! It has also provided hope to them that what they do makes a difference.
My volunteer work with the American Heart Association has continued and will never stop! Needless to say, I applaud your commitment to making sure there are staff members trained in CPR and AED usage in every gym across America. I advocated for that in 2007 after a friend's father died in a gym because no AED was present that could have saved him. I advocated for CPR in Schools in Connecticut in 2015 and am proud to say all high school students in our state now have to take CPR as a graduation requirement. I will continue my advocacy work not only in Connecticut, but in Washington DC as I was honored to have been invited to join the AHA's Lobby Day on the Hill this June.
There is so much that needs to be done to make sure more people survive their cardiac episodes and there are even fewer who have to experience them at all.
I hope our paths cross soon so we can discuss our shared experiences, work together to create change through the United States and save more lives from heart disease!
With heartfelt wishes for continued good health -
Facebook: Leigh Newton Pechillo
Calling all HuffPost superfans!
Sign up for membership to become a founding member and help shape HuffPost's next chapter
This post was published on the now-closed HuffPost Contributor platform. Contributors control their own work and posted freely to our site. If you need to flag this entry as abusive,
send us an email
.