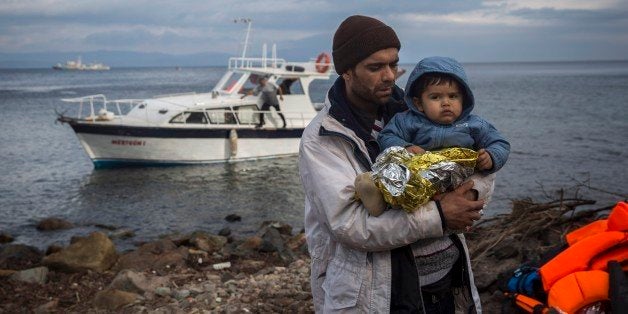 On November 16, North Idaho Rep. Heather Scott wrote her constituents and told them to be scared of Muslim refugees coming to America, calling them a "Trojan Horse." I want to tell you that I understand why you might be nervous about the possibility of a large influx of strangers from a war-torn land coming into our country. I also want to tell you why we shouldn't close our borders to our fellow human beings at a time when they need our compassion the most.
My name is Jasmine El-Gamal and I am the daughter of Muslim immigrants. My father left Egypt in his 20s. A proud Egyptian, he was also always searching for ways to better himself. With his parents long gone, he kissed his siblings goodbye and headed to a country he heard was built by immigrants, for immigrants. A land where everyone was equal, where hard work meant a steady paycheck and the possibility of owning your own house, and where families convened every year on Thanksgiving to celebrate their blessings.
He dreamt of having children and raising them with the highest of hopes and none of the fears he harbored back home. So with less than 200 dollars to his name, he came to America and went straight to work in downtown Manhattan, less than 10 miles from the Statue of Liberty with its hopeful words etched at the bottom: "Give me your tired, your poor, your huddled masses yearning to breathe free."

Look at your own families. Where did your ancestors come from? What did they have to endure to get here? Aren't you glad America let them in?

My parents were lucky. They weren't fleeing a war or facing persecution because of their religion. They didn't wake up every morning to the sound of barrel bombs raining from the sky unannounced. I think of Syrians attempting to flee the carnage that is their daily life and wonder if Heather Scott also mentioned to you that these people would have to go through 18-24 months of security screenings, background checks and interviews before being admitted here as refugees.
My immigrant parents taught me and my three brothers to cherish the safety, freedoms and endless possibilities of America. But my family's story is not unique. American Muslim immigrants and refugees and their children love and serve their country, including in uniform -- they've done so under every President from George Washington in 1775 to George Bush in 2007, and continue to do so today.
America is not just a country. America is an idea. It is the idea that anyone, including those facing persecution back home, can come here, work hard and make it, regardless of their religion. Just look at our history: we opened our doors to Albert Einstein, Madeline Albright, Wyclef Jean -- just a few of the many refugees who served our country, through science, public service and music. You may not agree with their politics or religion, but I bet you can agree with the fact that they've helped make our country what it is. Look at your own families. Where did your ancestors come from? What did they have to endure to get here? Aren't you glad America let them in?

Show the world who we are. We are Americans: Open, tolerant, compassionate and most of all, unafraid.

My father died in 2013, on his birthday, on a flight from Saudi Arabia to New York. He had just completed the "Haj", which is a pilgrimage to Mecca required of able Muslims once in their lifetime to visit the birthplace of their prophet. He died as a proud Muslim, a proud immigrant and a proud American.
I've never had the privilege of visiting Idaho -- although I hope to do so -- so I can't say that I know you. I don't know your specific fears or experiences and I would never presume to minimize or dismiss them. All I can say is that we're all Americans, and we share the ability to talk to each other with an open mind and an open heart.
So what I propose to you is this: if you have a question about Muslims, Islam, refugees, Syria, ISIS, or any related issue, email me. Let's have a conversation. If I can't answer your questions, I promise I can connect you to someone who can. I ask only one thing of you: Don't listen to hate speech, or those who insist that you have something to fear from one group of people -- most of whom simply long for a better life in this great country they've heard so much about.
Show the world who we are. We are Americans: Open, tolerant, compassionate and most of all, unafraid.
Jasmine M. El-Gamal is a Truman National Security Fellow, a civil servant in the U.S. Department of Defense and a graduate of Georgetown's School of Foreign Service. She served as a translator with the 82nd Airborne division in Iraq in 2003. She can be reached at firstgenjasmine@gmail.com. This article originally appeared in the November 22nd edition of the Idaho Falls Post Register.
Calling all HuffPost superfans!
Sign up for membership to become a founding member and help shape HuffPost's next chapter