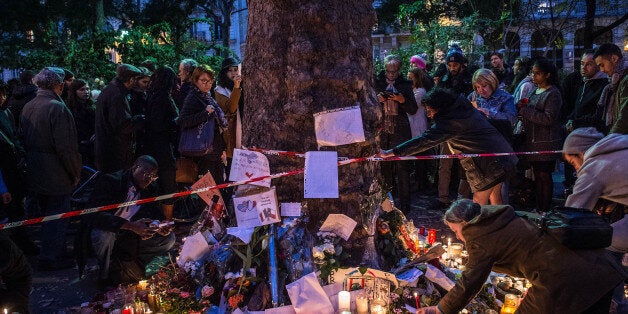 No, you don't scare me, because I love life, I love it too much for you to make me shudder in fear, I love it too much for you to intimidate me. I'm a woman, you know, I have that genital organ that according to your misogynous customs signifies weakness, and reduces me to an object, a nobody. And I'm not afraid of you, I'm going to go on living, to travel by plane, to listen to music and sing aloud to it, to dance, to have drinks on the terrace with people I love, because, yes, I love. That feeling that's non-existent in your body -- did the God who created you forget to provide you with it?
Is it the absence of love that allows you to carry military weapons and to kill innocent people on the streets? Or is it the absence of a brain that would give you perspective?
I'm going to keep laughing, yes, I love to laugh at everything and especially at caricatures, you know, the ones you came and paid us a visit about last January, because you lacked a sense of humor.
I like to dress as I please, to wear short, loose dresses in summer, to feel free. I like to get my hair done and to feel the wind run through it. Have you ever run you hands through a woman's hair? I love my life -- but you know who I owe it to? To my country, France, to my dear homeland that protects my freedoms and allows me to pursue my studies, allows me to love, to laugh, to cry, to rise up and be the woman that I am today. This joyful and happy France, this France that shines, this France that's so sweet and so lovely, this France that you're trying to poison with your venom, that you're trying to sully with blood that you're spilling. This France that you envy allows us to live, while you're walking dead, all alone after your acts of terrorism. I'm a woman and I'm not afraid of you, I will never be afraid of you. My life goes on -- yours ended long ago.
Freedom scares you, but you will never take mine away from me.
And by the way, read the Quran properly and stop associating yourself with my religion and my God. You have disgraced me.
I am May, a French-Tunisian Muslim.
This post first appeared on HuffPost France. It has been translated into English and edited for clarity.
REAL LIFE. REAL NEWS. REAL VOICES.
Help us tell more of the stories that matter from voices that too often remain unheard.