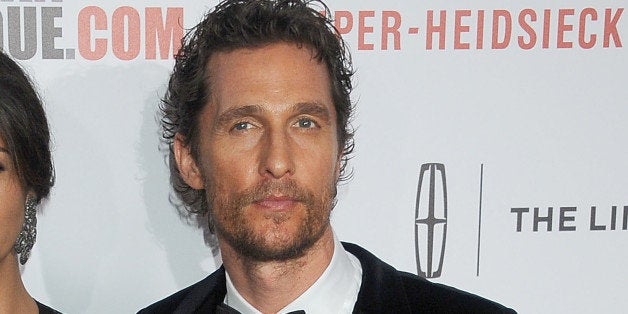 Let me start by saying that I'm a fan. I don't mean that facetiously, like when people thank Obama. I'm serious; I'm a screenwriter by trade, raised by movies, and I've paid attention to the changing kinds of roles you've taken and masterfully executed, especially recently.
But then you did that interview with GQ. I was more than a little disappointed with the things you had to say about the Washington football team's name and logo, and I think we need to have a talk. There's a way to re-frame this issue that makes sense to the both of us.
"What interests me is how quickly it got pushed into the social consciousness. We were all fine with it since the 1930s, and all of a sudden we go, 'No, gotta change it'? It seems like when the first levee breaks, everybody gets on board. I love the emblem. I dig it. It gives me a little fire and some oomph. But now that it's in the court of public opinion, it's going to change. I wish it wouldn't, but it will."
Let's think about this for a moment: what else has been quickly pushed into the social consciousness? Like, say, since the release of Dallas Buyers Club in 2013? I bet if someone wrote about your "all of a sudden" career, you'd be a little Dazed and Confused. Here's a hint: that movie, your first, came out in '93, a year after Suzan Harjo brought the first legal challenge to the team's trademark on the grounds that the name was disparaging, citing the negative impacts to native youth. I'm sure you were probably really busy that year, working up to your big break, but there was a big break for us, too: the Washington team went to the Super Bowl in '92, spawning some of the first national coverage of Change the Name protests that had been ongoing since at least 1988.
But if two and a half decades is still feeling a little sudden, let's talk about when your football fandom began:
"First: 4 years old, watching Westerns, I always rooted for the Indians. Second, my favorite food was hamburgers. The Redskins had a linebacker named Chris Hanburger. When you're 4 years old, that's all it takes."
I get it. I've watched many a Western myself, and I've seen the displays at Urban Outfitters: Indians are the coolest. Hell, I've even been to a Washington football tailgate, and I've seen the "Nation" first hand. It's hard to argue with popular culture, and even harder when the topic is race. But please, if you're rooting for the Indians now, don't discount our decades-long struggle in an attempt to justify your support of a football team. You see, when 4-year-old you started cheering, circa 1973, there had already been at least two years of protests and discussion about the disparaging moniker and logo. And that's just what was covered in DC and National media outlets -- I'm sure you understand how hard it is to get the media to pay attention to the good work you're doing.
So, if this has been going on for decades, why does the name controversy seem so sudden, especially to a lifelong fan like yourself? With the advent of social media, Native Americans, for the first time since contact, have the ability to broadcast our thoughts and correct the stereotypes about our image and cultures without a filter. We're speaking to a global audience and we are finally being heard. Folks like you, Matthew McConaughey, are finally hearing us. And you of all people should know what that feels like. Just as your recent success isn't something that just came out of the blue, neither is the movement to Change the Name. It's just finally getting its due.
In closing, as a fan, I'm looking forward to Interstellar, which will probably be your biggest movie yet. I'm as sure about that as you are that the name will change. So, please, join us in looking forward to that day when all the hard work finally pays off. When we're finally afforded the respect earned by years of hard work. Just like you.
Popular in the Community